Bookshelf
David Epstein '02, '04J Examines the Complexity of Sports Science
By Ethan Rouen '04J, '11 Business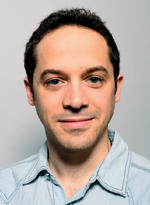 Photo: Erick Rasco
In a sense, David Epstein '02, '04J, '04 GSAS started working on his best-selling book, The Sports Gene: Inside the Science of Extraordinary Athletic Performance (Current Hardcover, $26.95), as a teenage runner.
His suburban Illinois town of Evanston was a "mini Jamaican diaspora" with a high school that won 24 consecutive track and field conference titles. When Epstein moved from sprint to middle distance competition, which he ran as a member of the Columbia track team, the people passing him were Kenyan. And almost all of them were from the same tribe.
"I started asking questions about what was going on in these hot spots to make these people so good," says Epstein, a journalist who recently moved from Sports Illustrated to the investigative news organization ProPublica, where he covers sports science, medicine, energy and the environment.
These questions, though, don't have clear answers. The Sports Gene, which has received rave reviews in publications from The New York Times to Nature, provides a snapshot of where science stands in its quest to understand the human genome. Epstein devotes 300 pages to exploring the timeless nature versus nurture question, offering insights into compelling genetic research and examples of athletes accomplishing unbelievable feats.
Instead of shying away from the issues of race and gender that dominate sports science debates, he tackles them head-on. For example, are black athletes inherently better at some sports? Is there a scientific reason why male and female athletes should compete separately?
Epstein's conclusion: The answers may be as complex as the human genome itself.
"I thought readers would have trouble with the ambiguity, but I couldn't do anything about it," he says. "The reception to the book has emboldened me. People are willing to tolerate complexity."
For his reporting, Epstein traveled the globe, interviewing scientists and athletes. He discovered that, yes, there appear to be genetic advantages in some sports, but the Kenyans who consistently win long-distance races also avoided the comparatively sedentary western life as children. The science has not advanced enough to determine exactly what role genes play in ability.
This unwillingness to offer easy solutions initially concerned some publishers.
"The first questions I got when I spoke to publishers were, 'Is this the next Born to Run?' [the best-selling book that sparked the barefoot running craze] and 'Where are you going to come down on the nurture versus nature argument?'" Epstein says.
Despite answering "no" and "nowhere concrete" to these questions, the book has the addictive allure of a murder mystery, with each chapter offering fascinating insights brought to life by athletes doing the seemingly impossible.
The Sports Gene opens with Olympic and pro softball player Jennie Finch facing Mike Piazza and Albert Pujols, two of the greatest hitters in baseball history. The softball takes just as much time to cross the plate as a baseball thrown by a major league pitcher — and offers up a bigger target — but both men (and everyone else who was brave enough to face Finch) struck out.
Inherent reflexes, it turns out, are not as important to hitters as practice and memory — seeing enough pitches to know where the ball will end up as it is released from the pitcher's hand.
Then there's the story of Eero Mäntyranta, an Olympic gold medalist in cross country skiing who grew up in rural Finland, strapping on skis for the first time not long after he could walk. In addition to his years of experience, Mäntyranta has a rare genetic mutation that results in a red blood cell count up to 65 percent higher than the average man.
Sure, Mäntyranta had years of practice, but he also had an inherited trait that gave him the same advantage that many athletes risk their careers to attain through doping.
"This was my favorite chapter to write," says Epstein, who traveled to the Arctic Circle to meet the Olympic champ. "Here's someone who actually has a rare genetic mutation" that makes him a superior athlete.
Epstein's first book merges many of the passions he developed at the College, where he started as a science major who initially disdained the Core Curriculum.
His Lit Hum professor, Julie Crawford, "was the greatest teacher and dressed me down for being anti-intellectual," he says. "She changed the way I read and write. She had a concrete impact on my decision to end up writing."
During Epstein's sophomore year of college, his former training partner, Kevin Richards, died immediately after finishing a high school race at the indoor track they shared in Evanston, an event that would shape Epstein's career. Heartbroken, he was unsatisfied with the doctors' determination of heart attack as the cause of death.
Epstein asked Richards' parents for access to the medical records and learned that his friend had a genetic disease, hypertrophic cardiomyopathy, which causes the left ventricle to thicken, sometimes reducing blood flow to the heart.
This investigation later led Epstein to write his Journalism School master's project on HCM, a story that became chapter 15 of his book (he completed a master's in environmental science at the same time). It also led to one of his first major stories at Sports Illustrated, an article about sudden cardiac death in athletes written after Ryan Shay died during the 2008 men's U.S. Olympic marathon trials.
"Chapter 15 is where all my sports science writing began,"Epstein says. "I had hoped that writing about HCM would make it seem like Kevin didn't die in vain, so to speak. But he did die in vain, and I guess we can just hope that spreading knowledge might prevent that from happening to someone else. In some way, shape or form, I'll write on the topic for the rest of my life."
Ethan Rouen '04J, '11 Business is a Ph.D. student at the Business School and a columnist for Fortune.com. He is a former CCT associate editor.