Cover Story
Global Columbia
More than ever, the College is taking steps to prepare its students to be engaged and effective global citizens
By Shira Boss '93, '97J, '98 SIPA
Maddy Cohen '13 (second row, far right) and other biology students visited the village of Xijiang, in Guizhou Province, China, in summer 2012 to discuss local forestry and agricultural practices. Photo: Matt Palmer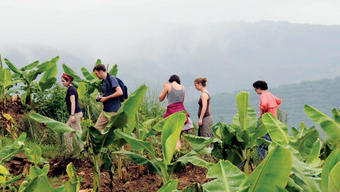 The students at a banana plantation outside a village in southern Yunnan province. Photo: Shahid Naeem

Maddy Cohen '13 came to the College from her hometown of North Palm Beach, Fla., interested in studying health and also ecology. She loves to travel but didn't anticipate fitting study abroad into her schedule. Then, during orientation, she attended an environmental biology presentation and immediately pinpointed the first of her two majors. "I was dazzled by the traveling to all parts of the globe to understand species and systems," she says. Her other major, sustainable development, "came about later, as I realized I wanted to see more of the intersection between ecological systems and human health."

And, contrary to her initial expectations, travel the globe Cohen did. First, after her sophomore year, she joined 15 other students who went with Dustin Rubenstein, assistant professor in the Department of Ecology, Evolution, and Environmental Biology (E3B), on a research trip to Kenya to study tropical biology. "The trip was unparalleled," Cohen says. "We would wake up every morning and bird-watch along the river, looking across at baboons and hearing other animals — hippos, elephants — nearby. We completed several research projects while in the field, understanding research concepts from project planning to execution, something that is hard to do within the classroom."

At the end of her junior year, Cohen again went abroad, this time to China, with other biology students, with Matt Palmer, director of undergraduate studies for E3B, and with Shahid Naeem, professor of ecology in E3B and director of the Earth Institute Center for Environmental Sustainability. They presented research to students at Minzu University of China in Beijing and traveled to rural areas to learn more about how ethnic minorities are managing their forest and water resources.

Upon graduation, Cohen found ready employment in New York City with a sustainability management consulting firm. "I work with international clients, helping businesses improve their environmental footprint and social impact," she says. "It's a great job that combines several of my interests in helping people and the environment."

By virtue of being at Columbia University in the City of New York, College undergraduates have long enjoyed a cosmopolitan atmosphere. But now, more than ever, the College is taking steps to ensure that its students are thinking globally, opening their minds to and setting their sights on the world beyond Morningside Heights.

"We want the College to prepare students to be engaged and effective global citizens," says James J. Valentini, dean of the College and v.p. for undergraduate education, who hopes that all students who are interested in studying, working or doing research abroad have an opportunity to do so during their time at Columbia. "Alumni often tell me that having the chance to work or study overseas opened doors of understanding that no other experience could have offered. But the global character of a Columbia College education is also delivered in our classrooms every day by our broadly diverse and international student body that exposes every student to a world of different voices, cultures and ideas."

Indeed, while "global" might be something of a buzzword in today's culture, it is nevertheless a big idea that translates in an array of meaningful ways to the realm of a College education. It applies to the content of the curriculum (both on campus and in the overseas academic programs the College runs), to the composition of the student body, and to the atmosphere and activities that are fostered on campus. It speaks to the way the University is expanding its footprint through the Columbia Global Centers as well as to the increasing range of international experiences available to undergraduates in research, work or study abroad. And it speaks to a mindset — to a broadening of awareness and ability to understand multiple perspectives — that is crucial to thriving in this new, interdependent world.

"My view is, if we're going to have our students educated for the world they will inhabit and lead," says President Lee C. Bollinger, "they should be familiar now with China, they should visit and work in countries in Africa, they should have been to India and done some of their coursework there, they should have a feel for South America. A lot of this is just introducing young people to this very, very interconnected world. The person who used to be a citizen of California, then became a citizen of the United States, now has to become a global citizen. And students, young people, know this."

Columbia encourages this crossover by having an Office of Global Programs (OGP), responsible for helping with fellowships as well as for bringing exchange students to Morningside Heights and sending students to study abroad. "Our students need not just to function in a global environment but to understand and tolerate ambiguity, to work collaboratively, to work where the rules are not clear," says Michael Pippenger, dean of undergraduate global programs and assistant v.p. of international education, "so they can succeed in that global environment, not just today or six months from now, but six years from now and 60 years from now."

"We want the College to prepare students to be
engaged and effective global citizens."
Dean James J. Valentini

Providing a global experience starts with admissions, and building a class whose diversity includes students from many countries and cultures. "Columbia reaches out to prospective students from around the world in a variety of ways, including letters, emails and a special section of the admissions website," says Jessica Marinaccio, dean of undergraduate admissions and financial aid. "We also place great importance on face-to-face outreach. Members of the admissions staff visited more than 30 countries this fall, where they met with prospective students at high schools, held information sessions and engaged with international organizations that assist students applying to colleges in the United States."

Additionally, the Office of Undergraduate Admissions tries to connect prospective international students with current international students through its Global Recruitment Committee, a volunteer student organization that assists with international recruitment. GRC members, who hail from around the world, hold online chats and webinars for prospective students and write personalized postcards to admitted international students, among other things. "The goal," Marinaccio says, "as it is with all of our recruitment efforts, is to help international students decide if Columbia might be the right fit for them."

This concerted effort is producing results: Sixteen percent of the College Class of 2017 hails from abroad — 47 countries in all — with the top countries represented being South Korea, China, the United Kingdom, Canada and India. Two decades ago, just four percent of the members of the Class of 1997 came from foreign countries, with 24 countries represented, led by China, Hong Kong, Pakistan, Germany and India.

Diversity of the student body is further enhanced through visiting international students, who come to Columbia for a semester or year, as well as exchange students who hail from the 14 institutions in Europe and Asia with which Columbia has student exchange agreements; these range from a longstanding arrangement with the Institut d'Etudes Politiques de Paris (Sciences-Po) to a more recently established partnership with The Hong Kong University of Science and Technology. In addition to adding international perspectives to the residence halls, classrooms and campus activities, the exchange students — from 40 to 50 each academic year — serve as ambassadors to introduce College students to these reciprocal study abroad opportunities. "When students are interested in going abroad to a partner institution, we make a point of connecting them with an on-campus exchange partner," says Scott Carpenter, OGP's associate dean of study abroad. "That's been valuable in terms of logistics and orienting them to what that institution is like."

Speaking of the Class of 2017, Marinaccio says, "Our international community is incredibly diverse. We continually strive to bring new perspectives to the Columbia community, and for the first time, students from Malta, Honduras and the Palestinian Territories are represented in our undergraduate population."

She adds that attracting a diverse and talented student body is an important goal of the Admissions Office, the College and the University. "Our endeavor is to create a class that represents a variety of perspectives and backgrounds, including those from all over the world, so that numerous voices are represented around a Core Curriculum table. This adds to the academic and student life community at Columbia and greatly benefits all students, who constantly engage with and learn from students who are different from themselves."

When the students converge on Morningside Heights, they quickly are immersed in the crown jewel of a College education, the Core Curriculum.

"The Core is designed to shed light from multiple perspectives on the basic question of what it means to be human," says Roosevelt Montás '95, '04 GSAS, director of the Center for the Core Curriculum and associate dean of academic affairs. "As our world has become more integrated, and as Core classrooms have become more international, these skills honed in class discussion assume a global reach, equipping our students to understand their own lives in broad terms that emphasize our shared humanity."

The specifically non-Western component of the Core is the two-semester Global Core requirement (formerly Major Cultures), which according to the Bulletin "asks students to engage directly with the variety of civilizations and the diversity of traditions that, along with the West, have formed the world and continue to interact in it today." Students choose two courses from an approved list from various departments that explore the cultures of Africa, Asia, the Americas and the Middle East in a historical context. Examples are "Buddhism: East Asian" (religion department), "Economic Organization and Development of Japan" (economics), "Caribbean Diaspora Literature" (English and Comparative Literature) and "Global Urbanism" (sociology). "The aim is to expose students to a range of perspectives on fundamental human issues and to enrich their sense of themselves as members of a global community," Montás says.

Such courses could also soon debut overseas. The Andrew W. Mellon Foundation earlier this year awarded Columbia a grant to globalize the liberal arts curriculum, and four departments have proposed courses to be taught abroad, which are currently in the process of being approved. The syllabi for these courses, which include Art Humanities and Music Humanities to be taught in Paris, would be tailored to specific locales and allow students "to take advantage of the history, architecture and traditions you can find in a city like Paris," says Giuseppe Gerbino, associate professor of music and chair of the Department of Music.

As Gerbino notes, "One of the most significant developments in the history of Western polyphony is associated with the construction of the Cathedral of Notre Dame in Paris and the musical repertory cultivated in that specific spatial and ceremonial context. While taking Music Hum, students will be able to study the architectural spaces for which historically important works were created and in which they were first performed."

"The Core is designed to shed light from multiple perspectives on the basic question of what it means to be human."
Roosevelt Montás '95,'04 GSAS

Whether taught in New York or abroad, the Core nurtures an understanding and appreciation of all cultures. "Music Humanities participates in the Western Core, the texts and art works of which are in demand all over the world," says Elaine Sisman, the Anne Parsons Bender Professor of Music and chair of Music Humanities. "By training students in critical listening practices we help them to engage with all musics, as well as enabling them to participate in the cultural life of the present."

She notes that the department has taught musics of the world since 1971; Asian Music Humanities (one semester devoted to East Asian, and one to West and South Asian music), now part of the Global Core, was established in the mid-'80s; and, in addition to the history and theory of art music, the department also covers popular music (in America and elsewhere in the world), jazz, experimental and electronic music, African-American music, music in society, music in cross-cultural perspectives, music from humanistic and social-science perspectives, and more.

Departments are becoming more globally minded — in faculty recruitment, course offerings, majors and concentrations, and opportunities for students to travel abroad for study or research. About one-third of the College's more than 100 majors and concentrations are programs of study that are either specifically foreign (East Asian studies, French, Hispanic studies, Italian cultural studies, modern Greek studies …) or naturally lend themselves to international scope (evolutionary biology of the human species, ethnicity and race studies, history and theory of architecture …), including two of the newest additions, human rights and sustainable development.

The Center for the Study of Ethnicity and Race at Columbia University revised its curriculum three years ago to make it more comparative and global. "It was heavily centered on the U.S., and to some extent it still is; the U.S. is very important to the work that we do. But we thought it was also important for students to get a global perspective on race, ethnicity and other forms of social difference," says Frances Negrón-Muntaner, associate professor of English and comparative literature and director of CSER.

Whereas the department used to have three separate majors that started with "Introduction to …" Latino Studies, for example, and students then continued with more in-depth area studies, now all CSER students take three foundation courses, one each on a history of the modern world, theory and research. "This emphasis allows students to consider that what happens in the U.S. is related to and illuminated by what takes place elsewhere, and that there is a history to this interconnectivity," Negrón-Muntaner says. "This approach underscores how sometimes very local experiences are connected to thoughts and practices many miles away."

Although the department "highly encourages" its students to study abroad, Negrón-Muntaner makes the point that traveling is not the only way to gain a more global perspective. "There's a tendency to think of global as foreign or 'someplace else.' It's fundamental to the transformation of Columbia, and higher education in general, that globalization is understood as a shift in thinking," she says. "Many shifts in thinking can occur when someone encounters an experience they've never had, but this is not simply the result of traveling. It is the result of thinking differently about the world."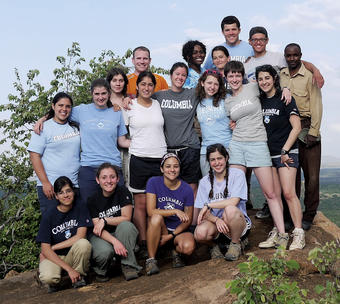 Tropical biology students study abroad at The Mpala Research Centre in Kenya - College and Barnard students in June 2011
For several years running, an on-campus event has been organized to familiarize students with the myriad opportunities abroad and the ways to study or work internationally. Last year, more than 25 participants came together at the international expo to present their programs. The more obvious ones were OGP (study abroad) and the Center for Career Education (internships, jobs) but also included were Columbia Maison Française, the Weatherhead East Asian Institute and the Earth Institute."
There's more of an emphasis from many areas within Columbia to encourage experiences that develop skill sets in line with being a global citizen," says Heather Perceval, associate dean of experiential education and student enterprises at CCE. "We hear from employers more frequently that they are looking for students with global competencies: to be adaptable, to be flexible, to deal well with ambiguity. Those are in line with experiences you get abroad, having to navigate a new culture."
Among the international internships that are available to students are those offered through CCE's Columbia Experience Overseas (CEO) program (see "Passport to India," Fall 2013), which sends students on summer internships to Amman, Beijing, Hong Kong, London, Shanghai, Singapore and, as of this year, Mumbai and Bangalore. The students are connected to local employers as well as to alumni mentors; they also live together in Columbia-sponsored housing and take part in local programming that helps them network and get the most out of being abroad. This past summer, 64 undergraduates participated, roughly 70 percent of them from the College.
"Launching a program in India this past summer was particularly significant," says Kavita Sharma, dean of CCE. "Not only did CCE provide opportunities for 11 undergraduates to intern in India but we did it by leveraging our relationship with the Mumbai Global Center and securing funding from Citigroup via the U.S. State Department. A few of our student interns were even able to travel to Delhi to present their experiences as U.S. interns at a Strategic Dialogue on Higher Education between the U.S. and Indian governments."
As in Mumbai, the Columbia Global Centers play a significant role in opening up opportunities for undergraduates abroad. There are currently eight centers, with the others being in Amman,Beijing, Istanbul, Nairobi, Paris, Rio de Janeiro and Santiago. Rather than establishing degree-granting branch campuses in foreign cities, as some peer institutions have done (for example, NYU Abu Dhabi and Yale-NUS College in Singapore), the centers — part of an initiative that the University launched in March 2009 — are more like intellectual outposts, seen as "Columbia embedded in what is emerging as a global community of scholarship," according to the centers' website.
"We need to have bases around the world that will help our faculty and students learn about the world," says Bollinger. "You're not really going to have the impact on your own teaching and research through branch campuses that you will with something like Global Centers. In my view, it's really our faculty and our students who need to have the opportunities to learn what the issues are, learn what they need to know, develop research programs, develop classes and courses — and that's not going to happen if you have a branch campus." (See "A Conversation with President Lee C. Bollinger.")
The centers maintain small local staffs, establish ties with local institutions and scholars, and can serve as a home-away-from-Morningside for faculty and students researching and studying abroad as well as alumni working or traveling in those areas. The Global Center in Paris, for example, is home to Reid Hall, where Columbia's undergraduate programs have been located since 1964, and the Global Center in Mumbai hosts an orientation program and other events for undergrads interning in India as part of CEO.
"Our approach facilitates the learning that comes through dialogue with international academic partners while also allowing the Columbia community to share its knowledge and expertise in locales around the world where it can most powerfully help address 21st-century challenges. The Global Centers provide faculty and students with enhanced opportunities and in some cases, opportunities that they wouldn't have had otherwise; to get out in the world, to discover, engage and learn, while at the same time not mandating the use of the centers. They are the base of several interdisciplinary research projects, the home of important student programming across our schools and colleges, and the catalyst for partnerships with academia across the world," says Safwan M. Masri, v.p. for global centers, Columbia University.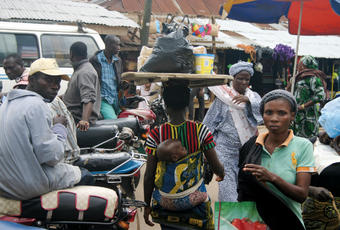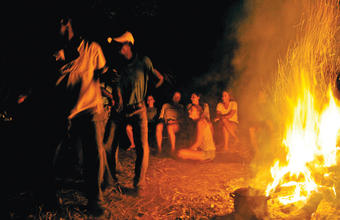 Two of the winning images from the Office of Global Programs' 2013–14 study abroad photo contest (top): a Nigerian marketplace; (above): camping on the banks of the Okavango Delta in Botswana. Photos: (from top) Omoyeni Olanrewaju Clement '15; Victoria Robson '14
Valentini's goal of having every student who wants to do so go abroad at some point in his or her undergraduate career could mean a student having an international experience as early as the summer after his or her first year through a study abroad program, or later on through a summer internship or research program.
"It's really an exciting and dynamic time," Pippenger says. "There's a fantastic focus right now on international opportunities for undergraduates. There is a tremendous amount of support and encouragement to innovate and deliver the next generation of global programs for Columbia undergraduates."
Another way to gain international experience is through the Alternative Break Program, started two years ago. Students submit proposals for civic engagement projects in the U.S. or abroad, form teams of student volunteers and travel to their site during winter, spring or summer break. A student board runs the program, with administrative support and matching funding from the Office of Student Engagement. Projects have included a three-week trip to Tibetan areas of China to create a sustainable waste management system for rural communities, a nine-day trip to Ecuador to plant trees and work on other community projects with an NGO and a three-week trip to Ghana to distribute eyeglasses, assist at an eye clinic and help educate local residents about eye care. The student proposal for the last project noted, "This will also be a great chance for each team member to mature as a global citizen, after having experienced the health-care scene in a completely different nation."
About 25 percent of Columbia students study abroad at some point in their undergraduate careers. [See "Study Abroad Grows in Popularity, Programs and Places."] Eight years ago Columbia ran seven programs, all in Europe and Asia. Today there are 16 and they include locations in Africa, Latin America and the Middle East. In addition, students can choose to study in any of more than 200 programs in 150 cities worldwide through special arrangements with institutions overseas.
The study abroad experience has evolved in recent years. "In the past, there was an assumption that study abroad for our students was somehow 'time off from Columbia' or somehow an 'add-on' to a Columbia education," Pippenger says. "Now that couldn't be further from the truth. Our students recognize the many benefits that come from a global experience as being an integral part of their intellectual development."
Spending a semester or a year abroad at a foreign institution are the traditional options, but departments, institutes and even faculty are designing their own programs to send students overseas.
OGP, in conjunction with the Weatherhead East Asian Institute, has for the past three years run the Global Scholars Program Summer Research Workshop. Students travel to several foreign cities — last summer they were Beijing and Santiago; 2014 will feature Beijing, Berlin, Moscow and Ulan Bator (Mongolia), with travel on the Trans-Siberian Railway — to conduct in-depth, comparative social science research. In the spring, students will take a seminar in the spring to prepare them for the summer experience.
Another example is the Summer Ecosystem Experiences for Undergraduates (SEE-U) program, run by the Earth Institute and open to undergraduates of all majors. Students study ecology and biology through lectures and labs and conduct fieldwork in places such as Brazil and Jordan; the latter is conducted in partnership with the Columbia Global Center in Amman and includes travel throughout the country, covering wetland, marine, freshwater, desert and forest ecosystems.
Starting next summer, rising sophomores will be eligible to receive merit-based grants to study abroad in Columbia-run programs where there are Columbia Global Centers through the new Presidential Global Fellowships Initiative. This program might be expanded to provide funds for students to travel for research or to do work related to their courses. Bollinger cited as an example students working on water conservation traveling to the Global Center in Amman to examine the issue in Jordan and surrounding areas of the Middle East.
In addition, departments increasingly are working with faculty to send students abroad to work on their theses or for faculty-led research projects. "Students want to emulate the professors they see who have these fantastic careers," Pippenger says. "They see them going to these places around the world and want to be that 'in person' in their own careers."
Holger Klein, professor of art history and archaeology, department chair and a recent recipient of both the Mark Van Doren Award for Teaching and a Distinguished Faculty Award, is involving undergraduates in his Istanbul Digital Mapping Project in Turkey. The project, with an on-location headquarters at the Columbia Global Center in Istanbul, is a topographical survey that documents the city's Late Roman, Byzantine and Ottoman monuments. Students are helping to conduct photographic fieldwork as well as archival research in Istanbul to create a state-of-the-art digital platform that will facilitate access to scholarly, archival, photographic and other materials pertaining to the history of Byzantion–Constantinople–Istanbul. It also will serve scholars, students and the public at large as a reliable source for an array of information on the city's history and monuments in preparation for site visits, individual study and research, and teaching in the classrooms at Columbia and beyond.
"I could not be more thrilled to provide Columbia students with an opportunity to study Istanbul's historic monuments on site and to contribute to their documentation and preservation at a time when these monuments are under particular threat due to the pressures of urban expansion and renewal projects," says Klein, who is preparing a second fieldwork season as part of Columbia's joint summer course with Istanbul's Boğaziçi University in June and July 2014.
Rubenstein, the E3B professor, has organized student travel separately to Kenya and Panama during the summer to do fieldwork on his research with birds and shrimp, respectively, in those locations. "Columbia students are amazingly bright and can adapt to new situations easily. Even those who haven't traveled abroad previously tend to do well when immersed in a new environment for the first time," he says.
He notes that his department's students go in many different directions after graduation, including graduate school, medical school, consulting, NGOs, even Wall Street, and that international experience is always helpful preparation for their futures. "Study or field work abroad teaches them how to think, how to write, to problem-solve, to troubleshoot, to design a project and interpret data — plus they're interacting with people from another culture. It gets them out of the Ivory Tower and allows them to apply what they have learned on campus in real world situations," he says. "All that translates to any career."
"Our students recognize the many benefits that come from
a global experience as being an integral part of
their intellectual development."
Michael Pippenger
Rubenstein wanted to increase opportunities for students, in particular science majors, to study abroad, so he has developed an intensive, one-semester program in Kenya that focuses on tropical biology and sustainable development. Open to all students but geared toward those majoring or concentrating in E3B or sustainable development, the spring semester program, run in conjunction with Princeton, features four intensive classes of three weeks each along with immersion in fieldwork. Students work daily from sunrise to sunset for nearly three months collecting data, writing papers, developing projects, and interacting with wildlife and local communities.
Julia Pilowsky '12 chose to study abroad during one semester of her junior year, in South Africa, through the Organization for Tropical Studies. "It was an amazing experience. We traveled from national park to national park all over South Africa, and I got to do fieldwork on 10 projects and led the fieldwork on two of them," she says. "I gained a lot of skills because now I know how to do everything from survey tidal pools for species diversity to measure biomass of tree trunks."
Directly from there, Pilowsky traveled to The Mpala Research Centre in central Kenya for a six-week research trip to study the songs of the superb starling, a bird common to East Africa, under the direction of Rubenstein. Her project came about because on campus, Pilowsky had attended a presentation given by one of Rubenstein's graduate students about how birds use simple calls to recognize relatives. The graduate student mentioned that nobody had studied their more complex songs. "I decided that I was going to be the first one to study it," Pilowsky says.
Rubenstein helped her develop a thesis topic about the function of birdsong, and E3B gave her a grant to complete the fieldwork in Kenya. When the thesis was finished it became an article, co-authored with Rubenstein, that was published in the May 2013 issue of Animal Behaviour, a leading journal in the field of behavioral ecology.Pilowsky credits the experience with getting her into a Ph.D. program in biology at Tufts, where she now studies as a recipient of the National Science Foundation's prestigious Graduate Research Fellowship. "But those are just the tangible markers of success," she says. "It gave me real confidence to be able to independently plan and carry out a field research project, even in a new environment. It was amazing to get to know researchers from all over the world. Not least, I'll always be grateful that I got to spend some time in the Kenyan savanna, which is surely one of the most beautiful ecosystems on Earth, and to observe some of the world's most fascinating animals. After all, it's a love of the natural world that got me into this field in the first place."
Whether by conducting fieldwork in Kenya or Panama, connecting with students from around the world in a seminar room in Hamilton Hall or signing on for any of the wide range of opportunities in between, today's students are continually engaging with and being shaped by experiences that will prepare them for citizenship in the global community. As Negrón-Muntaner of CSER says, "Global thought is not about being on the go all the time. It's something that we can do every day, wherever we are."
Shira Boss '93, '97J, '98 SIPA is an author and contributing writer to CCT. Her last feature was "Passport to India," about the Columbia Experience Overseas internship program, in the Fall 2013 issue.