Features
Study Abroad Grows in Popularity, Programs and Places
By Ted Rabinowitz '87
As recently as 20 years ago, the College's study abroad program could have been described in terms of the big three — Oxford, Cambridge and the University of Paris — when students went for a semester or a year to get a dose of a different culture and a needed change of scenery.
But in the past two decades the destinations for study abroad have increased greatly and the types of programs have expanded, giving students opportunities to have experiences from studying business in China to excavating ancient villas with their professors in Rome. And if they want to see Art Hum come alive in the halls of the Louvre and the soaring cathedral of Notre Dame, that still will be an option, too.
"We're in a much different place now," says Michael Pippenger, dean of undergraduate global programs and assistant v.p. ofinternational education. "Partially, it's because of President Lee C. Bollinger's vision of the Columbia Global Centers. But it's also because more students feel a need for more global exposure, and heightened interest has allowed these programs to grow."
No matter the program, though, the value in having a global experience is the same, and it extends beyond the obvious benefits of language immersion and hands-on field study.
"We talk to students about being able to communicate cross-culturally, being able to handle ambiguity and to master content in a different context, understanding that there are multiple ways to solve complex, global problems," Pippenger says.
Pippenger, who came to Columbia in 2006 to develop an office of fellowship programs for the College (which expanded and later merged with the Office of Global Programs (OGP)), adds that there is a huge connection between winning a fellowship and study abroad. "If you study abroad, you're willing to take risks, be analytical, uproot yourself. This makes you a great fellowship candidate." Columbia has ranked in the top 10 for Fulbright Fellowship recipients for the last decade, a time frame that has also had success for students and alumni with other international fellowships such as Rhodes Scholarships, Marshall Scholarships, the Luce Scholars Program, the Churchill Scholarship and Gates Cambridge Scholarships.
The new approaches to study abroad come with an increase in the number of programs offered directly through OGP. (Other programs are offered in conjunction with foreign partners, or by third-party programs approved by the College.) Eight years ago, there were seven Columbia-run programs; today, the number has risen to 16, and more are on the way.
Columbia's partnerships with other universities have also multiplied, expanding to include the University of Hong Kong, Pontificia Universidade Catolica in Rio de Janeiro, China's Tsinghua University, Boğaziçi University in Istanbul and others. And while the United Kingdom and France are still student hot spots — with 41 and 37 College students studying in those countries, respectively, in the 2012–13 academic year — there has been a surge of interest in China, and more students are going to Brazil and South Africa as well.
All told, Columbia students currently can attend programs in 50 countries on six continents.
One of the biggest shifts in study abroad programming is the opportunity for students to gain on-site, hands-on experience. "Students want to be in the field with their professors," says Pippenger. "They respond to professors who are working in situ."
Because these offerings are popular with faculty as well as students, professors often approach OGP with field ideas they want to develop into full programs ranging from life sciences to urban planning.
Dustin Rubenstein, for example, an assistant professor in the Department of Ecology, Evolution and Environmental Biology, wanted to expand upon a three-week field course that he had run with Columbia students in Central Kenya since 2011. Pippenger liked the idea because OGP had never had a semester-long science program abroad. So, working in conjunction with Princeton, Rubenstein and Pippenger designed a curriculum, and students in the program now live at a Kenyan research center, observing animals and plants. Student projects have included using RNA from starlings to study the birds' kin structures, analyzing birdsong for form and function, and tracking the prevalence of avian malaria in local bird populations.
In the past two decades the destinations for study abroad have increased greatly and the types of programs have expanded.
OGP also has worked on the humanities end of the spectrum. Francesco de Angelis, an associate professor in the Department of Art History and Archaeology, is one of the lead archaeologists on the current excavation of the Villa Adriana (Hadrian's Villa) in the town of Tivoli, just east of Rome. "He wanted to take Columbia students on a dig and teach a seminar on archaeology preservation and conservation," Pippenger says.
As a result, this summer Columbians will be exploring the home of one of Rome's Five Good Emperors, which is a UNESCO World Heritage Site, and learning firsthand the fundamentals of archaeology. These include excavating, interpreting finds on-site, logging discoveries, analyzing stratigraphic sections and assessing ceramic artifacts from the dig, among other things.
Other Columbians studying abroad are looking for immersion in another culture. A traditional semester or year abroad offer this, of course, but OGP is creating other options. Among these are immersive programs that involve a shorter time frame (a summer sem
ester, for instance) and are designed to increase students' participation in their host societies.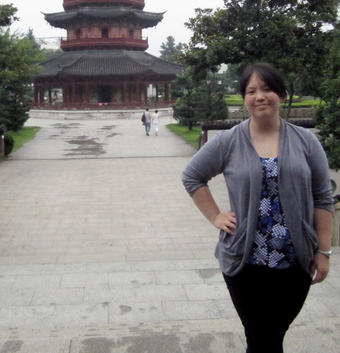 PHOTO: COURTESY MELISSA CHIANG '14
Melissa Chiang 14 Blogs from Shanghai
Eight weeks, one internship and a lot of distant relatives
Last summer, Melissa Chiang '14 participated in the Center for Career Education's Columbia Experience Overseas program in Shanghai, where she was a quality and safety intern with United Family Healthcare. The following excerpts are from a blog that she kept about all aspects of the experience; it can be found at melissainshanghai.tumblr.com.
Ethnicity vs. Nationality
Multiple times during this summer in Shanghai, I have encountered someone — a cab driver, a waiter or waitress, and even a few random people on the street — who is confused by me. It usually starts out innocently, a simple observation of my accented Chinese and a question about my origin. That's when it gets weird.
I answer the question as any American would, with "I'm American." The response is what isn't anticipated: "You don't look American."
No matter how many times I hear that, I am at once curious and annoyed.
On one level, it makes sense. I am in a part of the world where the immediate association between ethnicity and nationality is not wrong very often. A similar physical appearance usually means a similar place of origin, similar life experiences, and similar linguistic and cultural knowledge. I can understand and appreciate the worldview from which these words are emerging.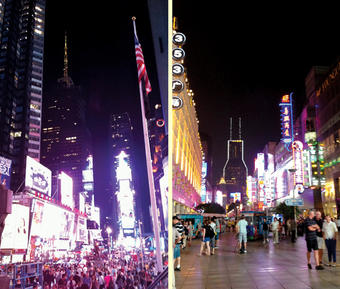 Chiang calls this "Close, But No Cigar." Or, alternatively, "There's No Place Like Home." Left, Times Square, New York City. Right, Nanjing East Road, Shanghai. PHOTOS: MELISSA CHIANG '14Yet, on the other hand, that does not change the fact that, deep down, I consider myself American through and through. Especially growing up near the immense cultural diversity of New York City, my view of a "typical" American is perhaps more a vague cloud of qualities rather than a defined look, experience or nugget of knowledge. So, viscerally, I am gutted; I want to say, "Americans can look like a LOT of different things!" or "Well, I am American, so therefore, I look American. Simple as that."
Alas, I keep my more reflexive reactions on the back burner but they do percolate in my thoughts. I know I have my own worldview and others have their own. Yet, there are things I wonder about and cannot know: Does it bother Chinese people that I more closely associate myself with those who look so differently from me than with them? Do they resent my parents and grandparents for leaving this country, or do they admire them? How did the rest of the world become so accustomed to Asian presences while Asia still treats those who look different as both lowly and godly, at the same time? As much as I miss the cultural diversity of America and its normal status, being here in Shanghai has brought out these questions in a way that staying at home in the States never could. For that, I am grateful.
And I have lots to think about.
10:02 a.m. July 24, 2013
Baozi, Bubble Tea, and Other Goodies
I thought it would be fine.
I thought I was already used to all of it.
I thought that I liked it.
Alas, I was wrong.
This is a blog post about food.
This is actually less of a blog post and more of a (hopefully amusing) reference dictionary from my experience with Chinese culinary life:
Baozi: buns, cheap and tasty; you'll probably get pork no matter what meat you ask for
Breakfast: could be buns, fried dumplings, hot soup, rice porridge, fried dough or anything of the sort; usually rather oily and served with hot soy bean milk
Bubble tea: readily available, use makeshift Chinese to ask for tapioca balls because you will never remember what they are called no matter how many times people tell you (hand motions help, too, as does pointing to the English menu)
Chopsticks: it's all in the technique. When all else fails, STAB.
Dumplings, frozen: yummy, cheap and easy to make. Get the kind with corn.
Dumplings, soup: tasty but will squirt boiling hot liquid all over you if you're not careful or don't know how to use chopsticks; come in thin cover and thick cover varieties
Fruit shops: everywhere and relatively cheap; take advantage of them!
Fuyuan: means waiter; say it, yell it, sign it, skywrite it
Hot pot: a good way to freak out people who have never had it, especially if you order tripe; FYI you will never feel full
(that) Japanese (place): get the Udon noodles!
(that) Thai (place): get anything. It's all good.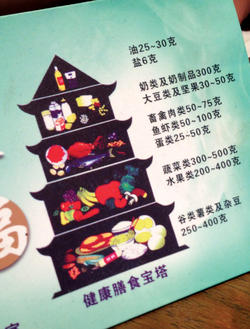 Food pagoda, found at Mr. Pancake House in the Jingan District of Shanghai. Photo: Melissa Chiang '14
KFC: serves breakfast, also serves rice; may be bigger in China than in the States
Napkins: be prepared and bring your own
Nature Valley bars: that one versatile snack that you decided to pack that you have alternately eaten for breakfast, dinner, snack and random sustenance but will avoid for at least a month after getting back to the States
Noodles: EVERYWHERE. But actually, there are approximately 10 noodle shops on your block alone.
Oreos: So many options! Including inside out, birthday cake, various fruits, and half-and-halfs.
Pocky: really good and should have had more of it
Starbucks: it's more watery here
Vegetables: always cooked, never raw (NEVER)
Western food: there's plenty of it in Shanghai — Mexican, crepes, burgers, Italian, etc.
7:08 a.m. July 29, 2013
For Tabitha Cohen '15, a Kluge Scholar who is studying East Asian languages and cultures and had always been interested in China, Columbia's Summer Business Chinese and Internship Program in Shanghai offered an ideal opportunity. Zhongqi Shi, a lecturer of Chinese in the Department of East Asian Languages and Cultures, is the director. "He's hands down the best teacher I've had at Columbia," Cohen says.
The program begins with six weeks of intensive instruction in business Chinese including practice with a language partner and speakers who explain the realities of working in China; then follows a four-week internship with a Chinese business (Cohen was placed with developer Guangpu Real Estate). Cohen also had to sign an agreement that she would speak only Chinese during the 10 weeks of the program, which she took between her sophomore and junior years.
"Interning isn't well known or popular in China," says Cohen. "So the fact that American students are able to intern in China is incredible." (It's remarkable to other people as well — the program has been mentioned in Newsweek.) Today, Cohen is putting her experience to use through her job with Bergdorf Goodman; while attending the College, she works part-time translating for the store's Chinese customers and explaining their shopping customs to the staff.
For Domenic DeSocio '14, the immersion was a junior year spent in Germany, studying in an educational environment with emphases different from those in the United States. Through the Berlin Consortium for German Studies (a year-abroad program in which Columbia participates with other top-ranked universities) DeSocio enrolled directly in the Freie Universität Berlin and lived as a German, not an American exchange student (although with extra instruction in German language and daily life). "People who go only for a couple of months, they have a mindset that they're Americans in a foreign culture," DeSocio says. "But if you go for a year, it's not an extended vacation. You're there to become a member of the culture."
DeSocio saw a dramatic difference in the classroom. "In Germany, the professor gives you one assignment at the end that sums up the semester. During the semester, the professor doesn't check up on you. You have the option of being fully involved in the course or not. You do it for yourself, not for the grade."
The immersion helped DeSocio become more independent. He cites learning how to deal with health insurance and taxes as examples. "I did two paid internships, so I had to fill out tax forms as a non-citizen," he says.
While fieldwork and immersion programs are both popular, interdisciplinary study abroad is OGP's fastest-growing segment. This reflects anationwide trend; the number of interdisciplinary bachelor's has more than quadrupled since 1973, according to the National Center for Educational Statistics. "Thirty years ago it was one country, one specialty," says Pippenger. "Now more students are looking for interdisciplinary projects. We used to think, 'You go to England for a year. That's your study.' Now we're looking at shorter-term summer programs with multiple sites."
He names the Global Scholars Program Summer Research Workshop, a collaboration among the Weatherhead East Asian Institute, OGP and the Columbia Global Centers, as one example. "Professors take students to two or more sites for a particular topic in the social sciences, like the rise of the megacity in Asia. They do coursework there, and then return to Columbia for a 'capstone' class that allows them to process what they've learned," he says. This past summer, the program sent students to Beijing and Santiago to study comparative economic development in Asia and Latin America.
Another example is the joint summer program Columbia conducts with Boğazic'i University in Istanbul. Combining coursework in history, Byzantine studies and urban planning with fieldwork and daily excursions centered on conservation, archiving and mapping, the program focuses on the artistic and urban history of Istanbul.
For all the additions to Columbia's study abroad programming, demand for Columbia's traditional year-abroad programs remains strong and OGP is committed to maintaining those programs. "It's important that we continue to grow the longstanding programs that have been hallmarks of Columbia global education," says Pippenger.
There have, however, been shifts in emphasis. "We're encouraging Paris students to consider directed research within the French university system," says Pippenger. "And we've worked hard with the art history and Italian departments to offer more classes in Venice, and to get Italian students from Ca' Foscari University of Venice, another partner, to take those courses alongside our own students as well."
"Students want to be challenged. … They want a transformative experience, and often they get it."
Michael Pippenger
Maria Gimenez Cavallo '14, who has been "obsessed by Paris" since she started to learn French as a high school freshman, felt the pull of Columbia's traditional programs early. "When I was applying to Columbia, I knew that it had the Reid Hall Paris program," she says. "I wanted to come to Columbia anyway, but the program was a plus."
Once she was in France, serendipity kicked in — as it is meant to in these programs. Cavallo's love of film hadn't found much scope in New York but in Paris she met cineastes on her wavelength. "Buster Keaton is one of my heroes," she says, "but at Columbia, we spent four hours on him. In Paris he was the subject of an entire class.
"I told the head of the program how I loved movies, and she encouraged me to be a critic," Cavallo continues. "Another director of the program helped me become an intern after I had knocked on every film door in Paris and been refused. The people with whom I interned took me on set and into the editing room so I got to see how a production company actually works. I didn't realize how complicated it was."
Cavallo's curriculum included self-directed study, which she used to write a screenplay. She attended the Cannes International Film Festival and joined a sit-in staged by one of her film professors when he was fired from his position at a movie theater. "My favorite period in French cinema is the '60s, and it was like Paris in May '68 is still alive now."
Cavallo's study abroad was the fulfillment of a dream; for Cohen, it was a unique opportunity to gain powerful business skills; and DeSocio used his year of study to become more independent and discover new academic cultures. But for all of them, it was life-altering. "Students want to be challenged to experience something radically different from what they have encountered on campus," says Pippenger. "They want a transformative experience, and often they get it."
Ted Rabinowitz '87 is a copywriter and author. His first novel, The Wrong Sword, was published last year by Musa Books under the pen name Ted Mendelssohn; the sequel will be out next year.