Features
For Global Alumni, Columbia Made a World of Difference
By Ted Rabinowitz '87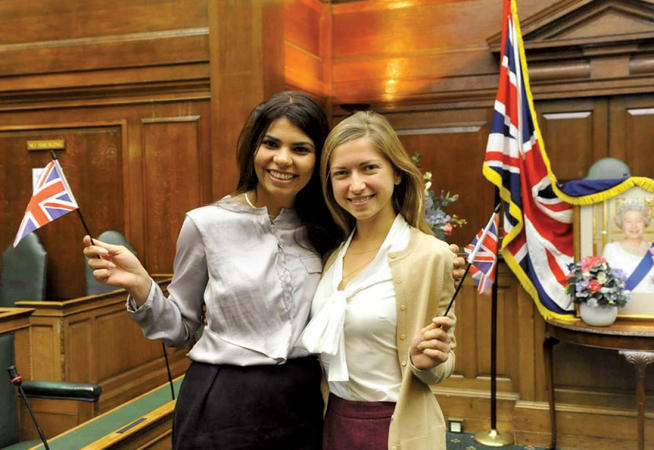 Ashleigh Silver '04 (right) and friend Ambica Shiringi celebrate their newly minted British citizenship in summer 2013. Photo: Courtesy Ashleigh Silver '04
R
aised in Southern Indiana, Mark Minton '67 couldn't predict how he would be affected by the diversity he encountered at Columbia. His experiences led him from Morningside Heights to Japan, South Korea and finally Mongolia, where he served for three years as U.S. ambassador. He is now president of the Korea Society, a nonprofit dedicated to building greater cultural and social ties between the United States and South Korea.
Ashleigh Silver '04 grew up on an Ohio farm. She studied languages at Columbia and has worked for the last six years in London, where she is one of the most multilingual employees — speaking French, Spanish and Italian — at her steel-trading company, and travels for business throughout Europe.
Vikas Anand '11 was born on Long Island, "a New Yorker through and through." He developed his global interest in his first years at Columbia by interacting with "the most diverse student body in the world. Just talking to someone who went to Taipei for a student competition blew my mind," he says. Since graduating, Anand has been a business analyst in Mumbai; he plans to work in Singapore or London next.
For many Columbians, globalism was the natural outcome of living on a multicultural campus in a pluralistic city.
Columbia alumni are scattered across the globe like dandelion seeds. They have taken root in virtually every major city in the world, from Hong Kong, to Capetown, to Amsterdam, to Santiago; they have made their careers in places as far from Morningside Heights as Athens, São Paulo and Ulan Bator, Mongolia. When asked what drives the diaspora, global alumni point to the unique combination of a diverse student body, a famously cosmopolitan city and a rigorous liberal arts tradition grounded in the Core Curriculum.
Some alumni can point to a single class or professor who ignited their interest in global lives. For Minton, it was a survey course in East Asian studies, "a sort of second year of Contemporary Civilization," he says. "It had its own textbook of readings, the way that CC did at the time." Minton was so impressed that he continued in the department, taking classes with Columbia legends such as Wm. Theodore de Bary '41, '53 GSAS, the John Mitchell Mason Professor Emeritus and Provost Emeritus; Donald Keene '42, '49 GSAS, University Professor Emeritus and the Shincho Professor Emeritus of Japanese Literature; and Gari Ledyard, the King Sejong Professor Emeritus of Korean Studies and Director Emeritus of the Center for Korean Research.
Bruce Steinberg '78's career in media includes the creation of two TV channels in the United Kingdom. Photo: Deborah Hurford Brown
When Minton was drafted after graduation, "I assumed I would just be issued a rifle and helmet and sent into off into combat" in Vietnam, he says; but when he told the Army's assignment bureau of his background in Asian studies, he was sent to learn Japanese at the Defense Language Institute Foreign Language Center, and stationed in Japan. From there, a career in the Foreign Service was a short step. "It was like a set of dominoes," says Minton. "Now that I think about it, the first and decisive clues as to my career happened at Columbia College."
U.S. diplomat Chris Dell '78 also points to an inspiring class for his career choice. "I went to Columbia as a pre-law and thought about going into politics. But taking Poli Sci 101, I decided I didn't want to be like all the other people in the room." Then, in his junior year, he took a course in strategic studies with Warner Schilling, and he was hooked. Schilling helped to get him an internship at the State Department, after which Dell won a Euretta J. Kellett Fellowship to Oxford. He joined the State Department in 1981, and he has since been posted to countries from Afghanistan to Zimbabwe. He is currently looking forward to a new private-sector career that builds on his experience in Portuguese-speaking Africa.
Of course, some alumni enrolled with the intention of focusing on international subjects. Michael J. Novielli '03, '09 TC grew up in Riverhead, Long Island. Thanks to an inspiring social studies teacher in ninth grade, Novielli was fascinated by Asia and "Columbia's Asian studies program was a primary consideration in choosing the school," he says. Through Columbia's Summer Language Program in Beijing, Novielli studied Mandarin in Taiwan and Beijing, and (like Minton) studied East Asian cultures with de Bary; he now works in Beijing, where he is co-founder and co-CEO of Due West, an educational company for Chinese students.
Then there are alumni like Silver, who came to Columbia because of its position as New York's Ivy and who chose to explore global studies on her own and used Columbia's language and international classes to achieve her goals. "My dad had always thought it was a waste of time to study other languages, but visiting Dijon the summer of my freshman year changed my mind. To communicate with the locals you needed to know French." She studied Spanish, Italian and advanced French at Columbia, and now uses all of them in her job.
Novielli also praises the quality of Columbia's language departments. "I had my strongest faculty relationships with my language instructors, like C.P. Sobelman and Hailong Wang."
For many Columbians, globalism was the natural outcome of living on a multicultural campus in a pluralistic city.
Reza Vishkai '85, '86E, a managing director ofInsight Investments in London, fled Iran for the U.S. in 1979 with his family. He attended a boarding school in New Jersey and, when he began college, found a campus that was matter-of-fact about students from abroad. "Columbia is a very international university," notes Vishkai. "I might have experienced it more because international students tend to hang out together."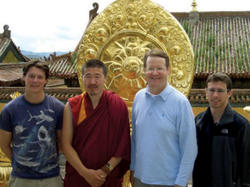 U.S. Ambassador to Mongolia Mark Minton '67 with the head monk of the Amarbayasgalant Monastery in 2008; they are flanked by Kevin Nolan '10 GS (right), who was interning at the U.S. Embassy in Mongolia, and a Peace Corps volunteer (left). Photo: Courtesy Mark Minton '67
Anand, who for two years was a business analyst and strategist for Mahindra & Mahindra in Mumbai, notes that growing up on Long Island "was fantastic but limited; I wanted to get out of Long Island's monoculture even before Columbia … to be in a place where I was exposed to a lot more."
He jumped into student life with both feet, joining extracurricular groups such as the Columbia University Bhangra Society and becoming executive secretary of the Activities Board at Columbia. It gave him a chance to see how student groups interacted with one another. "While students of the same culture did stick together, they were definitely open, and you could hang [with them] and see what was happening," he says.
Anand also felt enlightened by student political and cultural activity. "Seeing protests for and against the same issue at the same time, seeing a Japanese event on The Steps and a Caribbean event at Lerner at the same time, it was all very diverse."
For Lara Barazi '90, managing director of Kefalonia Fisheries in Greece, diversity came with her living arrangements. She had attended high school in Connecticut and found it "homogenous." At Columbia, one of her roommates was a ballerina and two others were from the Dominican Republic; the nearby neighborhood, meanwhile, was different from anything she had known. "Coming from a sheltered background, then coming to Harlem … I was in a volunteer program where you could be a teacher's assistant in the local high schools. The kids had a reality that I had never encountered," she says.
Michael Novielli '03 in Xinjiang, a province in northwestern China. Photo: Courtesy Michael Novielli '03
Michael Camacho '05, who grew up in the suburbs of South Brunswick, N.J., credits Columbia with giving him an "openness to other cultures" that helps him as an investment manager in Amsterdam. "I became involved in the Student Council, and through that made connections to people with international outlooks, and I've reconnected with them through the years."
Columbia's cosmopolitan atmosphere also comes from attracting students outside the U.S. American alumni are often unaware of the drawing power of Columbia's reputation elsewhere in the world. "The Columbia brand in Asia is a gold standard for education," says Minton. "Applying to Columbia is an aspiration for a lot of Korean and Chinese students."
That was the experience of Conrad Lung '72, the 2009 Hamilton Medal awardee and an international entrepreneur in clothing, manufacturing and investment banking. Lung turned down Hong Kong University, which would have ensured a career for life in Hong Kong, to pursue the College. "[When I applied] Columbia was better known in Hong Kong and China than Harvard or Yale," he says. "It was ranked No. 1."
Alumni volunteers outside the U.S. work hard to enhance that reputation. Anand and Lung helped establish and run local branches of the Columbia Alumni Association. Minton was an advocate for Columbia in South Korea, China, Mongolia and Japan. In Brazil, Diana Nasser '87 built a high-powered team of applicant interviewers for the local Alumni Representative Committee, helping to raise acceptances from one or two a year to 14 or 15.
In the end, most alumni discussions about Columbia circle back to the Core and the liberal arts tradition.
Alumni also point to Columbia's network of Global Centers as a valuable resource. "The Mumbai alumni association was connected with the Global Center and coordinated with it for events," says Anand. He adds that many of the center's staff during his time in India were also Columbia alumni. "The Studio X space in Mumbai, [which is] the architectural program's physical space in the city, helped create a strong presence there, far stronger than the other Ivies."
Stephen Jansen '91, who was president of the Columbia University Club of London for seven years (2004–11; he was a CFO in the city's finance sector), notes that the Global Centers aren't the "satellite campuses" created by some universities. "Satellites create issues for academic freedom in some countries," he says, whereas "Global Centers … provide a place for research and projects to be done. They're based on study and projects, not a curriculum."
In the end, most alumni discussions about Columbia circle back to the Core and the liberal arts tradition.
The Core helped some international students to understand their own cultures more fully. "When I left Hong Kong," says Lung, "I turned my back on everything that was Chinese. My overwhelming belief was that everything in America was great." But at Columbia, he found his worldview changing. "Taking the Core, I didn't just learn about the Western tradition; through it I came to understand my own tradition," he says. He began to see the parallels between the Western and the Chinese traditions. "The Odyssey is like the Chinese epic Journey to the West, a process of self-discovery, learning and maturity. In The Iliad, everyone has a role to play, just like in Ancient China.You can see the conflict between the assigned roles and the search for power."
Many alumni see Columbia as having taught them how to become lifelong learners — a vital skill when living abroad. Barazi moved to Greece with her husband in 1996, and ultimately took over his family's aquaculture farm. "I came in knowing nothing — no Greek, no aquaculture experience and no scientific background, but the Columbia training helped me to learn the business, to understand how to learn what I didn't know and not to be intimidated." It also helped put her on an equal cultural footing with her European neighbors and business partners.
Lung sees that training as akin to intellectual property: "Liberal [arts] education is becoming a global commodity that everyone will need to train their young people, and you don't have to look further than the Core Curriculum and the humanities for that."
Many alumni see Columbia as having taught them how to become lifelong learners — a vital skill when living abroad.
For some alumni, the College's emphasis on critical thinking was crucial. "The Core gives me a level of curiosity and a critical attitude toward even well-accepted ideas that's formed my mindset and has helped in my career," says Camacho.
Some alumni see this as part of the humanist emphasis on exploration and free inquiry. "Columbia gave me my first opportunity to explore what excited me," says Bruce Steinberg '78, whose career in media and business includes the creation of two TV channels in the United Kingdom. "It gave me a thirst for knowledge and experience, and opened up my world."
For many alumni with international ties, the advantages of the Core become even clearer when compared with the education provided in the countries where they have lived and worked.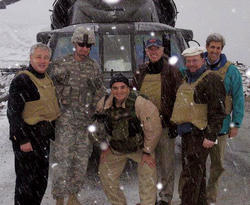 Diplomat Chris Dell '78 credits Columbia with inspiring his career choice. Left to right: Secretary of Defense Chuck Hagel, Gen. David Rodriguez, Robert Maggi, Vice President Joe Biden, Dell and Secretary of State John Kerry in Afghanistan in 2008. Photo: Jon Silson
Lung sees the current educational model in China as oriented toward test scores and rankings to the exclusion of all else. "Chinese students think if they have a high score in TOEFL and a high SAT, that means their education is good. But they're not prepared for American education, they're just good at taking tests … they are as bright, and more disciplined, but they are less entrepreneurial, less contextual."
Novielli echoes Lung; he founded Due West to teach local students the "soft skills" not being provided by the Chinese system. "Their system is entirely test based; the Gaokao college placement exam determines everything. The system doesn't emphasize these life skills, and the students are too busy to develop skills like time-management and leadership."Both Barazi and Linnea Hincks '10 (who grew up in Sweden and is a press secretary in Sweden's Office of the Minister for EU Affairs) note that the European system is limited as well, with an emphasis on early career specialization and a cultural education that extends only to the national culture; there is much less exposure, however, to the concepts of multiculturalism, pluralism and non-Western cultures. Minton extends that critique to education in the U.S.
"It's distressing to see all the commentary assuming a strict one-to-one connection between education and career," Minton says. "That's an impoverished way of doing it. Columbia didn't give me a vocation. The genius of the Columbia education is that it affects the thinking of a student and opens doors through which a student can walk to his or her career. And this approach is the correct one. It's a different way, a more subtle way.
"It's the Columbia way."
Ted Rabinowitz '87 is a copywriter and author. His first novel, The Wrong Sword, was published last year by Musa Books under the pen name Ted Mendelssohn; the sequel will be out next year.