Obituaries
Robert S. Greene '43, '58 Arts, Jazz Musician
Robert S. Greene '43, '58 Arts, a documentary writer, jazz musician and founder of The World of Jelly Roll Morton Band, died on October 13, 2013, in Amagansett, N.Y. He was 91.
After years of writing, Greene devoted the rest of his career to New Orleans jazz and the emulation of his jazz idol, "Jelly Roll" Morton,an early 20th-century jazz pianist known for his piano skills and influence on jazz. During the1970s and '80s, Greene recreated the tunes of Morton's Red Hot Peppers, traveling the world with his tribute band. Rather than copy Morton's songs note for note, Greene sought to master his stomping ragtime style within the New Orleans spirit of collective improvisation. Greene oftenremarked, "Jelly has taught me that you don't play the music; the music plays you."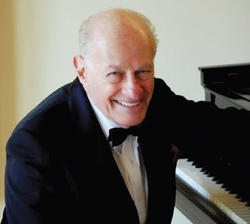 Born to Oscar Greenstein and Elma Elsa Stern on September 4, 1922, Greene grew up on the Upper East Side. While earning an M.F.A. in theatre arts, he began work at the CBS Radio Network, where he wrote documentary scripts. He was nominated for three and won two Writers Guild of America documentary awards. Greene taught script writing at Columbia and his books on radio writing and television writing were nationally recognized sources. Greene wrote for The Voice of America network during the height of the Cold War in the '60s. He then worked under Edward R. Murrow during the Kennedy administration and later as a speechwriter for the Johnson administration.
In the 1940s and '50s, Greene played piano at jazz clubs across New York. In 1973, he recreated Morton's seven-piece band at the Newport Jazz Festival with three of the original musicians.The band toured the world and played at venues such as Carnegie Hall in NYC and the Royal Festival Hall in London. The band's show in Hatfield, England, in 1982 was recorded and released in 1999 and was the last time three of the original members of the Red Hot Peppers played together.
Jazz critic Whitney Balliett wrote that Greene "is the best of the various Morton pianists; he gets inside Morton's music. He is emotional, reverent, and swinging."
Greene spent much of his time in New Orleans, where he played jazz piano. He contributed regularly to George H. Buck Jr.'s GHB Records to document and preserve traditional New Orleans jazz and played piano for the score of Louis Malle's film Pretty Baby. He often traveled to Denmark, France and Japan to perform, write, conduct research and visit longtime friends.
In an interview for JoyZine, Greene commented on his love of playing Morton: "If it was once done so perfectly, why do it again? I can only say: Because there's beauty there, there's excitement, there's love. If that can be transmitted to a live audience, some of the aroma of the original happens again … to bring this music to life for people today, that's our challenge."
Greene's final wish was that he be remembered by "playing pretty, any time."
Karl Daum '15