Obituaries
John Hollander '50, '52 GSAS, Renowned Poet
John Hollander '50,'52 GSAS, a poet, scholar, critic and professor, died in Branford, Conn., on August 17, 2013. He was 83.
A master of verse, Hollander was known for his formalist and neoclassicist approach at a time when many poets were experimenting with form. He cited W.H. Auden as a major inspiration, and his earlier work sought to embody the poet's improvisation of literary forms as well as a sense of playfulness woven into traditional style. Hollander's first collection, A Crackling of Thorns, was chosen by Auden in 1958 for the Yale Series of Younger Poets, which published the collection with a foreword by Auden. Among his Columbia literary influences, a mix of professors and classmates, were Mark Van Doren '21 GSAS; Lionel Trilling '25, '38 GSAS; Louis Simpson '49 GS, '59 GSAS; Daniel Hoffman '47,'56 GSAS; and Richard Howard '51. His greatest influence, however, was Allen Ginsberg '48, who shared Hollander's belief in the "mythological weight"of poetic form. One of Hollander's best-known poems, "Helicon," tells of his excursion with the famous Beat poet to sell their blood for spending money.
By the end of his long and prolific career, Hollander's style had evolved from what he described as "epigram literature" to a less witty, more high-minded form of what he called "murmursor chants," which divided critics, many of whom felt that his puzzling language and private meditations lacked subject matter. Others viewed this evolution as a reflection of his poetic eminence, as Hollander intricately explored verse and stanza form, most notably in his works Rhyme's Reason and Powers of Thirteen; the latter won Yale's Bollingen Prize in 1983.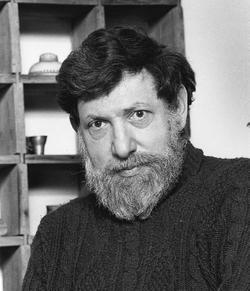 PHOTO: T. CHARLES ERICKSON, YALE UNIVERSITY OFFICE OF PUBLIC INFORMATION
Hollander was born on October 28, 1929, in New York City. He attended Bronx Science, where he wrote a humor column for the newspaper. At Columbia he wrote for Spectator and was editor of The Review with Ginsberg. Hollander began a doctorate at Indiana, leaving in 1954 to join the Society of Fellows at Harvard and returning to finish his Ph.D. in 1959. His dissertation was published as The Untuning of the Sky: Ideas of Music in English Poetry, 1500–1700 in 1961, the first of many critical works. Hollander joined the Yale faculty in 1959. He left in 1966 to teach at Hunter, but returned to Yale in 1977 and taught there for 25 years. He was named the Sterling Professor Emeritus of English in 1995 and retired in 2002.
Hollander published 20 collections of poetry, his last being A Draft of Light. He also wrote seven critical works and edited many more including the two-volume collection American Poetry: The Nineteenth Century for the Library of America.
Richard Poirier in The Washington Post in 1978 described Hollander as "the most intellectually daring, poignant, and thrilling poet writing in the Emersonian tradition of our poetry."
Hollander married Anne Loesser in 1953; they divorced in 1977. He is survived by his wife, Natalie, whom he married in 1981; daughters, Martha and Elizabeth; brother, Michael; and three grandchildren.
Karl Daum '15