Roar, Lion, Roar
Olympian Nzingha Prescod '15 Balances Fencing, Academics
By Elena Hecht '09 Barnard
It is 10 a.m. on a Thursday and Nzingha Prescod '15, biting her lower lip, is poised in a deep squat on a strip in the fencing gym, eyes focused directly ahead, right arm gently bent — relaxed hand up, creased elbow down— like a cat ready to pounce. A blond boy stands to her right, holding a glove a few inches above her eye level. With no warning he drops the glove and, in a moment in which time seems to slow, Prescod extends her arm and, with a deliberate yet delicate power, drives her right foot forward into a lunge, catching the glove in her right hand with a practiced accuracy.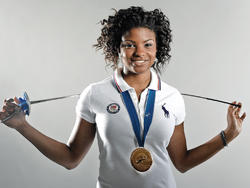 Fencer Nzingha Prescod '15, who is currently ranked No. 1 in the United States and eighth in the world, with her gold medal from the 2011 Junior World Championships, held in Amman, Jordan. Photo: Mike DoteIt is early September, and Prescod is not yet back to fencing after an intense summer of competition. But from even a glimpse of the 21-year-old's conditioning workout it is clear that her footwork is exceptional and her composure otherworldly— not surprising for a Columbia fencing team captain who competed in the London 2012 Olympics. Couple that with her history-making gold in May at the Marseille Foil Grand Prix, a triumph that made her the first U.S. women's foil fencer to win a Grand Prix title, and there's no doubt: Prescod is a champion.
She is also no stranger to New York fencing. The Brooklyn native has been fencing foil, one of three weapons used in the sport, since she was 9, when her mother brought her for lessons at the Peter Westbrook Foundation (PWF), an organization founded by six-time Olympian Peter Westbrook that brings fencing to inner-city children. From the start, Prescod liked to win, and that thirst for success drove — and in many ways continues to drive — her dedication. For someone whose inclination to smile seems as natural as her skill with a sword, her fervor for athletic perfection is surprising — and Prescod knows it. "I keep it really hush-hush, but deep inside I'm super competitive," she says.
But ambition alone does not beget success. Michael Aufrichtig, Columbia's head fencing coach and chairman of the New York Athletic Club fencing program, notes that Prescod — who is currently ranked No. 1 in the United States and eighth in the world — is in optimal physical form for the sport. "Also, mentally she is like that cool, calm, detached warrior," says Aufrichtig, who also draws attention to the combined power of Prescod's precise footwork and her sense of timing. "I feel she is one of the most talented, strong, creative, most impressive fencers in the United States and in the world."
It may seem daunting to balance an internationally successful athletics career with the rigor of a Columbia education, but for Prescod it is old hat: She has been harmonizing her academic life with sports-related travel since she was 13. This aptitude for maintaining balance has allowed Prescod, who came to the College from Stuyvesant H.S. and is majoring in political science, to strive for both fencing and academic success. She mentions making the Dean's List as a short-term goal before diving into her athletic aspirations — being on an international tournament podium again and with more consistency, and staying ranked in the top eight in the world. These coexisting goals require a busy schedule, with fencing practice six days a week, sometimes twice a day; volunteering at the Peter Westbrook Foundation Saturday Program, which offers fencing to youth ages 9–18 of all skill levels; traveling, often internationally, for competitions and training camps 11 months of the year; competing in the NCAA, national and international fencing seasons (which, to make things more complicated, overlap); and, of course, the demands of school.
But Prescod stresses that she thrives off a packed schedule. To train for the London 2012 Olympics she took the 2011–12 school year off (she entered Columbia with the Class of 2014), a time she describes as awful. "I needed a distraction. School is my distraction from fencing. And not a distraction in the bad way. I would go crazy from only fencing. Fencing is so mental and you really psych yourself out sometimes. … I have to do something else."
Thanks to Columbia's reputation for strong fencing and a number of PWF and Fencers Club teammates who went to Columbia, Prescod had wanted to attend the College since elementary school, though she notes that fencing aside, she loves the school. But ultimately New York was the biggest draw because, she says, "I didn't want to leave my coach."
That coach is Buckie Leach, Prescod's coach of 10 years and a US Fencing Hall of Fame member. Columbia fencers are encouraged to train with other coaches at clubs throughout New York City so as to access the diversity of competition that club fencing offers. As a result, throughout her time at Columbia Prescod has continued to train at the Fencers Club in midtown three to four times per week with Leach, whom she credits with shaping her work ethic. He instilled the concept that "'You've got to work hard all the time, 100 percent.' So I have that attitude about everything I care about," she says. "He has shaped me as a person in a lot of ways."
As she moves through her third year on campus, Prescod has her sights set on the Rio 2016 Olympic Games, where she hopes to have a chance to march in the Opening Ceremony (in 2012 she was deterred by an early-morning event the next day). And though she does not think about it much, in a sport that is known for historically lacking in diversity — Westbrook's sabre bronze medal in 1984 made him the first African-American Olympic fencing medalist, not to mention the first American medalist in fencing since 1960 — the significance of being "one of so few who've gone this far in this sport and who are black" is not lost on her. "I'm really glad that I can do this so younger black kids see that basketball and football aren't the only sports that they can do and be successful in. Fencing can take you so many places and give you so many opportunities and make you such a better person," says Prescod. "I really hope younger kids can see that through me."
Watch a video highlighting Nzingha Prescod '15's fencing career.
Elena Hecht '09 Barnard is a New York-based writer and dancer, and a former Columbia College Today editorial assistant.