Within the Family
Core Curriculum Knows No Borders
Daniel Gordis '81 had no idea when he was reading Homer's Iliad and Vergil's Aeneid in Literature Humanities, or the works of Plato and Aristotle in Contemporary Civilization, that 35 years later he would be exporting those classics to a startup college nearly 6,000 miles from Morningside Heights.
"We're bringing Columbia's Core Curriculum to Shalem College in Jerusalem," says Gordis, an author, commentator and scholar who immigrated to Israel in 1998. Gordis is s.v.p., Koret Distinguished Fellow and chair of the Core Curriculum at Shalem (the name means "complete" in Hebrew) College, which opened its doors to its first class of 50 students in October.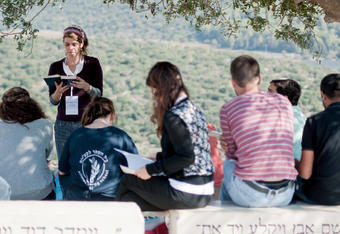 Students from Shalem College attend a seminar at Tel Azekah, an archeological site not far from Jerusalem where plaques describe the nearby mythical battle between David and Goliath. Photo: Maoz VaystoochShalem College is the first school in Israel based on the American model of liberal arts education; as such, Gordis says it will fulfill "a long unmet but very profound need in Israeli society." Other colleges there follow the European model where students choose a career path upon entering college and take courses designed to prepare them to work in that field. "There is no place anywhere in the Jewish state where there's a core curriculum that everyone takes regardless of his or her focus of study," says Gordis. "It's a way of creating not just an amalgam of courses but a four-year conversation. We are creating a community of learners."
Gordis was among a group of faculty and administrators from Shalem College that spent time in September meeting in New York with faculty and administrators from Columbia's Core Curriculum in preparation for the new school's opening. "It was quite an experience to be back in Hamilton Hall so many years later," he notes.
Gordis, who earned a master's and rabbinic ordination from the Jewish Theological Seminary and a doctorate in social ethics at Southern Cal, was the founding dean of the Ziegler School of Rabbinic Studies at the University of Judaism, the first rabbinical college on the West Coast. That caught the attention of leaders of the Shalem Center, an Israeli think tank created in 1994, who were exploring the launch of a liberal arts college. "I embraced it and became involved," Gordis says.
Shalem College is located at Kiryat Moriah in Jerusalem, on a campus rented from the Jewish Agency and near numerous other educational institutions. It offers a B.A. and is accredited by Israel's Council for Higher Education. The first cohort of students will choose between two major tracks of study: Jewish thought and philosophy or Middle Eastern and Islamic studies; founders plan to add other majors as the school grows. Classes are taught in Hebrew but all students are expected to be fluent in English and students in the Middle Eastern and Islamic studies track also must know Arabic. All students in the first class are Jewish, although Gordis and other school officials say a concerted effort was made to recruit Arab students and the hope is that Arabs will enroll in future years. All students are required to do community service, helping nearby Jewish and Arab residents.
For Gordis, helping to shape the humanities curriculum of Shalem College around "small classes with real conversations" and "a reverence for texts" is the latest step in a journey that found its course at the College. In a column published in The Jerusalem Post on October 18, Gordis wrote, "Columbia imbued many of us with a sense that ideas matter, that profound thinkers ought to be one's lifelong companions; we hope that at Kiryat Moriah, Shalem's students will emerge with similar commitments."
For more information about Shalem College, go to shalem.ac.il.