Alumni News
Alumni in the News
Terrence McNally '60 had two play revivals in New York this fall. It's Only A Play, which originally ran Off-Broadway in the 1980s, opened on Broadway on October 9 with a cast including Nathan Lane, Matthew Broderick, F. Murray Abraham, Stockard Channing and Megan Mullally. Lips Together, Teeth Apart, starring America Ferrera, premiered Off-Broadway at the Second Stage Theatre on October 29.
Film director Bill Condon '76 made his Broadway directorial debut with Side Show, a revival of the 1997 musical that tells the story of conjoined twins in the 1920s and '30s vaudeville scene; previews began October 28. Brian Dennehy '60 appeared on Broadway in a limited run (September 13–November 8) of Love Letters, which features two characters reading letters about their lifelong friendship.
Sam Polk '01 was featured in an August 28 article in The Los Angeles Times for his work with Groceryships, which provides scholarships for groceries, food education programs and support for working mothers to encourage healthful eating and works to combat obesity and food insecurity in low-income areas. The article covers Polk's reasons for starting the organization and the impact of the pilot program on the first eight participants.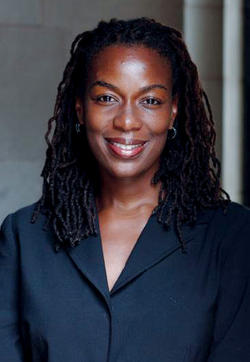 Valerie Purdie-Vaughns '93 Valerie Purdie-Vaughns '93, an associate professor of psychology at Columbia, was named a National Academies Education Fellow in the Sciences for the 2014–15 academic year by the National Academy of Sciences. Purdie-Vaughns was chosen for the fellowship based on her participation in the 2014 National Academies Summer Institute on Undergraduate Education in Science, a selective teaching program focused on ways to increase student engagement and undergraduate education in science.

Gerard S. Honig '00, founder and CEO of Symbiotic Health, was listed in Crain's New York Business when Symbiotic Health was named one of the magazine's "Six Biotech Startups to Watch." Symbiotic Health is developing the so-called"poop pill," which combats hospital-contracted Clostridium difficile (C. diff) infections.

Eric H. Holder Jr. '73, LAW'76 announced his resignation as attorney general on September 25, after holding the position for six years. Holder was the nation's first African-American attorney general and was appointed by President Barack Obama '83, who said Holder will continue to serve until his successor is confirmed by Congress. Holder focused much of his time in office on fighting racial discrimination in the justice system.
Paul E. Greenberg '90, BUS'97 PHOTO: KATHRYN HUANCPaul E. Greenberg '90, BUS'97 has been named CEO of NYLON Media, a digital media company including NYLON magazine that focuses on pop culture and fashion. Prior, Greenberg was CEO of CollegeHumor and president ofthe digital branch of Time, Inc.'s Lifestyle Group.

Robert L. Reffkin '00, BUS'03 appeared on the 2014 Fortune "40 Under 40" list. The founder and CEO of Urban Compass, a New York apartment finding tool, Reffkin was No. 29 on the list of the most influential young people in business. Robert Thomas Cottingham Jr. '88 made Fortune's "Inner City 100," which lists the fastest-growing companies located in inner cities throughout the United States. Cottingham is the CEO of Sabre88, a consulting and IT company based in Newark, N.J.

Martin Finkelstein '70 has been appointed to a Bill & Melinda Gates Foundation advisory board to work on issues ofstudent achievement. He will help the foundation develop strategies to promote attendance and degree completion in colleges and universities.

Dan Futterman '89 and his wife, Anya Epstein, were the showrunners, executive producers and chief writers of the Fox television miniseries Gracepoint, which focused on a police force trying to solve a murder in a small town. The 10-episode crime drama was a remake of the successful BBC miniseries Broadchurch.

Mike Groopman '07 is in his second year as director of baseball analytics for the Kansas City Royals, who won the American League pennant and made it to Game 7 of the World Series before losing to the San Francisco Giants. Groopman oversees the quantitative research, development and analysis within baseball operations for the Royals.

Anne-Ryan Heatwole JRN'09