Alumni Profiles
Steven Handel '66 Is Bringing Nature Back to the City
By Nathalie Alonso '08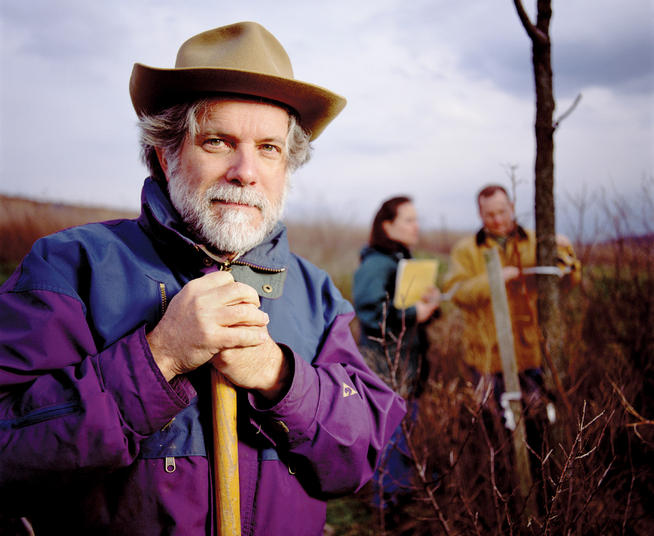 On a sunny July afternoon at Brooklyn Bridge Park, amid ice-cream toting children, tour groups and wedding parties posing for photos, Steven Handel '66 stops along the promenade of Pier 1 to contemplate the salt spray roses facing the East River. Where the casual observer might perceive a delicate bloom, however, Handel sees a hearty species chosen for the site because it tolerates salty air and water.
Handel would know. The Rutgers ecology professor calls the thriving 1.3-mile waterfront park facing Lower Manhattan "the greatest expression" of his work in ecological restoration — the practice of reconstructing ecosystems that have been damaged or destroyed. A pioneer when it comes to restoring urban sites, Handel helped design the natural features of the park, a formerly dilapidated post-industrial area that is now 85 acres of playgrounds, sports facilities and other amenities interspersed with gardens, lawns and meadows. Pier 1, which includes a type of coastal wetland known as a salt marsh, became the first section of the park to open to the public, in March 2010.
"Plants are not just pretty; they don't just give us aesthetics," says Handel, director of the Center for Urban Restoration Ecology, a joint venture between Rutgers and the Brooklyn Botanic Garden. "Plants are important. They give us what we call ecological services: cleaning the air, cooling the air, cleaning the ground water, stopping soil erosion — all the things we need to make city life more livable. With America, and now the world, mostly urban, the role of urban restoration ecology is becoming critical."
While it is rarely possible to reconstruct what existed, Handel evaluates soil quality, invasive species threats, land use history and other factors to create habitats for plants and wildlife. He considers flora native to the area and species that can survive with minimal maintenance under the site's current and future conditions. "I look at the landscape and ask, 'What ecological functions can we add to improve the value of the park for the public?'" he says.
Bram Gunther, chief of forestry, horticulture and natural resources for the New York City Parks Department, notes that Handel has charted new territory for ecologists. "[Ecology has] always been practiced in wild ecosystems," says Gunther. "Nobody for a long time ever thought about looking in cities — and he did. Steve was way ahead of the curve; now everyone is doing that."
Born in Brooklyn and raised in Far Rockaway, Queens, Handel recalls being fascinated by plants from a young age. He majored in biological sciences at the College and earned a Ph.D. in ecology and evolutionary biology from Cornell in 1976. Prior to joining the Rutgers faculty in 1985, he taught at the University of South Carolina and at Yale, where he also was director of the Marsh Botanical Garden.
Handel's first foray into ecological restoration was an experimental effort in the late 1980s to revitalize a landfill in Kearny, N.J. Having noticed that the site had not returned to woodland as expected, he sought permission from the local government to plant patches of trees in an attempt to attract birds that would bring in even more seeds. The project "worked like crazy," says Handel — the site is now young woodland — and received so much attention that the New York City Department of Sanitation asked him to do similar work at the Fresh Kills Landfill on Staten Island.
Since then, in addition to Brooklyn Bridge Park, Handel has contributed to the designs for Orange County Great Park in Irvine, Calif.; for landscapes around the sites for the 2008 Olympics in Beijing; and for public parks in Dublin, Ireland, among other projects. He is regularly invited to speak at industry meetings around the world: He addressed the International Conference of Urban Biodiversity and Design in Incheon City, South Korea, in October and the International Congress on Green Urban Futures in Bangalore, India, in November — and has earned numerous accolades. Most notably, in 2011, he received the prestigious Theodore M. Sperry Award, given biannually by the Society of Ecological Restoration to an individual who has "made significant advancements to the science and/or practice of ecological restoration."
Landscape architect Kate Orff, an associate professor in the Architecture School, notes that Handel has been instrumental in making ecology a component of urban planning. "His work has greatly advanced the field, particularly in that he has expanded its reach outside the domain of pure science and brought restoration ecology into urban design, politics and larger decision-making contexts," she says.
Handel worked on one of the winning proposals for Rebuild by Design, a competition organized by the Department of Housing and Urban Development and the Presidential Hurricane Sandy Rebuilding Task Force to make areas flooded during the hurricane more resilient. The system of protective infrastructure he helped design, called the "Big U," will span 10 low-lying miles along Lower Manhattan. Through the Science and Resilience Institute at Jamaica Bay, Handel also has federal funding to study the potential for restoring habitats in Jamaica Bay, Queens.
As he reflects on his career, Handel notes one advantage that restoration ecology has over academia: "I'm proud of my research papers, but to see something on the ground? This is going to be here forever, I hope, and I played a role; it's very satisfying."
Nathalie Alonso '08, from Queens, is a freelance journalist and an editorial producer for LasMayores.com, Major League Baseball's official Spanish language website. She writes "Student Spotlight" for CCT.