Around the Quads
Five Minutes With ... Page Fortna
Page Fortna is a professor of political science and, since 2013, chair of the Department of Political Science. She specializes in issues of war and peace, focusing on war termination, post-war peace and the effects of terrorism in civil wars. She earned an undergraduate degree from Wesleyan and a Ph.D. from Harvard. This year Fortna was honored with a Lenfest Distinguished Faculty Award.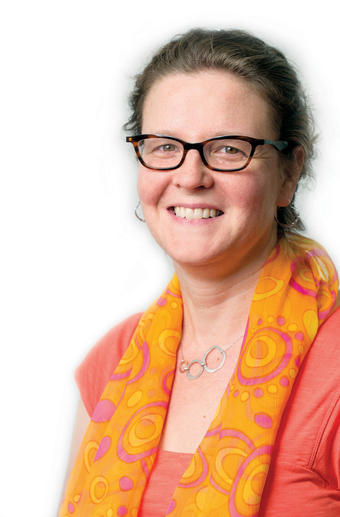 What got you interested in issues of war, conflict resolution and peace?
My dad was a religion professor, so we as a family joined him on sabbaticals in East
Jerusalem and the West Bank a couple of times when I was a kid, and in South Africa when I was in high school. Even though I wasn't all that interested in politics for those early sabbaticals, by the time I was in high school I was starting to get interested. And having lived in these two conflict zones, by the time I got to college I knew I was interested in international conflict and peace.
How would you describe what you do?
I try to use a scientific method of hypothesis testing and looking at evidence to answer questions that have real-world effects and real-world implications in the context of war and peace. That involves statistical analysis and data collection; it also involves historical research and in-depth case studies to try to get at the research questions I'm interested in from a couple of different angles.
Are you working on any books or projects right now?
I have a research project on terrorism in the context of civil wars. I'm looking at rebel groups in various conflicts all over the world and asking questions about why some rebel groups end up using a strategy of targeting civilians indiscriminately (that's how I'm defining terrorism) and why some groups don't. I'm also looking at the implications of that. Do groups that use terrorism fare better in their conflicts? Is it an effective strategy for insurgent groups or does it backfire? So far, I'm finding that terrorism isn't very effective.
What courses do you teach?
I teach a seminar called "Ending Wars and Keeping Peace," which is a look at theories about why wars drag on or end, how wars end, mediation issues and cost-benefit analyses on the part of the people who are fighting and things that can be done to make peace last longer. I also teach a research methods course introducing students to what it means to do political science research — how to do an interview, how to do archival work, how to think about causation and hypothesis testing from the big abstract stuff to the nitty-gritty methods.
How would you describe your teaching style?
I try to start classes with questions that seem quite straightforward but are actually kind of tricky, both as a way to get students talking and also to make them think critically. It's best when the students get going and all I'm doing is moderating a debate and a conversation among them. Once they get their brains going they tend to think of the big and interesting questions, and they also take the conversation in ways that I didn't anticipate and that are fascinating.
Tell me about receiving a Lenfest award.
It felt great! It came at about the same time that I won an award from the graduate students for graduate student teaching and advising [the Political Science Graduate Student Council Faculty Advising Award]. Having them both come together was really nice. I was the beneficiary of really fabulous teachers throughout my life, so it's nice to walk in their footsteps.
What's the most valuable thing a professor can do for his or her students?
Teach our students to think critically about the world and introduce them to things that allow them to do that. If you have that skill, you can learn pretty much anything else. I'm much less concerned that students come out of my class knowing "such-and-such international relations theory" or facts about particular conflicts or that sort of thing — if they get some of that, great! — but if they know how to read scholarly research critically then they know how to read the newspaper critically and they know how to think about campaign ads critically; they can take anything they do in any career and evaluate it, turn it on its head, innovate and do all of those things that are going to stand them in good stead.
Where is your favorite place to be?
I have two. One would be any place in the wilderness. I spend a lot of time in Oregon and hiking or backpacking in the Columbia River Gorge or on a mountain or pretty much any place in the wilderness I find to be refreshing. The other is that I am a horseback rider, which is very hard to do in New York. When I'm in Oregon, being at the barn and riding has to qualify as a favorite place.
What is the most played music on your iPod?
If you count what gets played because my kids are requesting it — but I'm happy they're requesting it — it's The Beatles.
Interview: Anne-Ryan Heatwole JRN'09
Photo: Barbara Alper