Around the Quads
Satow Honored at Alexander Hamilton Award Dinner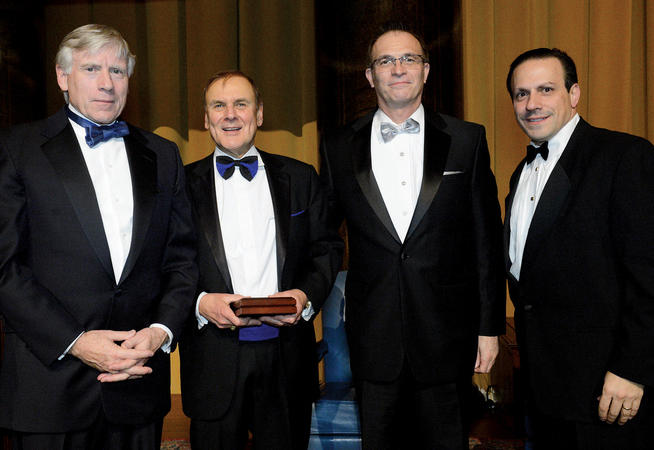 Phillip M. Satow '63 (second from left) was honored with the 2014 Alexander Hamilton Medal on November 20. Presenting the medal were (left to right) President Lee C. Bollinger, Dean James J. Valentini and CCAA President Douglas R. Wolf '88.
Phillip M. Satow '63 was honored on November 20 at the 2014 Alexander Hamilton Award Dinner, where he was presented the Alexander Hamilton Medal, the College's highest award. The medal is given annually by the Columbia College Alumni Association for distinguished service to the College and accomplishment in any field of endeavor.
More than 330 guests were on hand at the black-tie event in Low Rotunda to honor Satow, a University benefactor, former director of the Columbia College Fund, former president of the CCAA, and emeritus member of the Board of Visitors and the CCAA Board of Directors. Satow also is a member of the Columbia Athletics Leadership Committee and the Columbia Entrepreneurship Advisory Board. An infielder for the Lions baseball team in all four of his undergraduate years, Satow and his family in 2010 funded Satow Stadium, home of the 2013 and 2014 Ivy League baseball champions.
In 2000, Satow and his wife, Donna GS'65, co-founded The Jed Foundation, now a leading public charity committed to preventing mental illness, substance abuse and suicide among college students.
Satow also is a successful entrepreneur and corporate executive who has worked in the pharmaceutical and health care fields for more than 40 years. In 2004, he was presented a John Jay Award for distinguished professional achievement. He and his wife raised three children, including Columbia graduates Michael '88 and Julie '96, SIPA'01, and have five grandchildren.
Present at the dinner, which raised $900,000 for College priorities including financial aid and the Core Curric­u­lum, were alumni, faculty, students and friends, including nine other past CCAA presidents. Lauding Satow from the podium were alumni leaders CCAA President Douglas R. Wolf '88; Trustees Chair Jon­athan D. Schiller '69, LAW'73; Trustee Emeritus Robert K. Kraft '63; Trustee Emeritus Philip L. Milstein '71; and CCAA Chair Kyra Tirana Barry '87; as well as President Lee C. Bollinger.
The Kingsmen closed the evening with beautiful renditions of "Roar, Lion, Roar" and "Sans Souci."
View more photos from the dinner.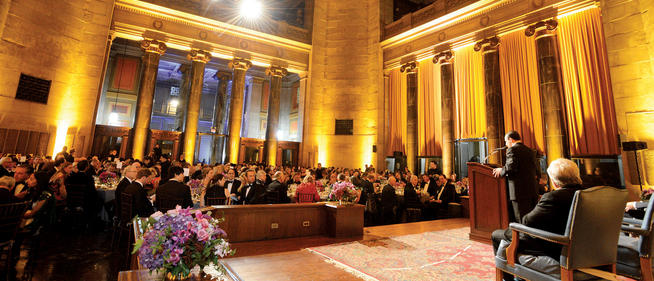 PHOTOS: EILEEN BARROSO