Around the Quads
Winston Lin '15 Serves Up Success for Columbia Men's Tennis Team
By Nathalie Alonso '08
Winston Lin '15 had a remarkable 19-match win streak last spring on his way to being named the 2014 Ivy League Men's Tennis Player of the Year. Endowed with solid fundamental skills and footwork, in October he captured the Intercollegiate Tennis Association (ITA) Northeast Regional singles title for the second consecutive year.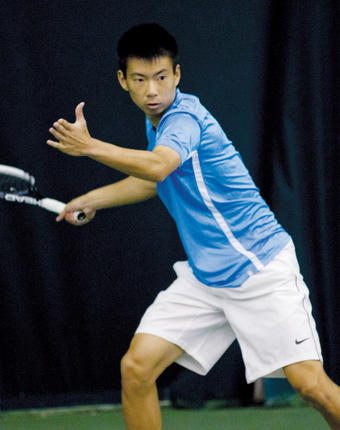 Winston Lin '15 began his senior year ranked No. 8 in the nation in singles by the Intercollegiate Tennis Association. PHOTO: Gene Boyars/Columbia AthleticsAsk men's tennis head coach Bid Goswami what sets Lin apart, however, and he first points to a less quantifiable quality. "Every time I see him play, I think, 'Wow, you can't teach heart to a young man,'" says Goswami, adding, "In my 33 years [as Lions' head coach], I have never seen anybody as dedicated as Winston."

During the 2013–14 season, that dedication translated into a team-leading 31 wins at the No. 1 singles position en route to becoming the first Columbia player since 2003 to be named to the ITA men's All-America team and earning first team All-Ivy League distinction for the third consecutive year. His performance helped the Lions go undefeated against Ivy League opponents to earn their 11th conference crown and their first since they won back-to-back titles in 2009–10. Columbia went on to capture the No. 16 seed in the 2014 NCAA Tournament, the highest national ranking in program history.

"It's been unbelievable," says Lin, who began his senior year ranked No. 8 in the nation in singles by ITA. "It's been so much fun playing for the team, playing for the coaches. I feel I've gotten a lot better every year."

As part of a demanding schedule that allows him little free time, on a typical weekday Lin devotes a couple of hours to fitness training in the morning, followed by classes and two to three hours of team practice in the afternoon. In addition to becoming physically stronger — he has put on more than 15 pounds of muscle since arriving at Columbia — he credits his time with the Lions for improving his focus. "Mentally I've gotten better," he says. "I'm more mature and I understand what it takes to prepare for matches."

Born and raised in Williamsville, N.Y., a suburb of Buffalo, Lin started playing tennis at 7. He was encouraged by his father, a professor of engineering, who coached his two sons even though he had taken up the sport just a few months before. Together they honed their skills by playing and observing other players. The elder of the brothers, Lin sampled several team sports as a child but preferred the satisfaction of excelling at an individual sport. "If you win, you get all the glory; if you lose, you bear all the responsibility," he says.

Lin, the 2012 Ivy League Men's Tennis Rookie of the Year, visited Columbia shortly after speaking with Goswami and associate head coach Howard Endelman '87 before his senior year at Williamsville East H.S. The camaraderie he felt led him to choose the College from among several Ivy League schools. "The biggest thing that stood out to me was how much the coaches cared about the team not only as players but also as people," says Lin, who is majoring in economics. "It really felt like Columbia tennis was a big family."

Today, Lin considers that closeness to be a highlight of his experience at the College. The bond extends to team alumni, with whom he enjoys interacting at matches. "They're really supportive and try to help the Columbia tennis family whenever they get a chance," says Lin.

Buoyed by his taste of collegiate stardom, Lin plans to embark on a professional career immediately after graduation. He hopes eventually to be ranked among the top 100 players in the world by the Association of Tennis Professionals. "I think if I work toward that goal, everything else will follow," he says.

Nathalie Alonso '08, from Queens, is a freelance journalist and an editorial producer for LasMayores.com, Major League Baseball's official Spanish language website.