Columbia Forum
Cover
You shouldn't judge a book by its cover yet many people do, which makes Peter Mendelsund '91 a VIP in the literary world
By Peter Mendelsund '91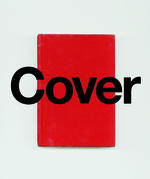 Peter Mendelsund '91 was first profiled in these pages in November/December 2008, while he teetered on the threshold of the kind of renown that eludes most book cover designers. Since then, his covers have been featured in The Wall Street Journal and Wired. Radio listeners have heard his prose being read on NPR; TV viewers have seen him on PBS NewsHour. Even his rough drafts ("Peter Mendelsund's 90 Versions of Yes") have been lovingly featured in The New York Times Style Magazine. In the same field, perhaps only Mendelsund's Knopf colleague Chip Kidd — nominated to be one of the Time 100, in 2008 — has achieved the same cultural ubiquity. He is a book cover designer with fans.
PHOTO: GEORGE BAIER IV
It's not only the simultaneous release of two of his own books (What We See When We Read, and the monograph Cover, both 2014) that has set his name afloat on the nation's airwaves. According to more than one observer, it's the consistently new flavor of his visual thinking. Following his graduation from Columbia, where he majored in philosophy, Mendelsund struggled to make a living as a classical pianist. It wasn't until he was in his mid-30s that he began, tentatively, to design. "Mendelsund makes a point about his lack of formal training… " writes David Griffin in The Washington Post, "but clearly he turned his outsider's status into a virtue." He adds that the designer's brain was "unmuddled by the minutiae of process and technique, which too often keep older designers from achieving the freshness of youth."

Now, more than 11 years into his unplanned career, Mendelsund is the associate art director at Knopf; he has designed around 600 volumes. In the process, he has "managed to create some of the most recognizable — and most celebrated —book covers of the past decade," according to The New Republic. "I have the greatest job in the world," he points out to an interviewer; in other words, he is still having fun. In the following excerpt from Cover (powerHouse Books, 2014), he sets out his idea of what a book cover is, and should be.
Rose Kernochan BC'82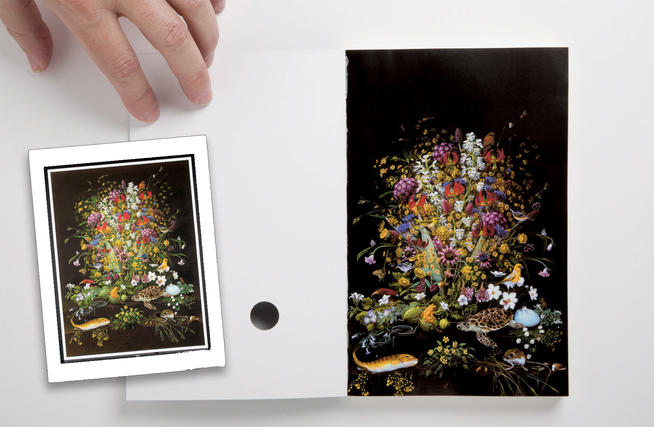 My First Cover
During the first few weeks in my new cubicle (with my new Random House ID which certified me as a productive member of society, my new solitary rubber plant, and my brand new swatch books), I was unable to perform any of the tasks assigned to me without assistance. I was constantly pestering the other designers: "What's a Pantone chip? What's a mechanical? What's a stock agency? What does CMYK mean?" Everyone was so patient. And I was happy beyond belief. At 40K a year it was the most exhilarated I've ever been at a job — before or since. At first I was working solely on other designers' covers — making back ads and spines, doing paste-up mechanicals … but afterabout two weeks, John [Gall, art director of Vintage Books] finally assigned me a title to design myself. It was the paperback version of a book by Edward O. Wilson entitled The Future of Life. There was one catch (there almost always is), and it was that the author had specifically requested that I employ a painting which he felt properly represented his text. And here is that painting. "Use this," I was told [see photo, left].
Not so bad, right?
Well, if you are a cover designer, this lovely painting, though compelling on its own, is a complete nightmare to work with. There's no particular place to rest your eye, there's no decent location for the (considerable amount of) copy, it is unclear, without additional commentary, what this cacophony of creatures and plants might have in common with one another, the colors are all over the map, the whole thing is massively confusing … So, what to do?
I only bring up this particular Vintage cover kerfuffle because the answer to this problem, my first design problem became, for me, a methodology. My solution turned out to be a prototypical one. Making a passable cover out of this painting was my first exposure to a practice that I now employ on a regular basis…
The process is as follows:
1. Pick a small detail out of something large, unwieldy, and compound.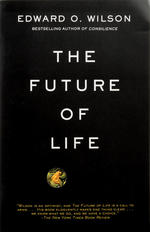 2. Allow that small detail to serve as an emblem for thewhole. Normally, the "something large, unwieldy, and compound" is the narrative itself, the entirety of the author's work that I've been charged with jacketing. The "small detail" is normally a character, place, scene, or object from that narrative. Finding that unique textual detail that, as the subject matter fora book jacket, can support the metaphoric weight of the entire book, is now the substance of my work. When I read a manuscript now, it is with this unusual task in mind. In this case, all I had to do was find a decent visual detail in the painting. As you can see here, I proposed a die-cut cover in which the entire painting, minus the little orange frog, was occluded, leaving just that tiny amphibian reminder of the risk implicit in Wilson's title. In retrospect I'm surprised that there was room in the budget touse a die-cut. But I was too ignorant to know not to ask (another of my methods). It was approved and printed.
So: my first cover.
What Is a Book Cover?
1. A Skin. A membrane. A safeguard. The book jacket protects the boards of a book from scuffing and sun damage. However, for most books (trade and mass market books), the jacket is no longer needed as a protective outer layer. These books' boards are cheap, durable, and undesigned (around the turn of the twentieth century, the decorative aspects of the book's covering transferred from the binding to the jacket itself). If, for the majority of books, the jacket no longer serves a protective function in fact, it still shields the subcutaneous narrative metaphorically. As we spend more of our reading time in digital, disembodied, notional environments where texts lack differentiation, and may easily leach into one another unconstrained, covers (and physical books in general) remain part of an anxious cultural effort to corral and contain the boundless. The cover is a skin, here, in the sense that it provides a book with a unique face, and in so doing, it helps establish a text's unique identity. The cover thus, holds (in the sense of constrains) and restricts — as well as holds — (in the sense of tethers) the text.
2. A Frame. The text requires a context. A text also requires some kind of preamble; a throat clearing; an entryway; an antechamber. Jackets are the visual equivalent to the foreword, or to a front door. The jacket is a paratextual neutral ground between text and world.
3. A Reminder. A distinct jacket mapped to a distinct text helps index that text; identify and remind you of it. If you are looking for it, it is easier to find. If you need a mnemonic device for it, simply picture the jacket in your mind's eye.
4. A Souvenir; Talisman; Token. Reading takes place in another realm, in a nebulous, mental realm. The jacket is the souvenir we take back with us from these metaphysical travels. In this sense, the jacket is a snowglobe; a tee shirt; a commemorative key chain.
5. An Information Booth. The jacket tells you what the book is: what the title is; who the author is; what the book is about; what genre it may belong to. It will tell you who else read and enjoyed this book. The jacket is a grab bag of information: some primary, some subsidiary, some important, some annoyingly trivial. A jacket, like an information booth, will also locate you "geographically," if, like me, you use flaps as bookmarks.
6. A Decoration. Books and book jackets help us decorate our living spaces. They allow us to live prettily amongst our accumulated wisdom. (Presuming that we have read our books.)
7. A Name Tag; A Secret Handshake. Books (like cars, clothes, etc.) telegraph who we are. If you see someone reading Fifty Shades of Grey, you may make assumptions about them which will you will most likely not extend to that person on the subway reading The Phenomenology of Spirit. In this way book jackets are advertisements for ourselves.
8. A Teaser. A jacket is also a teaser, in the sense of a trailer: in that it should give us just enough information to entice.
9. A Trophy. "Just look at what I've read!"
10. A Carnival Barker; Billboard; Advertisement. Jackets are expected to help sell books. And so they do — they wheedle, shout, joke, cajole, wink, grovel, and otherwise pander in every possible way in order to get a consumer to pick up a given text.
11. A Translation. The jacket is a rendition of a book; a reading of it; an enactment.
Is the book jacket necessary? No.