Cover Story
The Modern Mayor
By Jamie Katz '72, BUS'80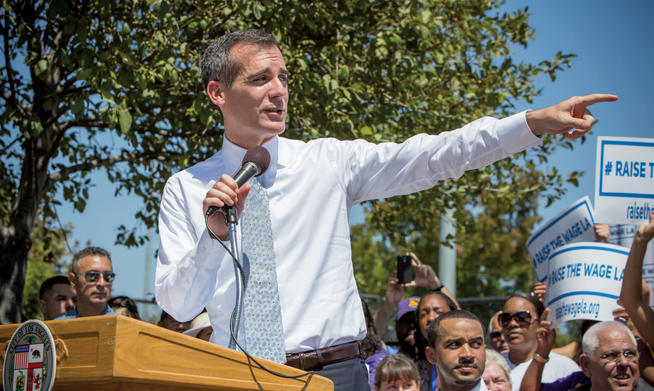 Garcetti at a rally in support of raising the minimum wage. PHOTO: COURTESY L.A. MAYOR'S OFFICE

Eric Garcetti '92, SIPA'93 was a student leader at Columbia, and today — no surprise to friends and teachers who knew him then — the multi-talented, multi-ethnic Los Angeles mayor appears poised for national political prominence. But first he must tend to the everyday business of repairing and rallying a great city at the crossroads.

"America has lost its confidence — we've become a very timid place," says Los Angeles Mayor Eric Garcetti '92, SIPA'93. "I was talking to an architect who said he has clients in China, and they say, 'Has this building ever been done before?' If you say no, they say, 'Great! Let's do it!' With the American clients, it's, 'Has this building ever been done before?' 'No.' 'Well, then, let's not do it.'"

If the nation's spirit could use a jolt, Garcetti feels that cities like L.A. can help provide it. He knows all too well that his own bailiwick faces many of the daunting problems that challenge cities across the United States but prefers to emphasize the anabolic — the constructive energy and dynamism that cities generate. "I think there's a lot of hope at the urban level," he says during a broad-ranging interview in Los Angeles City Hall in June, a year into his mayoralty.

The iconic, white-granite tower has symbolized downtown L.A. for generations, and Garcetti's cavernous third-floor office has a powerful, sturdy ambience. But there are some personal touches: In one corner he installed an upright piano so he can keep his jazz chops in shape; parked at the other end is his Trek mountain bike, helmet dangling off the handlebar. The room is dominated by an amber-tinted, 9-by-14-ft. mural titled Los Angeles: The Future — a WPA-style panorama of local geography and landmarks. Though it dates from the 1990s, the work seems to look backward rather than forward, a luxury the mayor does not enjoy. However, the mural's title is apt in another sense: Garcetti wants L.A. to catalyze the future, to serve as a laboratory for creative solutions to urban challenges, whether it's conserving water or unclogging the freeways.

Garcetti says he has been reading Ben Barber's If Mayors Ruled the World: Dysfunctional Nations, Rising Cities, and he agrees with its thesis that cities often can address problems such as resilience and sustainability more effectively than divided or entrenched national governments. "I pick up the phone and talk to the mayor of Rio de Janeiro on environmental programs we can both do," Garcetti says.

He is the very model of the modern mayor, generally: He blogs, he tweets, he delights in a wonky new smartphone app that his counterpart in Mexico City uses to monitor air quality. He gladly submits to AMAs ("ask me anything" sessions) on Reddit, the crowd-sourced news and networking site.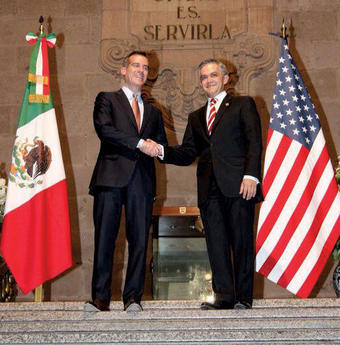 Garcetti with Mexico City Mayor Miguel Mancera. PHOTO: COURTESY L.A. MAYOR'S OFFICEThe son of former L.A. County District Attorney Gil Garcetti, who came to national prominence during the O.J. Simpson trial, Garcetti is well aware that municipal government is mainly judged by how well it manages basic services — education, public safety, transportation, parks, sanitation and the like. But he is clearly thinking in larger terms. His highest aspirations as mayor? "To build the most modern, most prosperous, safest city in the world, a place where people see that everything that's 'next' or new is there, and that we are willing to experiment and fail forward," Garcetti says. "We hold too tight to ideology and orthodoxy in a time that demands experimentation, that mandates nimbleness. I want to create a city that gets people where they need to go, that uses technology in cool, exciting ways that improve the quality of life, that attracts the most creative and diverse, hard-working people in the world."

Not surprisingly, the 43-year-old mayor names President Theodore Roosevelt LAW 1882 among his political heroes. "He was a brutal guy in some ways, but I've always admired Teddy Roose–velt," Garcetti says. "He was a bold painter. He saw the world he wanted, and he chose the path. He was not a passive politician."

If Garcetti has set a high bar for himself, his career trajectory encourages confidence. A Rhodes Scholar, accomplished musician and actor, activist, educator, Navy Reserve officer and now leader of the nation's second largest city, he has compiled a record of principled achievement.

At Columbia, Garcetti was a political force who wrote and performed in theVarsity Show, rowed freshman crew, volunteered with community service groups, excelled academically and graduated magna cum laude. After earning a master's at SIPA, Garcetti studied at Oxford and the London School of Economics, undertook research and human rights missions in East Africa and taught international relations at USC and Occidental College.

"We hold too tight to ideology and orthodoxy in a time that demands experimentation, that mandates nimbleness."

In 2001, at 29, he was elected to the Los Angeles City Council, rising to president in 2006. There, he authored what he has called the nation's widest-reaching green building ordinance; his council district, which included the Hollywood, Echo Park and Silver Lake sections, experienced a construction boom and a decline in crime and blight. Considered a business-friendly councilman, he was opposed by several major public-employee unions during his successful campaign to succeed Antonio Villaraigosa as mayor in 2013.

Along the way, Garcetti has shown a talent for juggling responsibilities and stretching his talents. He's now in his 10th year in the Navy Reserve (lately on less active duty called Individual Ready Reserve); he has earned marksman and sharpshooter ribbons with a 9mm pistol and the Navy Marine Corps Achievement Medal. Garcetti has landed acting roles on TV's The Closer and All My Children and the feature film End of Watch, among other credits. He has been honored by Human Rights Watch, Green Cross International, the Rockefeller Foundation and the Aspen Institute, and in 2007 was presented with Harvard's John F. Kennedy New Frontier Award, given to elected officials and civic leaders under 40 who embody JFK's qualities of leadership, pragmatism, vision and tenacity. The grandson of Mexican immigrants on his father's side — his mother is of Russian Jewish origin — Garcetti is also fluent in Spanish.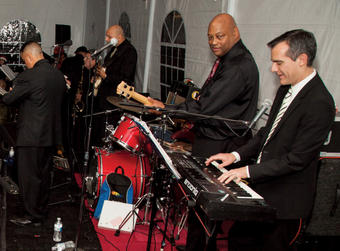 Garcetti jamming at the 2013 "Senior Snowball." PHOTO: COURTESY L.A. MAYOR'S OFFICE"And he's good-looking, too — it's just really obnoxious," says award-winning dramatist and lyricist Brian Yorkey '93, who collaborated with Garcetti on two Varsity Shows and shared the 2010 Pulitzer Prize for Drama with Tom Kitt '96. "And the thing that's most obnoxious is that Eric's a good man — a genuinely good human being in a world of a lot of jerks. That's really sort of the most annoying thing of all."

Garcetti's talent for musical theater blew people away incollege, says Yorkey.

"We wanted to become the next Rodgers and Hammerstein from Columbia — that was our intention," Yorkey says. "Eric's a fantastic composer. He writes beautiful, tuneful music. He writes songs that are well shaped. He knows how to set lyrics and also writes lyrics himself. If he weren't doing what he's doing, I think he could very easily be one of the leading lights of musical theater — and I say this with all respect to my beloved colleagues in musical theater."

Another talent of Garcetti's, Yorkey says, was teamwork. "I had a reputation for being a hothead, and I stormed out of more than one room," Yorkey says. "Eric would always be the guy who would calm things down, get things back on track and then come get me, always in a very nice way. He'd say, 'Dude, come down from the tree. Let's go back to work.'"

Their artistic breakup was painful for both. While Garcetti was studying at Oxford, Yorkey began working with Kitt, then just out of his freshman year. "I emailed Eric and said, 'Hey, do you mind if I write with this kid?' And Eric said, 'I don't mind if you cheat as long as we stay married.'" (This was many years before Garcetti had actually experienced marriage, it needs to be said.) "Well, what ended up happening is I married the guy I cheated with, so to speak."

Yorkey and Garcetti hardly spoke for a few years after that. "And it was totally on me, it was my fault," Yorkey says, "but I said to him at the time, 'This is not to absolve me of anything that I've done, but I feel like Tom and I are meant to write musicals together and I feel like you're meant to be President. I felt that then, and I still feel that now. I think he could and should go all the way."

Veteran Los Angeles Times columnist Steve Lopez is an urban sage in the tradition of such street-smart, puncture-all-pretension newspapermen as Chicago's Mike Royko or Gotham's own Jimmy Breslin. True to form, a week before Garcetti's election as the youngest mayor in modern L.A. history, Lopez couldn't resist needling the candidate about his impossible-sounding catalog of talents and experiences.

"[Garcetti] seems to have done everything in his 42 years except pitch for the Dodgers and kayak to Borneo," Lopez quipped. "He's George Plimpton, Bono and Seinfeld's Mr. Peterman all rolled into one. When he says: 'And then there was the time I commandeered a snowmobile at the North Pole while on a climate-change fact-finding mission and located Salma Hayek's lost purse in the frozen tundra,' he's not kidding. He actually did that. And Hayek said he's a great dancer." Salsa, it was.

Wait. What? Eric Garcetti salsa-danced with Salma Hayek at the North Pole?

All true, the mayor confirms, except the dancing part actually happened in Iqaluit, the provincial capital of Nunavut, Canada. Nine years ago, Hayek and Jake Gyllenhaal accompanied Garcetti on an Arctic trek organized by Global Green, an environmental group. "So we hung out, and one night we danced," he relates, a tad sheepishly. "Somebody started playing salsa and nobody knew how to do it, so I had to stand up and dance away."

Hayek herself came away even more impressed with Garcetti's gallantry in finding the purse she had dropped somewhere in the endless white permafrost. The Mexican-American actress, director and producer thought he was crazy to even consider going back for it in sub-zero weather, but Garcetti insisted: He zipped up his anorak, set forth in the snowmobile and retrieved the purse. "And all the money was still there," she joked.

Garcetti does have this Zelig-like quality of popping up everywhere and smoothly rising to the occasion. Poke around randomly in his dossier: Dancing? Turns out he belonged to a breakdancing crew in junior high school. Challenged to demonstrate his b-boy skills at a community forum in Inglewood two years ago, the formally dressed Garcetti didn't miss a beat. With Afrika Bambaataa's hip-hop classic, "Planet Rock," echoing through the hall, he busted a few of his old-school pop-and-lock moves. The crowd went wild. "Let me be clear, it was not in a business suit [back then]," he assured them.

Like these tales from around town, Lopez's pre-election piece about Garcetti was mostly an admiring one, but he did pose what he called an impolite question: "Has he just been padding the resume all these years, knowing since kindergarten that he wanted to one day climb the ladder in politics?"

That brand of skepticism is absent in the accounts of the teachers and friends who knew him best at Columbia.

"He was incredibly bright, good-natured, politically conscious, eager really to put in the work — exactly the kind of student you wanted to invest in because it was clear that he was purposeful and directed and just a very much down-to-earth good guy," says Carlton Long '84, who taught political science at Columbia 1990–96. Garcetti took two courses with Long and later was a T.A. in two other of his courses; they struck up an enduring friendship over many cups of coffee at Amsterdam Café. Garcetti now calls Long one of his two key academic mentors, along with Barnard political scientist Judith Russell GSAS'92.

"I have said many times, it would be wonderful if we could see our first Latino and our first Jewish president in our lifetime, and it would be even better if it were at the same time."
— Ben Jealous '94

Long, now an educational consultant based in North Carolina, is also a former Rhodes Scholar. As a token of their bond, he presented Garcetti with his traditional Oxford commoners' gown; it was later passed along to another Columbia Rhodes Scholar, Ben Jealous '94, the civil rights activist who went on to lead the NAACP.

Yorkey is another who rejects any cynicism about Garcetti's many involvements, especially his human rights work, academic career and military service."Eric wanted a breadth of perspective and experience," he says. "Those experiences were more about making himself a whole person than they were about creating a story to exploit. I know that because we talked about it. And so, it may seem a condescending thing to say, but I'm so proud of him. I'm kind of bursting with pride. I think that he's doing exactly what he should be doing, and I think L.A.'s lucky to have him."

Wah Chen '92 met Garcetti during their first days at Columbia, when both lived on Carman 12. "We instantly became best friends and remain best friends to this day," says Chen, a former TV host and news reporter in Singapore who is now a developer of low-income housing. "Eric dazzled. He was this handsome, articulate, resourceful, intelligent, laid-back but energetic boy wonder."

Not that he was perfect, mind you.

"Eric was my campaign manager when I ran for freshman class president. Despite his enormous political prowess and campaign acumen, I lost," she teased. (Chen did serve as senior class president.)

"He always cared for issues and people outside his immediate universe — whether it was for the Karen ethnic tribes hiding near the Burmese-Thai border, where he taught principles of nonviolence, or his commitment to foster children and youth," she says. "Eric is loyal, sentimental and multi-dimensionally talented. Who else could extemporaneously give a detailed speech about city sanitation and play the piano by ear on stage with Moby? By sheer intellect, he is arguably the smartest, most talented political leader of our generation."

The question inevitably arises: Could we be talking about a future American President?

"Certainly," affirms Jealous, who recently joined a socially conscious venture capital partnership based in Oakland, after six years as NAACP president and CEO. He has known Garcetti since their student council days, when they teamed up on several community and campus causes — most notably the preservation of the College's need-blind/full-need admissions and financial aid policies. Jealous sees Garcetti as an authentically committed social activist and a gifted politician.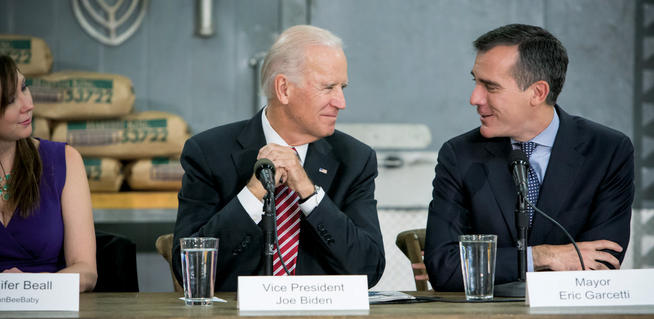 Garcetti with Vice President Joe Biden at a minimum wage roundtable discussion. PHOTO: COURTESY L.A. MAYOR'S OFFICE"He is a very focused and capable progressive leader who is able to get things done and work effectively on multiple issues at once," Jealous says. "We saw that in college; it held true during his career in the city council and now his tenure as mayor. As I think many people, upon meeting him, see he has the potential to really go as far as he wants in politics. I have said many times, it would be wonderful if we could see our first Latino and our first Jewish president in our lifetime, and it would be even better if it were at the same time," Jealous says. He pauses and chuckles. "In Eric, we have that possibility."

Garcetti co-chaired the 2012 Obama campaign in California and is not so disingenuous as to pretend he hasn't thought about his own next steps. He is often mentioned as a potential successor to Gov. Jerry Brown, just re-elected at 76. Would Garcetti jump in if and when Brown bows out?

"Not being coy, but everybody sort of puts you in there long before you even accomplish something here," he says. "I don't know. Many people in this profession decide their path years ahead. I genuinely made the decision to run for mayor two months before I announced."

Toying a little, perhaps, with talk about his future presidential prospects, Garcetti snapped a selfie in front of the White House on a recent visit.

"I don't wake up every day and see a future President of the United States in the mirror, in the way that I think some people do," he says. "I think if you do good work, the next step takes care of itself." He adds, "It's a difficult thing in the culture of our politics to live in this moment and this place, in this job. But I really, really push myself hard to do that, because, even if I were to become President of the United States, I don't want to miss this experience. The moment the President was re-elected, in November 2012, all the coverage wasn't, 'What's going to happen in America?' It was 'Who's going to run in 2016?' Can we just stop for a moment and live here and now?"

Living here and now, for L.A.'s chief executive, means addressing the challenges facing the city's transportation infrastructure and water supply, its massive municipal pension liabilities, poverty and homelessness, 8 percent unemployment and the ever-widening gulf between the struggling majority and the prospering minority. "There's a fast train in the city, and it's going really well, and there's a slow train," Garcetti says. "And if you're stuck on that one, it's really tough to bridge."

For all this, Garcetti remains calmly yet firmly optimistic. He points to The Guardian's ranking of world cities by "brand strength," based on an algorithm that weighs assets like climate, infrastructure, safety, economic dynamism and social media buzz. "L.A. was ranked No. 1 in the world," Garcetti says, ahead of New York, London and Paris in the top four.

The L.A. mayor's office is somewhat limited in authority, sharing power and administrative responsibility with L.A. County, which comprises 88 cities, among them Long Beach, Beverly Hills, Pasadena, Burbank and Santa Monica, as well as L.A. proper. The county's population is more than 10 million, larger by far than any county in the U.S. and all but seven states.

Garcetti's back-to basics approach to city government emphasizes incremental, measurable improvements in such areas as street repair, 911 response time, neighborhood livability and government efficiency. He has proposed a $13.25 minimum wage and recently announced that it is "highly likely" an NFL franchise will return to L.A. within a year; the city has not had one since the Raiders left town 20 years ago. In a recent installment of his regular Ask the Mayor call-in show at KNX radio, the local all-news station, he fielded questions about street parking, gang activity and a proposal to use drones for police surveillance, an idea he termed "creepy." There might be a place for it in tactical situations like a hostage standoff, he suggested. "But we will not allow them to be used against the general public just to cruise and look for crime, somebody there with a joystick in a room, spying on innocent Angelenos."

The mayor's most important role, says Ana Guererro, Garcetti's longtime chief of staff, is "to set direction, set tone, set culture and set the big-picture vision. And then you hire good people who can manage toward those goals."

Guerrero herself is a former community organizer, an idealist with her feet on the ground who has been with Garcetti for his entire career in politics. She describes him as even-keeled, "definitely a grown-up." "No one should confuse his stability with lack of toughness," Guerrero adds, "because he is tough when he needs to be and clear when he needs to be — but always civil. He also has a sense of humor about himself. He's both fun and funny."

Close friends say that Garcetti's secret weapon in public life is the fellow Rhodes Scholar he wed in 2009, with Jealous officiating. "Eric married more than his equal in Amy Elaine Wakeland," says Chen. "I think it is a real measure of self-confidence for a man to be able to pick a powerful partner as his spouse."
Wakeland and Garcetti met in 1993 while both were Rhodes Scholars; they wed in 2009. PHOTO: COURTESY L.A. MAYOR'S OFFICEWakeland says that she and Garcetti were initially drawn together at Oxford by their shared social and political values, which are still "a large part of what makes our current relationship so strong" she says via email. "We traveled together in South Africa after their first free elections, to Bosnia to visit a colleague doing human rights work for Oxfam and to Eritrea where Eric was studying Eritrean nationalism, among other places."A straight-shooting Hoosier who worked her way through Michigan's Albion College as a waitress and campus police dispatcher, Wakeland has advised a variety of political campaigns, including Howard Dean GS'75's 2004 presidential run and Garcetti's mayoral campaign, and has worked with a range of nonprofit advocacy and service organizations, from the Los Angeles Neighborhood Land Trust, which she helped found, to homeless and foster care agencies and the L.A.-based Coalition to Abolish Slavery and Trafficking.According to Garcetti, he and Wakeland met on the flight to England in 1993 en route to their studies at Oxford. "I went by and said hi," Garcetti says. He thought she was great — and pretty. "She doesn't remember it. Of course, I do."

"Amy is brilliant, and I think the perfect match for him," Yorkey says. "Seeing the two of them together, how easy their relationship is and how they can rely on each other, it's clear that there is a ton of love there and that there's a very healthy personal relationship as well as a partnership that is determined to move forward together on changing things in the world."

Garcetti and Wakeland have managed to maintain a fairly solid wall between their public and private lives, along the way providing foster care for a number of children; they continue to enjoy familial relationships with several of the kids who have either been adopted, reunited with family or emancipated, Wakeland says.

Their own daughter, Maya, who turns 3 at the end of the year, has already shown interest in some of her father's favorite pastimes, such as bike riding, storytelling (in English and Spanish) and music. When the L.A. Kings won the Stanley Cup last June, Garcetti led the cheers at the televised victory rally (and famously dropped the F-bomb, à la Joe Biden). But it's Maya who's the family's most devoted Kings fan, Wakeland reveals. "She recently went to a Dodgers game and initially insisted upon cheering for the Kings." And when Daddy sits at the keyboard, "Maya has a little white piano that we have set up in our home by Eric's piano that she plays alongside him."

Garcetti, too, was brought up in an idealistic, close-knit family in Encino, in L.A.'s San Fernando Valley. His mother, Sukey Roth, now retired, led the Roth Family Foundation, which focused its philanthropy on social justice, public broadcasting and women's reproductive rights. Garcetti's father, Gil, worked for decades in the county's D.A. office before his election to the top job in 1992. ("It's funny — people think I grew up in a political family," Garcetti notes. "He was elected the year I graduated from Columbia. No one knew the Garcetti name.") In retirement, Gil has published seven books of photography. He and Roth have been married for more than 50 years; they also have a daughter, Garcetti's older sister, Dana, a Brown graduate and lawyer in L.A. Garcetti attended a public elementary school before entering the private Harvard School for Boys (now the coed Harvard-Westlake School); the family moved to the Brentwood section when he was a senior.

"I think if you do good work, the next step takes care of itself."

Garcetti chose Columbia over Harvard, he says, because of his theater and music interests, and "because I wanted to see how this other big city was. I think I was drawn to go far away from home, just to kind of see the world." He majored in political science and, in addition to Carlton Long and Judith Russell, mentions political science professors Robert Y. Shapiro, Charles V. Hamilton and the late Joseph Rothschild as favorites, along with his "Logic & Rhetoric" instructor, Ria M. Coyne BC'84, GSAS'85, and Wm. Theodore de Bary '41, '53 GSAS, with whom he studied Asian Humanities. "My favorite paper I wrote in college was about Rumi, the [13th-century Persian] poet."

Activism of many stripes also claimed his energies, whether it was participating in Take Back the Night protests, serving as president of the National Student Coalition Against Harassment or volunteering for the Harlem Restoration Project and Habitat for Humanity. He also co-founded Columbia Urban Experience, the popular pre-orientation program that introduces incoming students to the wonders of New York. "It's a really spectacular program," says former Dean of Students Roger Lehecka '67, GSAS'74. "Once it was there, you wonder why we weren't doing that before." Lehecka and Coyne, who are married, remember the evening when Garcetti and senior classmate Nick Diamand '92, LAW'02 insisted on coming over and cooking dinner in the couple's apartment as a thank-you for her great teaching three years earlier. "It was very moving," Lehecka says, "because it was great to see Ria get that appreciation."

The upright piano in the mayor's office is a little out of tune, and he can't have much opportunity to noodle on it. Still, Garcetti never wants to be too far from a keyboard when inspiration strikes. "I'm working on some jazz ballads," he says, in a tone that suggests he's not yet satisfied with the results. He plays a few bars; the music has a dreamy, rolling quality.

Garcetti's taste in jazz pianists is revealing. Keith Jarrett heads the list, along with Bill Evans — sophisticated, original modernists of deep feeling and exquisite technique. "I also listen to a lot of Oscar Peterson," he says. "I can't play like he did. Nobody can." And Charles Mingus, a brilliant composer, leader and bassist not generally recognized as a pianist. "I love 'Myself When I Am Real,'" Garcetti says. "It was like pre-Jarrett Jarrett." Mingus was raised in L.A., the mayor points out, patriotically.

Jealous appreciates Garcetti as a musician, political leader and, most of all, friend. "Eric is somebody who's very easy to connect with and stay connected to, and who has your back when the lights are on and the cameras are up and you're fighting for an issue. And when the cameras and mics are off, he's an absolute joy to hang, talk trash and drink a beer with."

There was an occasion when those three roles came together, when Jealous says he realized that Garcetti's greatest talent may be bridge building. "We're both similar in that respect — with him growing up with a Latino dad and a Jewish mom in Los Angeles and me growing up with a black mom and a white dad in Northern California. I think we're both keenly aware that most of us have more in common than we realize."

They were out one night in San Francisco with a bunch of Garcetti's friends, Jealous says, all very accomplished folks — business and civic leaders, political honchos and activists of various stripes. "We got into a lot of intense debates about domestic and foreign policy, and he was in the middle of both. Even I was feeling a bit exhausted from the intensity of our dinner-table conversation," Jealous says. At the end of it, two of the men, who were both gay, suggested they all go out to Martuni's, their favorite piano bar.

When the piano player finished his set, he asked if anyone wanted to take over.

"Of course, Eric volunteers — and he proceeds to sing both sides of a duet between himself and his alter-self, Kermit the Frog, doing 'The Rainbow Connection,' with everybody starting to join in," Jealous says, laughing.

"I just remember sitting in the back, drinking my drink and thinking, 'Only Eric Garcetti could pull this off.' The straight guy, in the gay bar, with everybody — gay, straight and every other — up on their feet singing 'The Rainbow Connection' at the top of their lungs. And that's Eric, right?"


Former CCT editor Jamie Katz '72, BUS'80 has held senior editorial positions at People and Vibe, and writes for Smithsonian Magazine and other publications.