Features
Food for Thought
What can the history of human ingenuity tell us about our species' chances for survival? Professor Ruth DeFries explains.
By Alexis Tonti SOA'11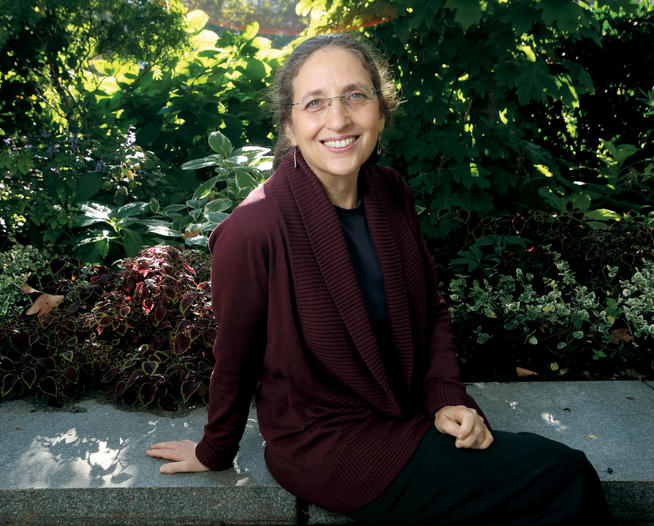 "There are a lot of messages about how catastrophic are the times that we live in and how we are headed for collapse, and I think that's an over-simplistic way of thinking about the world," says Ruth DeFries. PHOTO: BRUCE GILBERT

Ratchet, hatchet, pivot.

According to environmental geographer Ruth DeFries, these three words are a key to understanding humanity's dominance on Earth — the cogs in a clockwork cycle that kept turning as our species proliferated, prospered, stumbled, suffered, labored, improvised, innovated and occasionally lucked its way through 200,000 years of human history.

The words form the refrain of DeFries' eye-opening and eminently readable new book, The Big Ratchet: How Humanity Thrives in the Face of Natural Crisis. Working from the perspective of food consumption and production — because "food is the basis of all civilization" — the 2007 MacArthur "Genius" and the Denning Family Professor of Sustainable Development chronicles the ways in which our species has capitalized on the gifts of the natural world, as well as its own ingenuity, to survive.

The particulars vary but the pattern is constant: Population increases (the ratchet), only to bump up against some limiting factor or unforeseen obstacle (the hatchet) that requires new technology or another solution (the pivot) to overcome. Success results in more food to go around, triggering another ratchet, which leads to more hatchets that require more pivots. The cycle propelled humanity through its transition from hunter-gatherer to farmer and again from farmer to urban dweller.
From farmer to urbanite, a fundamental shift. The eponymous event of the title refers to the latter half of the 20th century, when the combined punch of agricultural innovations such as fertilizers, pesticides and genetically modified crop species helped fuel an unprecedented growth in population — from 2.5 billion people worldwide in 1950 to more than 7 billion today. Now, for the first time, DeFries says, problems of abundance have replaced those of scarcity. They manifest in ways both environmental and personal. Fertilizer runoff is degrading waterways, greenhouse gases are destabilizing climate and the clearing of forests and other landscapes for agriculture is displacing, and in some cases destroying, plant and animal species. Meanwhile, sugar- and fat-laden diets are increasing obesity and other health problems even as radical inequities in food distribution persist on a global scale.

In other words, the hatchets are falling all around.

"Following the pattern," says DeFries, "the next stage is starting to play out. What are the pivots? What are the solutions? How do we use our ingenuity to solve these problems and continue to succeed as a species?"

Sitting in a conference room in the Department of Ecology, Evolution and Environmental Biology (E3B) in mid-September — DeFries is on sabbatical this year, and thus without an office — she talks animatedly about her book. Asked about its reception, however, a certain shyness emerges. The Earth Institute had just the night before hosted a launch party at Casa Italiana. "It was wonderful," she says, adding after a moment, "A lot of students came." In fact, the event drew more than 150 students, faculty, friends and family members.

This modesty extends to DeFries' discussion of a career in which she has distinguished herself by her technological prowess as well as her philosophical attitude. She is a specialist in land use change, the process by which human activities transform the landscape. In the early 1990s, at a time when the amount of tropical deforestation that had occurred worldwide was largely uncertain, DeFries pioneered a precise method for using remote sensing satellites — looking down from miles above the atmosphere — to study exactly that.

The new method mapped changes to the planet's vegetation, as well as those changes' effects on climate and ecosystems, through time. The data was then fed into computer models, allowing for more credible projections of climate change; it also helped clarify the ways in which human activity alters habitats that are needed to conserve biodiversity. DeFries herself believes that land use change is a matter of balance, involving tradeoffs between securing human necessities, such as food, and unintended environmental consequences, such as greenhouse gas emissions and habitat loss.

"She fills a unique niche globally," says Greg Asner, a tropical ecologist with the Carnegie Institution for Science. Asner has known DeFries for about 15 years, since they organized an American Geophysical Union meeting on, and later co-authored a book about, land use change. "Her brilliance lies in intersecting four or five major disciplines," including ecology, land use science, conservation and remote sensing. "She brings all of it together in a way that's rare, and that is golden to me and, I believe, to the [scientific and policy-science] communities."

Kevin Griffin, co-director of Columbia's Undergraduate Program in Sustainable Development, says, "Her common cry is, 'What about the people?' We can talk about the biological earth sciences, the physical sciences, the climate sciences, and Ruth will always bring it back to how it impacts real people's lives in real places."

Matthew Fagan GSAS'14, a Ph.D. advisee of DeFries who is now a postdoctoral research fellow with NASA's Goddard Space Flight Center, notes that many of her Columbia doctoral students straddle the line between looking at agriculture and conservation, and the balance between the two. "One of the more fascinating discussions with Ruth is about the idea of people versus nature," he says. "She does not accept that dichotomy. She is a great believer in 'a rising tide lifts all boats.' There is room for both."

Among her accolades, DeFries is a fellow of the Ecological Society of America, the American Association for the Advancement of Science and the American Geophysical Union. In 2006 she was elected to be a member of the National Academy of Sciences and in 2007 she won a Fulbright Scholar award for research in India and a MacArthur Fellowship. The so-called "Genius Grant" came with a stipend of $100,000 annually for five years, no strings attached.

"It's true what they say, you just get a phone call," she says of learning that she had won the grant. "Of course, as often happens with getting these kinds of honors, you do a lot of soul searching and asking, 'What did I do to deserve that?' And then you have to do something to deserve it — so you have to think long and hard about that." DeFries ultimately established a small family foundation, the DeFries Bajpai Foundation, which provides funding to scientists working on issues of sustainability in the developing world, mostly in India. (DeFries' husband is Jitendra Bajpai, a former World Bank director and current adjunct faculty member at Columbia; he teaches a class on sustainable cities at the School of Continuing Education.)

A more esoteric distinction, and a measure of her influence, was her designation in June by Thompson Reuters as a highly cited researcher. The prestigious list includes some 3,200 researchers working worldwide in 21 fields of the sciences and social sciences. She and E3B professor Naeem Shahid were among 137 who were named in environment and ecology, putting them essentially in the top 1 percent of cited researchers in their area.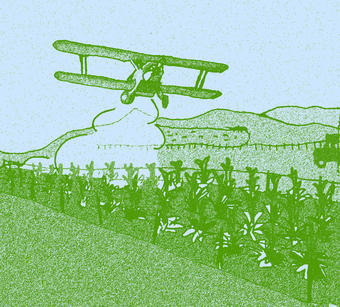 At Columbia, DeFries is co-director with Kevin Griffin and Jason Smerdon of the undergraduate sustainable development program, and in fact helped it grow from a special concentration to a major upon her arrival at the University in 2008. From one graduating major in 2010, the first year it was offered, the number by last spring had increased to 25. The special concentration is still an option, too, and had 14 graduates in 2014.
"Having a recognized leader in the field really provided the intellectual backbone for the whole program," says Griffin, who was on the search committee that hired DeFries and also worked on developing the major. "Ruth was instrumental in defining what it should look like and getting the right group of people together to talk about how you would build it from the ground floor up. She has a wonderful way of getting people to work together and think about these things."
Steven Cohen, executive director of the Earth Institute, agrees that DeFries' leadership was integral. Beyond playing a large role in designing the original curriculum, he says, "She had a very clear vision of what this field is supposed to involve. She wanted to make sure the students have field experiences, and she helped raise funding for student travel." Among other places, students have gone to Bangkok, Madagascar, Kenya, India, Argentina and South Africa.
"She is a very good listener, which is important in teams," Cohen adds. "She doesn't have to hear the sound of her voice constantly to be satisfied. She wants to hear what you think, and the students know that also. She has operated in many countries and cultures, and there's a humility to her approach to interacting in new situations that makes her incredibly effective."
For undergraduates, DeFries typically teaches an introductory class as well as one that looks at issues of climate, food and sustainability. Last year she taught the latter with Griffin and challenged students to design a menu for a sustainable brunch. Students immediately confronted questions about the economic, environmental and social costs of each ingredient and how to balance those considerations with individual needs (avoid chocolate because of an allergy) and preferences (high protein to support an athlete's training regimen).
"The hard part was the metrics by which we determined which was the most sustainable," recalls Griffin. Local and organic did not necessarily prove to be better. "We pushed and pushed them to have scientifically justifiable, quantitative metrics — we worked for many weeks — and then voted."
The winner: sweet potato hash browns, egg tortilla with leeks and tomatoes, and oatmeal- and spelt-crusted apple crisp. The project ended with the class' 19 students cooking and eating the meal. DeFries hosted at her apartment.
DeFries grew up in Northern Virginia, the daughter of a teacher mother and a chemical engineer father. It was "the age of environmental awareness," she says, which influenced her significantly. She references attending the first Earth Day, in 1970, as a teenager. "This intersection of the environment, nature and people is what's been fascinating for me for as long back as I can remember," she says. "Geography is exactly that discipline that looks at that intersection."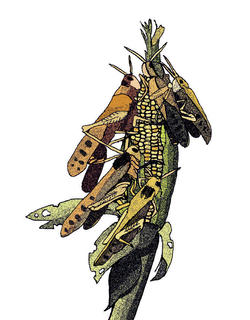 ILLUSTRATIONS: RACHEL BELLDeFries earned a B.A. in earth science from Washington University in 1976 and a Ph.D. in physical geography from Johns Hopkins in 1980. What followed, she says, was not a standard academic path. She was a research associate in Bombay, India, for several years, then returned to the United States to work for the National Research Council, an arm of the National Academy of Sciences, for about a decade. Her main charge was to provide the government with advice on funding priorities for research in earth systems science, which was new at the time.
"It's the science of looking at the way Earth operates with the various components," she explains. "For example, how the atmosphere interacts with the biosphere, or how the ocean interacts with the land." She found the burgeoning field so exciting that eventually she wanted to jump in and do the research herself.
In 1991 DeFries landed a position as an associate research scientist at Maryland. She dug into her remote sensing satellite research, working part-time while her children were younger (daughter Triveni DeFries '06, PH'09, 30, is a doctor in residency at UC San Francisco, where she earned an M.D. in 2013; son Avi Bajpai, 27, graduated from Northeastern in 2010 and is a design engineer in Brooklyn). Slowly, DeFries' interests shifted from the global to trying to understand the processes that led to land use changes in particular places.
"Looking at satellite data is just like looking at a picture," she says. "If we want to be sure that we're interpreting correctly what we think we're seeing on the picture, there's no substitute for going to see what's on the ground." She lights up, saying, "I just live for field work — to talk to people and see what they think about the environment, it gives you a sense that you can't get from a satellite perspective. Both perspectives offer a different understanding, and both are important." DeFries has worked in the Brazilian Amazon to study the use of satellites to monitor deforestation, the Peruvian Amazon to study the relationships between climate, fire and land use, and in India to study land use change around protected areas and climate impacts on agriculture.
Writing for a general audience is something that has always interested DeFries, "partly because of the popular books that had such a huge influence on me when I was a teenager and an undergraduate, like Small Is Beautiful and Diet for a Small Planet. Working in a somewhat applied area, I think we owe it to the public to explain the complexity behind these issues that people are so concerned about."
Of The Big Ratchet she adds, "There are a lot of messages out there about how catastrophic are the times that we live in and how we are headed for collapse, and I think that's an over-simplistic way of thinking about the world. It doesn't send a message that I think is reality, and it doesn't send a message that inspires anybody to do anything differently, because if we're doomed, why would we work to make things better? On the other hand, we often hear about technical fixes and how technology solves everything: 'Don't worry, we'll find a solution.' I wanted to figure out the nuanced story between those extremes, to make sense of it for myself and for others."
DeFries estimates that the ideas underpinning her book have been hatching ("no pun intended") for at least a decade. "For me, any background to writing is reading, reading, reading. The more I read, the more ideas gel and things start to make sense."
Fagan reinforces the point: "The book is like a tour of Ruth's brain. She is a comprehensive, holistic thinker. She considers everything but finds ways to advance science in specific, helpful directions."
Indeed, The Big Ratchet takes the long view, traveling billions of years to the formation of Earth and describing the planetary features that make it possible to support life. Then comes a quick lesson in human ingenuity as a complement to natural selection, arming our species with the ability to communicate knowledge to one another and pass it down through generations. With these two points established, the majority of the book tracks the ratchets, hatchets and pivots of food production that have characterized modern human evolution.
Drop a pin anywhere on the timeline and an example can be found. Take what DeFries describes as the age-old conundrum of declining soil fertility, a hatchet that had reared its head again in the early 20th century and prompted the search for a nutrient boost in the form of nitrogen that was "fixed" from the air. German chemist Fritz Haber discovered a method to do just that, essentially turning it from gas — a form in which it's of no use to either plants or animals — into a solid. Later, chemist and engineer Carl Bosch designed the machinery to make it work on a factory scale. (In separate years, each won the Nobel Prize for their achievements.) Though the chemical breakthrough initially was used by Germany more in the production of explosives than fertilizer, the details of the Haber-Bosch process spread after WWI when the British persuaded a few German engineers to sell their secrets. And by the beginning of WWII, the process for cooking up nitrogen fertilizers had reached America. A powerful constraint to food production was lifted.
An aspect of DeFries' research that most surprised her, as with Britain's industrial espionage, was how many of the pivots were "just quirky." North America, for example, was dealt a lucky hand when it came to Rocky Mountain locusts. Buzzing, sky-blotting swarms of the insects (which Laura Ingalls Wilder readers may recall from a skin-crawling episode in On the Banks of Plum Creek) ravaged whole harvests during the westward expansion in the late 1800s. The ravenous bugs even ate through blankets spread over crops to protect them. But after 1877, they vanished in what modern ecologists ultimately determined was an accident of nature.
Returning to the present, here is where the pattern — ratchet, hatchet, pivot — offers a cautiously optimistic counterpoint to the doomsday messages DeFries decries. She is not interested in prognosticating or offering prescriptions, though she does identify some of the emerging pivots: the move toward alternative energy sources, increased composting and recycling, and development of more efficient practices surrounding the use of fertilizers and pesticides. Among the more nuanced solutions, people are changing their diets based not only on what's healthful for them but also where the food comes from. For example, in terms of the energy it takes to produce one calorie of food — from farming to processing to table — beef from cattle raised for meat takes the greatest toll on the environment while offering the least reward; only 5 percent of the protein cattle eat winds up on the dinner plate.
Still, more than anything, DeFries wants to provide background so that people have information to think about their decisions.
"Feeding civilization is always an experiment and we always have successes and failures. Maybe the failures will be too big this time. We don't know. We can't know. But from this pattern of history — and really, that's all we have to go on — we have this pattern of ingenious solutions that we come up with when we have to."
She pauses. "But it won't come without a lot of hard work."
Alexis Tonti SOA'11 is Columbia College Today's managing editor.