Features
The Power of YES
By Jamie Katz '72, BUS'80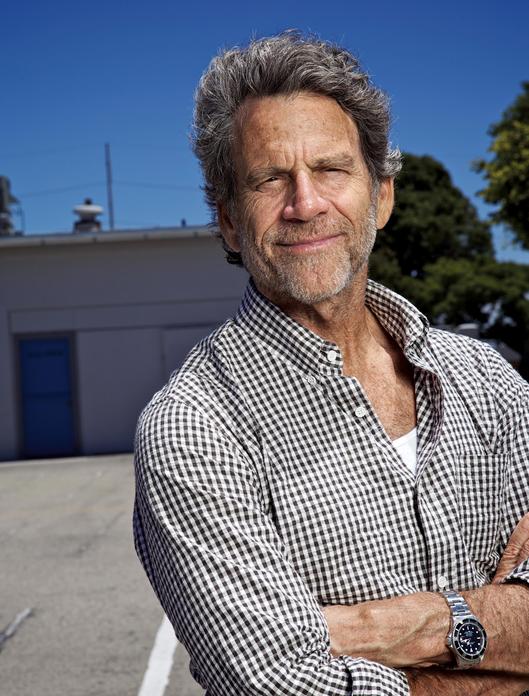 "I'm interested in this country succeeding, which I think is a function of getting the most talented kids to get the best opportunities," says Eric Eisner '70, LAW'73. photo: Max Gerber

He was barely into his 50s when he retired from a high-flying career of Hollywood deal-making and glamour. Now Eric Eisner '70, LAW'73 pours that same intensity and focus into a nationally recognized educational program, the Young Eisner Scholars, which singles out high-potential inner-city students and makes sure they don't fall through the cracks.

When Chris Bonilla '09, LAW'16 was a seventh-grader at Lennox Middle School, just east of Los Angeles International Airport, he was summoned to the school administration office one fall afternoon without being told why. There he met Eric Eisner '70, LAW'73, who was about to alter the course of Bonilla's life.

The lean, dark-eyed Eisner invited the boy in and started asking questions. "He was very intimidating," Bonilla remembers. "I thought I was in trouble because he was so stern in his demeanor." As a straight-A student, however, Bonilla had nothing to be ashamed of, and he soon warmed to the conversation. "I told him I was very much an astronomy, physics, outer space kind of guy," he says. Eisner was impressed.

Bonilla had no idea that Eisner was a top-tier Hollywood lawyer and dealmaker who had recently retired with enough money never to worry again about money.

All Eisner said was that he was volunteering to help some bright, ambitious kids with extra teaching and coaching. "He thought I fit the bill," Bonilla says, "and if I was open to it, we could meet once or twice a week, along with a couple of other students." With the school's endorsement and his family's consent, Bonilla joined the sessions.

In 1999, this sort of outside attention was unexpected at Lennox Middle School, a barracks-like campus in a blue-collar Latino neighborhood bordered by two freeways and tucked between the larger communities of Inglewood and Hawthorne. Though Lennox has its share of proudly maintained stucco homes enlivened by flowering purple jacarandas, citrus or palm trees, it was then and remains now a minefield of social problems and crime, where high educational attainment is in short supply. "Votive candle memorials to slain gang members are a disturbingly common sight along the cracked sidewalks," Bonilla wrote in a piece published by Huffington Post last year. "Every window has steel bars on it. Gunshots and the howl of police sirens are heard frequently." The Los Angeles Times has called Lennox home to the county's "most impoverished, underserved and vulnerable population of youth."

Bonilla was one of a handful of kids in the first wave of Lennox students who had their exit visas stamped by Eisner. He helped Bonilla find his way to the Brentwood School, a private academy that is just 12 miles away but belongs to a distant socioeconomic galaxy. From there Bonilla went on to the College and the Law School, where he's now a second-year student, aiming for a position at a top New York firm. For an alumnus of Lennox Middle School, which has a graduation rate of 45 percent, this is a fairly miraculous trajectory, one that Bonilla says he would not have attained without Eisner's intervention. "It changed my perspective on what was possible," he says.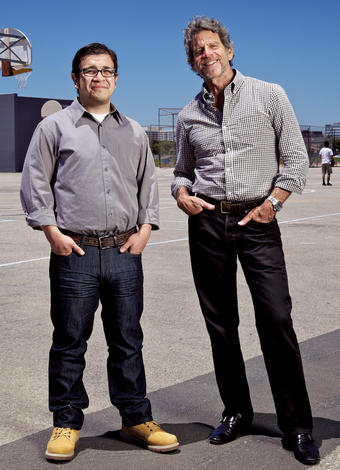 Chris Bonilla '09, LAW'16 was one of Eisner's first students. PHOTO: MAX GERBERThat is exactly the sort of outcome Eisner has pursued with increasing conviction for more than 15 years. As founder and CEO of the Young Eisner Scholars, he and his small staff have identified and sponsored hundreds of intellectually agile, psychologically resilient students who come mostly from troubled communities in Los Angeles, New York City and, beginning this term, Chicago's South Side. In one sense, YES is only compensating for the advantages routinely enjoyed by students from more privileged precincts: The YES kids are mentored and tutored, enrolled in competitive high schools and interesting summer programs, challenged in classrooms, prepped for the SATs, counseled on college admissions and financial aid, and provided needed support at every stage. Students are driven to distant summer classes, scolded if they slack off, offered professional help through family crises — whatever it takes to keep them on course. "There isn't anything they don't take care of," says Jim McMenamin, Columbia's director of principal gifts and a former College admissions director, who volunteers as YES' main collegiate adviser. "I mean, if somebody needs their light bill paid, Eric will write a check."

In addition to Eisner's own largesse, the program is funded by private donations and foundation grants; at the college level, YES students receive $8,000 a year, on average, to bridge the gap between their schools' financial aid packages and the students' actual costs. As important as these grants are, it may be the underlying message — YES believes in you — that propels the kids the most.

"What sets YES apart from other well-intentioned programs is the attention that goes into helping these students overcome poverty and poor schooling," Meghan O'Rourke wrote in The Wall Street Journal in 2012, when Eisner was named Innovator of the Year in education by WSJ. Magazine. "All of Eisner's energy is directed at figuring out how to make the kids feel a positive drive toward their futures."

Justin Hicks is a 22-year-old YES instructor from North Carolina now teaching in Harlem. "Eric is the most impatient person I've ever met," Hicks says. "He hates to lose. It's as if he's selected this stable of thoroughbreds and he's going to do whatever it takes for them to win, academically or otherwise."

Eisner's drive is well-known to gatekeepers at top universities from Stanford and UC Berkeley to the Ivies, where YES alumni can be found in growing numbers.

"Every one of the YES applicants has been competitive in every respect," confirms Peter V. Johnson, Columbia's director of undergraduate admissions. Eisner "knows his kids well and is an honest and informed advocate for them. Every YES applicant has been well informed as to what makes Columbia a good fit for them."

Eisner bats away any notion that his mission is one of idealistic social service or of trying to change the educational system. "I'm much more selfish and much more pragmatic than that," he says. "I'm interested in this country succeeding, which I think is a function of getting the most talented kids to get the best opportunities."

By talented, he means not just the most intelligent or gifted but also the most able to take advantage of opportunity. "That involves a complex personality," he says, "a gratefulness, an appreciation, a grit, and heart and determination, along with being literally able to understand molecular biology or whatever it is."

That kind of talent drives America forward, he believes. "If you allow those opportunities, those advantages, those places, to be filled up on the basis of who can write a check, then the quality of our people, of the people who make a difference — the Einsteins of art, of physics, of whatever — is going to sink. The greatness of our culture has been to a large extent a function of making those opportunities accessible to the most talented kids. And that's what I'm dedicated to doing — not because I think it's right, but because I think it's true."

The YES program currently sponsors some 340 students, of whom roughly 60 are in the New York program based at the Columbia Secondary School on West 123rd Street; 20 more are at the University of Chicago Charter School Woodlawn and the rest are in four L.A. County middle schools. Interested teachers and school administrators scout potential YES kids as early as third grade; most enter the program in sixth grade. Why then? "Because it's cool to be the smartest kid in the class when you're a boy in the sixth grade," says Eisner. "It is not cool to be the smartest boy when you're in the ninth grade, unless somebody's making it cool."

YES kids are a special breed. "In the past, teachers would often recommend kids who were really helpful or nice, or were excellent brown-nosers," says Alina S. Beruff, YES' executive director, who joined the organization three years ago. "Being a YES kid has more to do with grit, resilience, curiosity and self-motivation than anything else" — qualities that enable them to overcome daunting challenges.

In addition to teaching as often as he can, Eisner interviews about 95 percent of the candidates, Beruff says, and learns a lot about their families.

"I remember one girl whose mother was a basket case," Eisner says. "She would come to meetings in short shorts and fishnets, a beret and tons of lipstick, like something out of Irma La Douce. The daughter was not just forced to be a mother to her siblings but she also had to be a mother to her mother." The girl, then in seventh grade, earlier this year graduated from UC Santa Barbara and joined the staff of a national service organization.

Typically, middle schoolers meet in small groups with YES teachers twice a week during free periods for what might be called enrichment seminars in math and English. In high school, the regular group meetings taper off as focus shifts toward various forms of guidance — monitoring, mentoring, troubleshooting of all kinds — until 11th grade, when intensive Saturday SAT prep sessions take place. In the students' senior year, YES concentrates on college counseling and help with preparing admissions and financial aid applications.

Many of the regular classroom sessions use questions and problems taken from old test prep books as a point of departure for lessons that go far beyond merely solving the problem. "The point is always, not what's the answer, but what can they learn from this?" says Eisner. That usually comes down to precision of language and thought, something even the brightest kids are often lacking.

"Students often say, 'I know the answer, but I don't know how to say it,'" says Bonilla, who has taught in the L.A. program and continues to help at Saturday sessions in New York. "Or a student might say, 'I took that number and multiplied it by that other number and divided it by two.' Why? 'Because that's how you solve it, according to my book.' Our goal is to transform that to, 'I multiplied the base times the height and divided by two. This formula works because the area of a triangle is always half the area of a quadrilateral with the same dimensions.'"

Finding the right educators is key, Beruff says, and Eisner sets a great example. "The kids admire him; it's kind of like, 'Oh my God, who is this cool 60-something-year-old guy in motorcycle boots? They also have a sense of a friendship with him. But when they screw up, they know it. Eric holds them accountable."

"They call me the thug teacher, because I'm tough with them and I don't use polite language when I'm around them," Eisner says. "We're not here to love them — that's not what they need. We're here to teach them how to process their thoughts in coherent, retrievable ways, through understanding the role of literate thinking."

Leading a math session with four seventh graders at Dana Middle School in Hawthorne, Calif., Eisner is impatient, challenging them at every turn, teasing them, giving a fist bump to a quiet boy who pipes up with a good idea. During 45 minutes, not one has looked bored or distracted.

After a similar session in Harlem, a pair of YES kids agree that Eisner is different from their other teachers.

"He's harsher," says Jabria Gary.

Tyler Colon nods. "Yeah, but in a really weird way. He can, like, lash out at you, but then you still feel special. It's like, omigod, he just yelled at me because he cares!"

"He is unique!" Gary agrees, with a sweet laugh.

Long before there were Young Eisner Scholars, there was Young Eisner himself, playing drums in legendary Manhattan cafés; sticking it to the Man as a student protester at Columbia; amassing wealth and influence as a Hollywood lawyer and indispensable lieutenant to entertainment mogul David Geffen; retiring early to a life of golf and travel. Or so he thought.

The youngest of four sons of the late Joseph and Helen Eisner, Eisner grew up mostly in Greenwich Village, where he graduated from the Little Red Schoolhouse and Elisabeth Irwin H.S. "My father's family had a lighting fixtures store called New York Gas Lighting, on the Bowery, when that was the quintessential Skid Row of America," Eisner says. "It was exactly where the Bowery Hotel, the epicenter of cool night life, stands today.

"It was hard to live in the Village in the late '50s and early '60s and not get swept up in the music scene," Eisner says. "It was so fascinating and fertile then." His older brothers were jazz fanatics who imbued him with a lifelong passion for modern jazz, especially players like Bill Evans, Miles Davis and Art Farmer, whom he sometimes heard at the Village Vanguard. Eisner still listens to his vinyl LPs on a vintage stereo system.

As a teenager, he fell in love with Woody Guthrie's daughter, Nora. "She and I were girlfriend and boyfriend for so long that not only our parents but our school treated us like a married couple," he says. He fell in with a folk music crowd that included Pete Seeger and Nora's brother, Arlo, and Eric was soon writing songs and playing drums in a rock and soul band called The Strangers. "I started working in the coffeehouses, on Bleecker Street, West 3rd Street — the Night Owl, the Music Box; there were a slew of them. We were the young kids who opened for the Lovin' Spoonful. We all lived sort of together in the Village, particularly the summer after my junior year in high school, in 1965. It was as good as life could be."

The next year, he arrived at Columbia, farther uptown than he had ever ventured, and was enchanted.

"I thought it was just such a physically beautiful place, and it had a real perfume for me intellectually," Eisner says. "My instructor in freshman English was Michael Rosenthal GSAS'67; he personified that to me. I so wanted him to have a dialogue with me about the stuff we were reading. And I adored him."

As a freshman, Eisner made pals with his eventual law school classmate Jonathan D. Schiller '69, LAW'73, who recently ascended to the chairmanship of Columbia's Board of Trustees and was an early supporter of YES.

"My first memory of Eric was when he told me that he lived in a townhouse in Greenwich Village, and I remember thinking that was very cool. He was, and is, an exciting New Yorker, full of energy and ideas and commitment to things he believes in," says Schiller.

Politically active, Eisner joined Students for a Democratic Society and agitated against the war in Vietnam; during the April 1968 campus uprising, he occupied Mathematics Hall. "If you weren't smoking a joint and listening to Led Zeppelin or at The West End trying to pick up a girl, it was all about Vietnam," he says. "It was the filter through which everything went. When I think back upon it as a 66-year-old, it seems pretty clear to me: We didn't want to die in Vietnam. And we had a good chance of doing that if we didn't stop this war. Anything that fed into somehow bringing the gears of the establishment to a halt seemed to be part of that effort. We were like Luddites, throwing wooden shoes into the machine in the hope that it would stop the war."

"That was a transformative period for many of us, certainly for me," Schiller reflects. "I didn't regard Eric as a radical. I regarded him as a hard-thinking person who cared about ideas. He was not a radical then. He's not a radical today. He's an activist — an activist for human welfare and education — and he's always been an activist. And I think that Columbia University is a laboratory for intellectual activism. Always has been, always will be."

After law school, Eisner deferred an offer from Rosenman & Colin in Manhattan and headed west, where he landed at Kaplan Livingston. "They were the motion picture ... law firm in L.A. — Beverly Hills, everything you could ask for," Eisner says. "I'll do that for a year, I figured. And now, 42 years later, I'm still there [in L.A.]."

Within a short time Eisner had established himself as an ace music lawyer, and in 1980 was recruited by Geffen for what became a 10-year ride as president of The Geffen Company, a powerhouse in the music and film industries. Eisner oversaw movie production (Risky Business, Beetlejuice), Broadway shows (M. Butterfly, Cats) and worked closely with Geffen's stable of music talent, including Joni Mitchell, Mick Jagger, Donna Summer, Elton John, Nirvana and many others. "Eric worked hand in hand with David," says Harold S. "Hank" Handelsman LAW'73, another close friend from law school, "and the result was astounding both from an artistic standpoint and from a financial standpoint."

Now retired after a long career near the summit of the Pritzker legal and business empire in Chicago — "family lawyer" is how he summarizes his role — Handelsman has rejoined Eisner to spearhead YES' new program at the University of Chicago Charter School Woodlawn.

Geffen is another former colleague who has rallied to YES, donating $1 million across 10 years. "I'm a big supporter," Geffen says. "I think that it's an incredible thing that Eric's doing. And I think it's important, and it's successful. He's very determined, he's very smart, he's very focused and he's very committed." Other key YES backers include Hard Rock Café founder Peter Morton and New York Giants chairman Steve Tisch.

Eisner hopes there are other talented, successful, still-energetic retirees like Handelsman who can help spread YES to other cities. "I'm interested in their experience, their confidence, their intelligence, so that kids who don't understand what it takes to navigate through the world can learn it. It's a board game. You figure it out. You process it. You differentiate. You clarify. You don't bull---- yourself."

Eisner lives with his wife, Lisa, on Stone Canyon Road in the wooded hills of Bel-Air, as lovely an area as you will find in L.A. Their mutual friend, MTV founder Bob Pittman, introduced them — "I knew the minute I saw her, that's her," Eric says — and they were married in 1985 near Jackson Hole, Wyo. Bob Dylan strapped on a guitar and jammed with a local wedding band at the rehearsal dinner.
The Eisners are famous in Los Angeles for their marriage. Here, Lisa and Eric on vacation in Spain in 2011. PHOTO: COURTESY ERIC EISNER '70, LAW'73"Eric is famous in Los Angeles for his marriage," says Beruff. "He stares at her, as in love with her today as he was when they got married. They bicker and wring each other's necks just as much as anyone else. But they're very close."

The Eisners have two sons. Louis '11 is a much-in-demand painter in New York; one of his canvases was auctioned at Christie's for $165,000 this year. Older brother Charlie DJs in L.A. clubs and works for A.P.C. in Los Angeles — "a very hip French clothing company," Eisner says.

Lisa Eisner is remarkable in her own right: an artist, photographer, former editor at Vogue and contributing editor to Vanity Fair. "In the way that all roads in Los Angeles lead to a freeway, all trails of style here seem to lead back to Lisa Eisner," Amy Spindler wrote in a 1997 New York Times story. Says Eric: "I don't know how to describe her. She has this courageous eye for what is beautiful, as opposed to what other people think is beautiful, or what the crowd thinks is beautiful. She makes jewelry, she makes art books; she's just this undisciplined wild creature."

Lisa spotted the potential in the dilapidated 1937 hacienda-style home they bought in 1986. It was designed by Cliff May, the dean of California ranch architecture, but needed a complete makeover. It is now a tasteful and comfortable emblem of her many talents — and a perfect setting for some of the city's best parties. "No one says no to a dinner at Lisa and Eric's house," Beruff says.

Apart from YES, family and friends, Eisner's main passion is golf, which he plays every Friday at the Bel-Air Country Club, a longtime haven for industry stars and moguls.

Eisner will not reveal his handicap. Ask how well he plays, and he says, "Badly." How badly? "Given the number of golf balls I've hit, it's crazy how not that good I am. I don't even play 18 holes. I don't even keep score. I just go out and play eight holes. Yesterday I played 11 holes. I go home hoping that there's a couple of shots I can remember pleasantly. I am the opposite of a serious golfer." Beruff shoots this down: "He's definitely better than he says he is."

Eisner is grateful for having YES to obsess over instead of his new pitching wedge.

"This is my blind date," he says. "This is the thing that always promises something around the corner, something fascinating, something that you haven't thought of. When you find something where literally every experience in your life can be drawn into it, where everything's feeding it, that's joy. That's all you can hope for."

Former CCT Editor Jamie Katz '72, BUS'80 has held senior editorial positions at People and Vibe, and writes regularly for Smithsonian Magazine and other publications.