Obituaries
1934
Millard L. Midonick, attorney, New York City, on January 18, 2014. Midonick was born in New York City on May 24, 1914. He earned a degree from the Law School in 1936 and went to work for the National Labor Relations Board. He served in the Coast Guard during WWII, achieving the rank of lieutenant commander. Midonick married Dorothy Rosenberg in 1941; she died in 1976. A lifelong progressive, Midonick helped found the Samuel J. Tilden Democratic Club in 1953 after Adlai Stevenson's failed presidential campaign. In 1956, Midonick was appointed to the municipal bench by Mayor Robert F. Wagner. He became a Family Court judge in 1962 and in 1971 was elected to the Surrogate's Court, where he administered the affairs of decedents and their families. Midonick handled hundreds of estate cases, the most famous of which was a years-long dispute over more than $30 million worth of Mark Rothko's paintings. He also presided over W.H. Auden's case, ruling that an archive of the poet's notebooks and papers belonged to the New York Public Library. Midonick stepped down in 1982 and joined Willkie Farr & Gallagher, later becoming counsel to Fensterstock & Partners. He is survived by his second wife, Jill, whom he married in 1979.
1943
Ernest E. Tucker, physician, Morristown, N.J., on December 16, 2013. Tucker was born in Manhattan on March 20, 1921. He graduated from the U.S. Merchant Marine Academy in 1944 and served as an engineer in the Merchant Marine during WWII. He earned an M.D. from P&S in 1953. Tucker married Elizabeth MacKay in 1952; they later divorced. After being a ship's doctor 1955–56, Tucker became a pathology resident at the West Haven, Conn., VA Hospital. In 1961 Tucker married Marguerite Heckler and they moved to Morristown, N.J., where he was a pathologist at the Morristown Memorial Hospital laboratory. Tucker was also a medical examiner for Morris County 1970–92, often appearing in court as a witness for the prosecution. He taught histology at Fairleigh Dickinson and was chairman of the board of Gill St. Bernard's School 1981–85. In his later years, Tucker volunteered at the Willowwood Arboretum in Gladstone, N.J. He also was a devoted genealogist, compiling a database of more than 20,000 of his ancestors. Marguerite died in 2001 and Tucker is survived by his brother, Gardiner; sons, John and Gregory; daughters, Desiree and Felicity; and seven grandchildren. Memorial contributions maybe made to Willowwood Foundation, Gladstone, N.J.
1945
Stanley B. Braham, urologist, Sleepy Hollow, N.Y., on March 27, 2014. Braham earned a degree from P&S in 1947 at 21 and becamea world-renowned urologist and urological surgeon. He practiced at Columbia University Medical Center/New York Presbyterian Hospital and also was an associate professor of urology at P&S. Braham helped train many of the most accomplished urological surgeons now practicing in New York and around the world and was an innovator in surgical techniques. He was a passionate golfer and cofounded The World of Golf, which became the largest golf retailer in New York City. Braham loved the city, where he lived for 60 years, and was an impassioned follower of the Knicks and Rangers.
Howard M. Schmertz, attorney, Millrose Games director, Port Washington, N.Y., on March 27, 2014. Schmertz was born in the Bronx on June 9, 1925, and grew up there. He served in the Army infantry in WWII, seeing combat in France. Schmertz earned a degree in 1948 from the Law School and practiced in Manhattan. He married Judy Silman in 1953. Schmertz presided over the Millrose Games, long one of the world's most prestigious indoor track and field meets, for 29 years. He was a link to the very birth of the meet, in 1908. His father, Fred, had been a founder, and Howard, who began attending the event at 7, succeeded him as the meet's director in 1975. In 2012, father and son were inducted simultaneously into the National Track and Field Hall of Fame. Schmertz retired from his law practice in 2001 and devoted more time to the track meet. His wife said, "His hobby became his business, and his business became his hobby." The couple devoted many months to the meet each year, traveling to American and European competitions to watch and recruit. In addition to his wife, Schmertz is survived by his daughters, Amy Weinstein and Carol Katz; and four grandchildren.
1946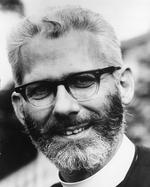 Robert F. Capon '46Robert F. Capon, reverend, Shelter Island Heights, N.Y., on September 5, 2013. Capon was born on October 26, 1925, in Queens. He earned an M.A. in 1947 from GSAS. Ordained in 1949, Capon served at Christ Church in Port Jefferson, Long Island. He was appointed dean of the George Mercer Jr. Memorial School of Theology in Garden City, Long Island, in 1957. Capon began writing in 1965, publishing 27 books on theology and food, with the subjects often mixing. He is best known for The Supper of the Lamb: A Culinary Reflection, written in 1969. In 1977, Capon lost his church and dean positions when he divorced his wife, Margaret, after which he became a prolific freelance food and wine writer for The New York Times and Newsday. Capon's last book, Light Theology and Heavy Cream: The Culinary Adventures of Pietro & Madeline, was published in 2004. Reflecting on a bad bottle of fruit brandy aperitif, he wrote, "My bottle of bogus kirsch bears witness that there is no bottomless pit in any earthly subject — that to be good or bad is not as much of an achievementas to be at all." Capon is survived by his wife, Valerie; eightchildren; 12 grandchildren; and two great-grandchildren.
1949
Albert F. Keegan, retired radiologist and professor, Haverford, Pa., on February 26, 2014. Born on August 13, 1926, Keegan enlisted in the Navy in 1944 and served in the Medical Corps. He earned an M.D. in 1953 from SUNY's College of Medicine and in 1954 married Margaret S. Telesco. Keegan was the longtime director of radiology at NYU/Bellevue Hospital and was president of its Medical Board. He was a professor of clinical radiology at NYU School of Medicine, director of the Radiology Resident Training Program for NYU/Bellevue and was named a Professor Emeritus at NYU. In retirement, Keegan remained active as co-chair of the New York County Health Services Review Organization/MedReview,which grew under his guidance to one of the largest and most prominent organizations of its kind in the nation. Keegan's passions were his family, music and medicine. He also loved the water and enjoyed sailing and skiing. Keegan is survived by his wife; children and their spouses, Christopher and Debbie Keegan, Cara and John Fry, and Matthew and Orsolya Keegan; and seven grandchildren. Memorial contributions may be made to the Department of Radiology, c/o Office of Development, NYU Langone Medical Center, One Park Ave., Fl.17, New York, NY 10016, or made online.
1951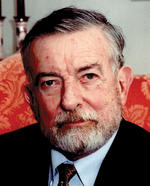 Gerald P. Brophy '51Gerald P. Brophy, retired professor, Amherst, Mass., on April 2, 2014. Born in Kansas City, Mo., on September 11, 1926, Brophy graduated from Iona Preparatory School in early 1944 and enlisted in the U.S. Maritime Service, serving in the North Atlantic region until the end of the hostilities. He earned a Ph.D. in 1954 from GSAS in geological sciences and accepted a faculty appointment at Amherst, where he worked until 1998, retiring as the Samuel A. Hitchcock Professor of Mineralogy and Geology. During his studies at Columbia, he helped explore the uranium potential of central Utah and discovered a new uranium-bearing ore mineral. During his tenure at Amherst, Brophy maintained consulting operations with several mining companies in the United States, Canada and South Africa, in addition to conducting geological investigations in Pakistan, Iraq, Jordan, Kuwait, Ethiopia, Kenya, Tanzania and Mexico. From 1978 to 1980, on leave from Amherst, he managed the Department of Energy programs for potential geothermal resources in the lower 48 United States. Brophy is survived by his wife of 63 years, Joanne Young Brophy; son Thomas and his wife, Laura, and son James and his wife, Evelyn; and three granddaughters. His eldest son, William, predeceased him.
George E. Chase, real estate broker, Atlanta, on September 16, 2013. Born on March 20, 1926, Chase showed horses with his father and four brothers from an early age, competing at the National Horse Show. He served in the Navy during WWII, after which he worked at Monsanto Chemical in Georgia and later founded Chase Realty. Chase married Jan in 1955. They shared a love of horses and built Chase-A-Way farm in Coweta County, Ga., where they hosted many point-to-point races, Jack Russell terrier trials and bluegrass parties. Chase helped found the Atlanta Steeplechase in 1966. He was also president of the Georgia Thoroughbred Club and founder of Atlanta Hunter-Jumper Horse Show. He served on the boards of the United States Equestrian Team, the National Steeplechase Association, the American Horse Shows Association and the AtlantaSteeplechase Board of Stewards. Chase also was an avid sailor and a member of Northside United Methodist Church. He is survived by his wife; brother, Peter; sons, George and Paul; daughter, Janet Pendergrast; daughters-in-law, Natalie and Cynthia; son-in-law, Sumter M. Pendergrast; and six grandchildren. Memorial contributions may be made to The Atlanta Steeplechase or Northside United Methodist Church, Atlanta.
1954
Enno W. Ercklentz, international corporate lawyer, New York City, on January 24, 2014. Born in New York City, Ercklentz's family was stranded in Japan at the outbreak of WWII and he attended St. Joseph's College in Yokohama. In 1947, the family repatriated to Germany, and Ercklentz served as a civilian in the Army in Frankfurt. In 1950 the family returned to New York City, and Ercklentz graduated in 1951 from the Collegiate School. He earned a degree from Harvard Law in 1957 and maintained an active legal practice until his death. Ercklentz's acclaimed two-volume study, Modern German Corporate Law, is still in use. He served as chairman of the then-named Deutsche Schule in White Plains, N.Y., and was awarded the Cross of the Order of Merit by the Federal Republic of Germany for his contributions to the school. Ercklentz possessed an encyclopedic knowledge of music, history, geography and travel. He is survived by his sister, Hildegarde Mahoney; brother, Alexander; daughters, Cornelia SIPA'08 and Stephanie; three grandchildren; sister-in-law, Eevi Truumees; son-in-law, Chase Coleman; and seven nieces and nephews. Memorial contributions may be made to the Philharmonic Symphony Society of New York or the Bladder Cancer Advocacy Network, Bethesda, Md.
Other Deaths Reported
Columbia College Today also has learned of the following deaths. Complete obituaries will bepublished in an upcoming issue, pending receipt of information. Due to the volume of obituaries that CCT receives, it may take several issues for the complete obituary to appear.
| | |
| --- | --- |
| 1933 | Eugene M. Kline, retired attorney, Port Chester, N.Y., on October 10, 2014. |
| 1939 | Stanley L. Lee, physician, New York City, on July 27, 2014. |
| 1940 | Arthur Joseph, Monroe, N.J., on September 20, 2014. |
| 1944 | Robert M. Palter, retired professor, Farmington, Conn., on October 1, 2014. |
| 1947 | Charles G. Wootton, retired diplomat, San Diego, on January 1, 2014. |
| 1948 | Ethan I. Davis, consultant, Prescott, Ariz., on August 5, 2014. |
| 1949 | Howard B. Radest, professor, Caldwell, N.J., on October 11, 2014. |
| 1951 | Donald A. Beattie, lunar geologist, Saint Johns, Fla., on August 22, 2014. |
| 1952 | Stanley G. Schulz, professor, Houston, on October 23, 2014. |
| 1953 | Daniel D. Epstein, dentist, New York City, on September 1, 2014. |
| 1954 | Stuart Karger, physician, Bedford, N.Y., on April 15, 2014. |
| | John L. Ravin, dentist, Nanticoke, Pa., on March 30, 2014. |
| 1955 | Michael D. Pybas, Dallas, on June 1, 2014. |
| 1956 | Lewis H. Bernstein, business consultant, New York City, on September 1, 2014. |
| 1958 | Peter C. Guthery, attorney, Denver, on March 1, 2014. |
| | Irwin Sharkey, physician, New York City, on September 1, 2014. |
| 1961 | Wolf von dem Bussche, artist, Mission Viejo, Calif., on August 12, 2014. |
| 1966 | Ronald F. Brookshire, Thousand Oaks, Calif., on August 11, 2014. |
| 1969 | Richard B. Heyman, pediatrician, Cincinnati, on August 13, 2014. |
| 1973 | Terence E. Smith, business executive, Edison, N.J., on September 10, 2014. |
| 1975 | Michael G. Gaye, political consultant, New York City, on September 9, 2014. |
| | John T. Griffin, attorney, New York City, on July 28, 2014. |
| 1978 | Peter C. McAlevey, film producer, Los Angeles, on August 15, 2014. |
| 1981 | Raymond J. Nisi, bar owner, Las Vegas, on July 8, 2014. |
| | Leandro Stillitano, business executive, Weehawken, N.J., on August 8, 2014. |
| 1991 | Evans K. Kissi, consultant and U.S. Navy lieutenant, Middletown, R.I., on July 4, 2014. |
1955
Martin Gottfried, drama critic and Broadway historian, New York City, on March 6, 2014. Gottfried was born in Brooklyn on October 9, 1933. He served in the Army in Europe (Military Intelligence, 1957–59) before becoming a classical music critic for The Village Voice and an Off-Broadway critic for Women's Wear Daily. He also wrote for The New York Times, Vogue and Condé Nast Traveler. Gottfried rose to prominence in the 1960s, when proponents of traditional theater and advocates of a more experimental approach were often at odds. The distance between the avant-garde and the old guard was the thesis for his first book of criticism, A Theater Divided: The Postwar American Stage (1968), which won the George Jean Nathan Award for Dramatic Criticism. He became The New York Post's drama critic in the mid-1970s and moved to Saturday Review near the end of the decade. In 1979 Gottfried published Broadway Musicals, a compendium of the form that included chapters on lyrics, design and problems that arise during a production. A sequel, More Broadway Musicals, was published in 1991. Gottfried published six biographies from 1984 to 2003. His two marriages ended in divorce. He is survived by his daughter, Maya Lahr Gottfried; companion, Steffi Ostroff; and brother, Stuart.
1956
Arthur Bank, physician, professor emeritus, New York City, on February 27, 2014. Bank was professor of medicine, genetics and development, and director of hematology, in the Department of Medicine at Columbia until his 2005 retirement. A graduate of Harvard Medical School, he was a world-renowned molecular biologist and hematologist whose work in the 1960s showed for the first time that what was largely responsible for the anemia of patients with beta thalassemia was a vast excess of alpha globin proteins in their red blood cells. In the 1970s his laboratory identified specific gene mutations and deletions in these patients and in the 1980s and 1990s it developed new gene therapy technology that led to clinical trials. Bank co-authored a research study published in 2010 in the journal Nature that used this technology to successfully treat a patient with severe thalassemia. He was also the first to define a unique complex of proteins in adult blood cells that could be targeted to increase fetal hemoglobin production as a way to treat thalassemia and sickle cell disease. After retiring he wrote two books that drew upon his career. Bank is survived by his wife, Rona; sons, David '84, PS'88 and Michael GSAS'91, PS'99; and three grandchildren.
Leslie Y. Rabkin, retired clinical psychologist and professor, Seattle, on January 7, 2014. Rabkin was born in the Bronx and graduated from the Fieldston School in 1952. He majored in dramatic literature and history at the College. Rabkin served in the Army Medical Service Corps as a psychology technician 1957–59. He earned a Ph.D. from Rochester and joined the Department of Psychiatry at the University of Washington School of Medicine in 1962. In 1966, he moved to Israel to work on a study of children of the kibbutz. Rabkin later was chief psychologist in the Division of Child Psychiatry at Hebrew University School of Medicine, Jerusalem. He returned to Seattle in 1977 and established a private practice. He taught at Washington until his retirement. From 1999 to 2005, Rabkin worked in American Samoa in the Department of Human and Social Services; in the Department of Education in Kailua-Kona, Hawaii; and at the American University in Kosovo. He authored numerous books. Rabkin loved the arts, especially jazz, literature and popular culture. He is survived by his wife, Janice; daughters, Sasha and Rebecca; sister, Joan; and one grandson. Memorial contributions may be made to the Polack Adult Day Center at the Kline Galland Home or the Seattle Repertory Jazz Orchestra.
1958
Martin F. Stein Jr., nephrologist, Bronxville, N.Y., on November 11, 2013. Stein was born in New York City on May 27, 1936. He earned an M.D. from Albany Medical College in 1962. Stein was on the staff at St. Joseph's Medical Center in Yonkers 1969–2000, where he held numerous directorships and helped raise funds to save the renal dialysis unit from closing. Stein was active in the End Stage Renal Disease Network 1980–2001 and served on the Board of Directors of the Albany Medical College Alumni Association. He was also an active member of The Reformed Church of Bronxville and chaired the executive council for Bronxville Challenge, a community-wide drug-prevention program. Stein served as a lieutenant colonel and colonel in the Army in the physician management branch at Fort Meade, Md., and volunteered at Landstuhl Regional Medical Center in Germany for several years during the Iraq War. His wife, Sheila, died in 2013. He is survived by a sister, Gayle Bishop; daughters, Susan Bowan Reed, Kimberly Paige and Maggie; sons, David Bowen, Fritz III and Peter Bowen; and 14 grandchildren. Memorial contributions may be made to the Alzheimer's Association or the Wounded Warrior Project.
1959
Edward C. Mendrzycki, attorney, Bronxville, N.Y., on May 11, 2014. Mendrzycki was born in Carnegie, Pa. He earned a B.A. from the College and then a B.S., in 1960, from Engineering. He began his career at the Aluminum Company of America in 1960 as an industrial engineer and subsequently attended Fordham Law, graduating in 1967. Mendrzycki joined the law firm of Simpson Thacher & Bartlett, and became a partner in 1974. He is survived by his wife, Catherine Dempsey Mendrzycki; sons, Edward Jr. and his wife, Jennifer, and William and his wife, Keri; daughter, Tara Mendrzycki Smith and her husband, Adam; 12 grandchildren; and brothers, Joseph and James. Memorial contributions may be made to Family Outreach Foundation, 5 Wilson St., Mendham, NJ 07945.
George H. Semel, plastic surgeon, Los Angeles, on December 4, 2013. Semel provided reconstructive surgery for a wide range of clientele through his private practice in Beverly Hills. He also created and distributed his own brand of skin care products through the Beverly Hills Peel Co. Semel was featured in the media as an authority on plastic surgery, appearing on 48 Hours, NBC News, Sky News and E! Entertainment and was interviewed by publications such as People Magazine and US Weekly. After a 2013 heart attack, Semel devoted his time to his family but continued to perform surgery. He is survived by a brother, Chester; children, Alexis and Daniel; and two grandsons.
1961
Victor H. Li, executive consultant and professor, Oakland, Calif., on September 18, 2013. Born in Hong Kong, Li eaned a degree in 1964 from the Law School. He then earned an L.L.M. in 1965 and an S.J.D. in 1972, both from Harvard. Li was known for his vital role in shaping the Taiwan Relations Act in 1979. He was the Lewis Talbot and Nadine Hearn Shelton Professor of International Legal Studies at Stanford before he moved to Hawaii to be president of the East-West Center, where he worked 1981–90. Because of a personal invitation from Li, Chinese Premier Zhao Ziyang made Hawaii his first stop on his first official U.S. visit in 1983. After leaving the East-West Center, Li founded the Asia Pacific Consulting Group of the law firm Watanabe Ing & Kawashima with former Gov. George Ariyoshi. Li spent most of his time doing nonprofit work in China in education and energy; he introduced Sesame Street to the country. He also worked with Smile Train, arranging programs at 150 hospitals throughout China. Li is survived by his wife, Arlen Lum; sons, Gregory, Jeffrey and Justin; brothers, Houn Li and Frederick; sisters, Virginia, Angela and Tina; and four grandchildren.
1963
Joel H. Rascoff, nephrologist, New Rochelle, N.Y., on March 31, 2014. Born in Brooklyn in 1941, Rascoff was raised there and in Rockaway Beach, N.Y. He studied mathematics at the College and at the Harvard Graduate School of Arts and Sciences and also earned a degree in 1968 from P&S. After further medical training and work in the U.S. Public Health Service, Rascoff practiced nephrology for decades in the Bronx and Queens. A polymath whose interests ranged from cosmology to foreign policy, he also was a passionate botanist, woodworker and photographer. His greatest devotions were to his family, his Jewish faith and his community. Diagnosed with pancreatic cancer eight years ago, Rascoff defied the odds through a combination of medical care and determination. He is survived by his wife of 46 years, Barbara; brother, Joseph; sons and daughters-in-law, Henry and Carina, Samuel and Lauren, and Matthew '01 and Emily; and five grandchildren. Memorial contributions may be made to AMIT or to the Lustgarten Foundation for Pancreatic Cancer Research.
1969
Conley E. Ward Jr., attorney and politician, Kuna, Idaho, on October 28, 2013. Ward was born to parents from ranching families and he would come to describe himself as an "agrarian populist." Ward earned a law degree at Colorado. There he met Gail Fleischer, his wife of 42 years. He returned to Idaho and became an attorney for the Public Utilities Commission. He was instrumental in preventing a coal-fired power plant from being built near Boise. Ward became, at 29, the youngest public utilities commissioner in the country and sought to keep hydropower strong and rates low. Later he was involved with the development of Syringa Networks, which extended broadband access to rural Idaho. He served as Idaho Democratic Party chairman 1988–91, coached youth league baseball and had a passion for fly-fishing, gardening, golf, reading and racing horses. Ward is survived by his wife; sons, Ian and his wife, Dorota, and Tyler '03 and his wife, Dina; three grandchildren; mother, Eloise; brothers, Dudley, Cotton and Clay; sister, Janie Ward-Engelking; and many nephews, nieces and cousins. Memorial contributions may be made to The Idaho Foodbank.
1970
Richard G. Smolev, retired attorney and novelist, Kintnersville, Pa., on January 25, 2014. Smolev earned a J.D. from Northwestern and was a litigator before focusing on bankruptcy law, first at Wiseman, Smolev and Solow, then at Sachnoff and Weaver, before joining Kaye Scholer as a founding partner of the Chicago office in 2000. Recognized by Best Lawyers in America, and recipient of a 2011 International Law Office Client Choice Award, Smolev focused on the insolvency aspects of leveraged and operating leases, and routinely worked with Kaye Scholer's structured finance and real estate securitization practices in its financing and capital markets transactions. He retired at the end of 2012 due to illness but then pursued his lifelong passion for creative writing full-time. He achieved literary success quickly when, in July 2012, Academy Chicago Press published his first novel, Offerings. His second novel, In Praise of Angels, was published a year later. Smolev was noted for his wry wit, vast intellect and pragmatic approach to complex problems. He is survived by his wife, Nancy Alessi; sons, Michael and David; four grandchildren; brother, James; and sister, Carole Smolev Landau. Memorial contributions may be made to the ALS Association Greater Philadelphia Chapter.
1972
Keith A. Luis '72Keith A. Luis, professor, blues musician, recording artist, Austin, Texas, on July 28, 2013. Luis was born on November 27, 1950, in Minneapolis and raised in Shakopee, Minn. After graduation from Blake School, he earned a B.A. at the College and an M.A. and Ph.D. from Tulane. Luis was English department chair and director of the Humanities Division at St. Bernard Parish Community College, Chalmette, La. He then taught English at Tulane, Michigan State and Texas State. Luis was a world traveler and an avid chess player but his great passion was the blues, which he concentrated on full-time for the last 15 years of his life. He was a vocalist and songwriter and played guitar, mandolin, percussion and lap steel guitar. Luis led the Blues Gothics combo in New Orleans and Austin. Under the stage name Dr. Louie, he wrote and performed six songs for compilation albums and created six albums/CDs of his own: New Orleans Gothic; We Must Dig; A Holiday Gift for You; Bolts From the Blue; Opposites Reconciled, Extremes Met; and Fillin' the Billie. He is survived by his brothers, David '70 and Richard and his wife, Juanita; sister, Deborah Edwards, and her husband, E.J.; nephew; niece; and many cousins.
1993
James D. Frederick, former foreign correspondent, and editor and author, London, U.K., on July 31, 2014. Frederick was born on November 22, 1971, in Lake Forest, Ill., and grew up in nearby Libertyville. He studied English literature at the College and earned an M.B.A. from NYU's Stern School of Business. Frederick spent most of his career at Time, Inc., as a reporter and editor for Money and Time magazines. At Time, he was the Tokyo bureau chief, a senior editor based in London, managing editor of Time.com and managing editor of Time International before leaving the company in 2013. His book Black Hearts: One Platoon's Descent Into Madness in Iraq's Triangle of Death explores a crime committed by four American soldiers: the rape and murder of a 14-year-old Iraqi girl and the killing of her family in March 2006. While in Tokyo, he co-authored, with Charles Robert Jenkins, a 2008 memoir about the four-decade nightmare that followed Jenkins after his desertion from the Army into North Korea in 1965, The Reluctant Communist: My Desertion, Court-Martial and Forty-Year Imprisonment in North Korea. Frederick is survived by his parents, Edwin "Larry" and the former Eileen Durkin; wife, Charlotte Greensit; sisters, Laura Biagi and Sharon; and brother, Edwin III "Ted."
Lisa Palladino