Roar, Lion, Roar
Men's Basketball Optimistic For 2014–15 Ivy Season
By Alex Sachare '71
After winning 21 games a year ago and competing in a postseason tournament for the first time in 46 years, Columbia's men's basketball team was picked to finish third in the Ivy League coaches preseason poll.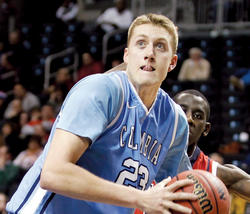 Cory Osetkowski '15 is the hub of Columbia's half-court offense, a center with excellent passing skills and court vision. PHOTO: COURTESY COLUMBIA ATHLETICS

The Lions, however, suffered a setback before the start of the campaign when forward Alex Rosenberg '16, the team's leading scorer at 16 ppg a year ago, broke a bone in his foot and decided to withdraw from school for the year. The 6'7" Rosenberg hopes to return in 2015–16 to complete his degree and play his final season for the Lions.

Despite that loss, Columbia returns everyone else from the team that tied for third in the conference last season and won more games than any other Lions squad in 46 years, including a pair of games in the CollegeInsider.com Tournament (CIT). Coach Kyle Smith is confident that continuity will help the Lions contend in the Ivies again this year. "Last year we made some pretty big changes," he said. "The hope is we get the benefit this year."

"Last year was a breakthrough year for us," Smith noted. "We started to see some people from the '60s come to our games and support us. And in the CIT, the momentum really blossomed. Hopefully, we can tap into that again, but every year is different. We've got to learn how to handle success and hopefully understand what it took to get where we were last year and break through and keep chipping away."

After a 14-game non-conference schedule that includes formidable tests against defending NCAA champion Connecticut (December 22) and runner-up Kentucky (December 10), the Lions will open their quest for the Ivy League crown at Cornell on January 17. Defending champion Harvard was the unanimous choice to repeat as champion in the Ivy League coaches preseason poll, with Yale second, Columbia third and Princeton fourth.

Columbia's offense centers around 6'11", 270-lb. Cory Osetkowski '15, whom Smith describes as "a rare find, a 6'11" point center. He's probably our smartest player. He knows where everyone should be, so running things through him is important. Cory's experience playing center last year is vital to what we do and having that second year where he's a primary ballhandler in the halfcourt offense has really helped us grow."

Osetkowski, like Smith, thinks the Lions should benefit from having played together last season. "We're pretty much keeping the same offense, maybe adding a couple wrinkles here and there," he said. As for his unusual passing skills for a big man, he explained, "In middle school I was 5'8", 5'9", and I had the ball in my hands alot, so it was an easy transition coming to Columbia and running this offense."

The Lions have a bevy of talented guards led by Maodo Lo '16, the team's No. 2 scorer at 14.7 ppg last season, and frequently will play three guards at a time — partly because 6'4" guard Isaac Cohen '16 was the team's leading rebounder at 5.2 rpg last season. Steve Frankoski '15 and Grant Mullins '16 are experienced backcourt scorers and 5'8" Kendall Jackson '17 provides a change of pace with his quickness. The two first-years, Kyle Castlin '18 and Nate Hickman '18, will compete for playing time in the deep backcourt.

Joining Osetkowski in the frontcourt are four sophomores: 6'10" Luke Petrasek '17, who started 18 games last season; 6'8"Chris McComber '17, a talented outside shooter who can stretch the defense; 7'1" Conor Voss '17; and 6'8" Jeff Coby '17.

"Coming off 21 wins last year, we're obviously optimistic and feel pretty good," Smith said, summing up his outlook going into the season. "I think we have a lot of optimism, but a lot of work to be done as well. We have to keep digging. You've got to make your breaks. No one is going to hand you anything in life and especially not in the Ivy League. Top-to-bottom, the league is as good as it's ever been."

For up-to-date news on men's basketball, and for news and season previews on other winter sports teams, go to gocolumbialions.com.