Within the Family
Columbians and Politics
I
n January 2005, two months after he received 70 percent of the vote in the Illinois Senatorial election, we featured Barack Obama '83 in a
cover story
. The cover line asked, "Is This the New Face of the Democratic Party?"

The answer to that prescient question was a decided yes. Before he even completed his first term in the U.S. Senate, Obama ran for and won this country's highest office, becoming the 44th President of the United States and the first Columbia College alumnus/a to hold that post.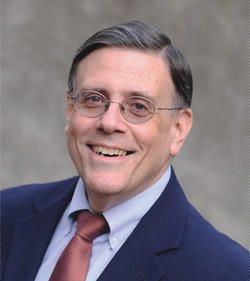 Nearly 10 years have passed, and now another rising Democrat graces our cover: Eric Garcetti '92, SIPA'93, who was elected mayor of Los Angeles on May 21, 2013. Garcetti is in charge of running the nation's second-largest city, which happens to be one of the world's most diverse and complex.
As we planned this story, I was struck by the parallels between the two — beyond, of course, that they are both College alumni. Both were young, progressive Democrats beginning their first term in a major office at the time we profiled them. Both come from multi-ethnic heritages. Like Obama a decade ago, Garcetti is seen by politicos as a rising star who could well become a candidate for national office sooner rather than later. Obama was 43 when his image first appeared on our cover; Garcetti, too, is 43.

It was tempting to run the same cover line and ask, once again, "Is This the New Face of the Democratic Party?" But I didn't want to deal with the volume of letters such a rerun inevitably would produce from our sharp-eyed readers and try to explain why we couldn't — or preferred not to — come up with something new.
Going through the archives, I was a bit surprised to discover that Garcetti is only the third holder of a U.S. political office to be on our cover in the decade since that Obama issue, joining New Hampshire representative, governor and senator Judd Gregg '69 and New York governor David Paterson '77. To be fair, we've also run cover stories on Attorney General Eric H. Holder Jr. '73, LAW'76 and Estonian President Toomas Hendrik Ilves '76 during that period. But that's not a very large number, especially when you consider the many Columbians who have played important roles in this nation's political history.
Many alumni have played prominent roles
in government at various levels.
John Jay (Class of 1764) and Alexander Hamilton (Class of 1778) were, with James Madison, the principal authors of The Federalist Papers and among our nation's Founding Fathers. Hamilton was the first Treasurer of the United States and Jay was the first Chief Justice of the Supreme Court. Gouverneur Morris (Class of 1766) was another Founding Father who attended the convention in Philadelphia in 1787 that produced the federal Constitution. And DeWitt Clinton (Class of 1786), a member of the first graduating class after the school was renamed from King's College to Columbia College following the Revolutionary War, served as both mayor of New York City and governor of New York State.
Since then, many alumni have played prominent roles in government at various levels. Among them was Seth Low (Class of 1870), who served two terms as the mayor of Brooklyn in the 19th century before becoming president of Columbia
and overseeing the University's move from midtown to Morningside Heights. Low resigned as president of Columbia in 1901 to become the second mayor of the consolidated City of New York.
The man who succeeded Low at Columbia, Nicholas Murray Butler (Class of 1882), was University president 1902–45 and was a delegate to each Republican National Convention from 1888 through 1936. In 1912, when Vice President James S. Sherman died a few days before the presidential election, Butler was designated to receive the electoral votes that Sherman would have received but the Republicans lost in the general election. Butler tried for the Republican presidential nomination in 1920 and again in 1928, but fell short both times.

Butler, Columbia's longest-tenured president, said at a dinner on April 2, 1937, "I intend to stay until I die," at least partially because his hopes for national political office were no longer viable. On April 12, 1945, in failing health, Butler announced his retirement; he died on December 7, 1947. Provost Frank Frackenthal (Class of 1906) was acting president while a search was conducted for Butler's successor.
The result of that search, ironically, was a man who would do what Butler dreamed about but never accomplished — go from president of Columbia to president of the United States. On June 29, 1947, the Columbia Board of Trustees elected Dwight D. Eisenhower, the Supreme Commander of the Allied Forces in WWII, the 13th president of the University. Four years later, on November 4, 1952, Eisenhower was elected the 34th president of the United States after carrying 39 of the then-48 states.
For much more on Columbians in politics, I highly recommend Barnard Professor Robert McCaughey's excellent
Stand, Columbia,
written for the University's bicentennial celebration in 2004. Don't look for Obama or Garcetti, though — because of when the book was published (2003), neither is mentioned.