ALUMNI PROFILE
Brownlie & Hampton Jitneys Winter in Florida
By Lisa Mitsuko Kitayama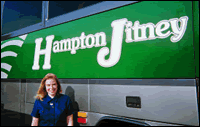 Heather Brownlie '91 has the right idea. Instead of freezing thorough the blizzards and bone-chilling temperatures of a New York winter, she is basking in the Florida sun. And so are her buses.
Brownlie is vice president of charter services for Hampton Jitney, whose coaches regularly shuttle Manhattanites to and from the Hamptons in the summer. Rather than hibernating for the winter in some garage where they wouldn't be bringing in any money, the coaches, their drivers, and company staff travel south to Florida to ferry tourists to and from hotels, entertainment venues, and amusement parks.
Brownlie handles all aspects of the charter bus company, from advertising and booking tours to scheduling itineraries for the 36 coaches.
While her position with Hampton Jitney may seem unusual for a Columbia graduate who majored in history-sociology and has a law degree to boot, it makes sense considering her background. Her family resided in Manhattan, with a summer residence in Shelter Island, so she grew up knowing the route. As a high school student, Brownlie worked as a ticket collector on the Manhattan-Long Island line for Sunrise bus services, a job that became a part-time position throughout college and law school. After graduating from law school, faced with a market over-saturated with lawyers and a gnawing feeling that law was not the profession for her, she accepted a position with Greyhound as supervisor of driver operations. After Greyhound, Brownlie joined Hampton Jitney.
"I love buses," she said. "I've always loved buses."
Unlike most traditional bus companies that only experience one busy season a year, moving the operation south when the weather starts to turn ensures that Hampton Jitney is able to hit both busy seasons, the Hamptons in the summer and Florida in the winter. Because she supervises all aspects of the service, Brownlie must regularly travel between New York and Florida, and says she thrives on the hectic schedule.
"I never get bored, it's year-round, non-stop," said Brownlie. "And it's an increasing trend; if anything, it gets busier and busier."
Although many if not most of her customers are vacationers, Brownlie hasn't taken a vacation herself in over a year. And while she recently bought a house in James Post, Long Island, she hardly ever gets to see it for much of the year. Yet she says she feels lucky to have found a job which she is excited to go to work every morning.
"I think if I did go into law, it would have been less satisfying," she suggested. "Here, I'm always anticipating the next move, or planning ahead and trying to expand for the future."