"are you a visitor?" asked
the dog.

"yes," i answered.


"only a visitor?" asked
the dog.


"yes," i answered.


"take me with you," said
the dog.


I made my first trip to Patmos in the company of an efficient friend who understood the logistics of island travel pretty well, so knowing when to get off and where to go wasn't much trouble. At our hotel in Athens, we laid out all the relevant schedules, maps, and tickets in advance. Among them was a postcard from Robert Lax, whom we were going to Patmos to visit. Like most everything Lax wrote, it was succinct and friendly.

Am sending you this fast bird to say that everything has been arranged.

I will meet you on the dock, juggling tennis balls.

"He sounds like a character," I offered.

"He's a poet," my friend sensibly observed. "He has an unusual way of putting things."

In point of fact, Lax was a juggler and had spent several years traveling with circuses in North America and Europe, although I did not know this when we first met. The smiling goateed figure who shook my hand on the dock eight years ago looked more like someone who would hear confessions than swallow swords, although he did have the wiry physique of an acrobat. There was no mistaking him for a Greek -- he was tall and lean and much too fair -- but his features had that same weathered look that comes with years of heavy sun and sea air.

The Maximum Capacity
of this room
is 262 people


262 people


The Maximum Capacity
of this room
s 262 people


"Well, that's fine," he said after I had been introduced. "You made it. Good, good." He looked about, a bit nervously, at the trucks and mopeds lumbering and whizzing past us, then spoke as if he had found a sudden idea. "Why don't we step over to your hotel? This looks like a good place not to be."

Robert Lax is one of the great enigmas of American letters. A classmate of John Berryman '36 and a mentor of Jack Kerouac '44, his poetry has been admired by writers as diverse as John Ashbery, William Maxwell, James Agee, Allen Ginsberg '48, E.E. Cummings, Richard Kostelanetz, and Denise Levertov -- yet he remains very largely unknown, even among the editors and academics who make their livings tracking and hunting fresh literary game. None of my professors at Columbia, either in the College or the Writing Program, had heard of him, and neither the Gotham nor the Strand held even one of his titles in stock when I began assembling an anthology of his work in 1995. I had only learned of him myself through a Columbia friend whose father, as it happened, had been a Columbia friend of Lax's in the mid-1930s and had worked with him on Jester. He had not seen Lax since their college days but spoke of him with an unusual, almost familial, affection. It was an attitude that, later on, I was to encounter frequently among people who had known Lax -- a somewhat protective fondness, the sort of feeling one would have for a younger brother or a favorite son.

Sometimes grammar is more than a writer needs

The years that Lax passed at Columbia coincided with one of the most brilliant periods of the College's history, during which an exceptionally talented array of students were brought together under the tuition of what may be the most remarkable college faculty ever assembled in one place. It was the zenith of the Butler years, and although Nicholas Murray Butler's administration is often remembered now for the intellectual short-sightedness that drove away many of the freshest minds of the day (neo-scholastics such as Mortimer Adler '23 and Richard McKeon '20, not to mention the European refugees who eventually settled the New School), there was enough room for Lionel Trilling '25 and Jacques Barzun '27, for Richard Hofstadter and Moses Hadas and -- most important of all for Lax -- Mark Van Doren.


There was a man who said,
"Why eat cake when all you
want is bread? Why eat frosting
when all you want is cake? Why
eat cake and frosting when all
you want is bread and candy?"
The man was accounted very
wise, and he thought it was a
true account.


Today Van Doren's fame rests largely upon his reputation as a critic and a teacher, but in the 1930s he was considered a poet of some note, and from all accounts he possessed a poet's taste for the vivid and the unusual, even among his students. He always attracted more than his share of the perennial undergraduate eccentrics -- the sort Fitzgerald would characterize as "wild, unknown men" -- whose intellectual vehemence and apparent lack of purpose invariably drive most academics to despair, and he was just the man for Lax, who published his first poem at the age of 11 and claims to have been 28 before he understood what salt was for. Van Doren served Lax well as a lifelong mentor, critic, and friend (in his later years, he kept up an increasingly far-flung correspondence with his old student). He also did him the favor of introducing him to Thomas Merton '38, who soon became Lax's closest companion and confidante.

To name Robert Lax in another way, he was a kind of combination of Hamlet and Elias. A potential prophet, but without rage. A king, but a Jew too. A mind full of tremendous and subtle intuitions, and every day he found less and less to say about them, and resigned himself to being inarticulate. In his hesitations, though without embarrassment or nervousness at all, he would often
curl his long legs all around a chair, in seven different ways, while he was trying to find a word with which to begin. He talked
best sitting on the floor.

Merton, The Seven
Storey Mountain

Most people who have heard of Lax know him mainly through Merton's recollections in The Seven Storey Mountain. Still the best account of Merton's life ever written -- far better than any of the numerous biographies and studies that have been published in the years since his death -- Merton's memoir of the crooked path that led him from Europe to Columbia to the Trappist monastery of Our Lady of Gethsemani in the Kentucky hills also provides one of the best portraits of American college life since The Education of Henry Adams, and Lax is one of its central figures. It was Lax who let the Hindu yogi Bramanchari live in his room in Furnald. It was Lax who organized the contests to see who could write the fastest novel and grow the fastest beard. It was Lax who brought Merton and his friends up to his brother-in-law's cottage in Olean, N.Y. for summer vacations. It was Lax who suggested to Merton (in all seriousness) that he ought to become a saint. And it was Lax who, only a few years after Merton, had himself baptized a Catholic. The silver morning shifts her birds

From tree to tree;

Young green fires burn along the branch;

The river moves but each wave holds a place,

Pattern of knives above the juggling tide.

Now in the south, the circus of the sun

Lays out its route, lifts the white tent,

Parades the pachyderm,

And pins the green chameleon to the cloth.

Coffee-mists rise above the gabbling cook-tent;

Aerialists web above the tumblers' ring;

Behold! In flaming silk, the acrobat,

The wire-walking sun.

After Columbia but before Greece, Lax rarely stayed put for very long. In the 1940s and 1950s he spent long periods abroad, mainly in Paris (where he helped edit NewStory magazine), Marseille (where he tried to open a hospice for the poor), and Canada (where he traveled with the Cristiani Family Circus), but in those days he always eventually found his way back to New York and flitted like a moth around the flame of one magazine or another. There was The New Yorker, there were Time and Parade, there was -- most important of all -- Jubilee, started up by his friend Ed Rice '40 in 1953 and remembered today (by a happy few) as perhaps the most distinguished Catholic publication ever produced in the United States. Rice, another old Jester hand, knew better than to try to chain Lax to a desk and appointed him Jubilee's Roving Editor, thereby allowing him to travel on assignment more or less at will. It was a happy arrangement, but Lax left for good all the same in 1964, when he went to Greece and settled on Kalymnos, a small island near the Turkish mainland.

Nowadays Kalymnos (like Patmos) is on the main line of the tourist circuit, but then it was known only, if at all, as the center of the Greek sponge trade. Peace and quiet would not have been in short supply and, with houses renting for $50 a year, it was within even a poet's means. Lax had visited Greece briefly on assignment for Jubilee a few years before and had liked it, so now he went back, thinking to spend "about three months" there.

He spent 10 years in Kalymnos, and has been on Patmos for the past 25. Except for a few short visits, he has never returned to America.

Greece is a deeply Christian country, although it maintains its Christianity in a style that few Americans can comprehend. The Greek Church is established by law, but it is not much of a political force or even a moral agency. It is upheld above all by the custom of centuries and the daily habits of the Greeks themselves, most of whom see the Orthodox faith as a birthright rather than a theology. To be a Greek is to be a Christian, plain and simple, and there are constant reminders both great and small that the advent of tourism has not fully diluted the presence of religion within public life. Church marriages in Greece must be arranged through government agencies. Religious emblems are ubiquitous in shops and taxicabs, and roadside shrines are common in the islands and may even be found on busy corners in Athens. Priests are an inevitable daily sight in just about any setting, from airports to bookshops to cafés.

To some degree (and with some justice), Greeks look upon Christianity itself as a Greek invention, and they take as great a proprietorial interest in the ancient Christian sites of their land as they do in the ancient pagan ones for which they are better known. There is no shortage of them, after all -- from the ruins of the Athenian agora (where St. Paul once preached) to the monastic republic of Mount Athos (where no woman has set foot since the 11th century) to the Cycladic isle of Tinos (famed for its miraculous icon of the Virgin, the Panagia Evangelistria). Perhaps the holiest site of all is Patmos, the ancient penal colony where St. John wrote the Book of Revelation at the end of the first century.

Patmos itself is a rocky place, mountainous and extremely dry. Nearer to Turkey than to the Greek mainland, it is remote but far from desolate and has been a center of pilgrimage at least since 1080, when the Monastery of St. John was built hard by the cave where the beloved disciple, "in exile for the Word of God," wrote out his Revelation. The monastery still dominates the island physically and imparts a peculiar tone to the place. Just beneath its ramparts, the old hill town of Chora looks down across the entire island; farther below, the shabbier port town of Skala stretches out across the waterfront. Lax lives in Skala, halfway up the hill that overlooks the harbor and well within earshot of the poultry farms on the outskirts of town.

rooster

with your

head cut

off:

what

are you

thinking

now,

you rooster,

what are you

thinking now

of the bloody

morning?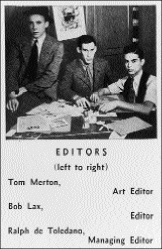 The editors of Jester
In Chora you are sure to get lost. The little cubist houses that sit beneath the monastery form an impossible labyrinth of blind alleys and cul-de-sacs, designed to thwart pirates but serving just as well to insulate the expatriate publishers, curators, and academics who have lately taken up residence. In Skala there is a better chance of finding your way around, although you still may need -- as I once did -- to climb to the top of the Post Office tower and have the Customs Officer point out Lax's house to you in an approximate sort of way.
"You are a friend of Petros?"
"No, Robert. Robert Lax. Roberto?"
"Yes, yes, Petros. The American. He is right there. A poet. A very good man."
Quite a number of people travel to Patmos to visit Lax, although he is in none of the guides. Most of Patmos you can do in a day. If you're a daytripper, disembarking from one of the cruise liners early in the morning -- and, outside high season, you probably will be -- you should be able to make your way through the Cave of the Apocalypse and that wing of the Monastery open to visitors in four hours or so, which leaves you time for a decent lunch at Stofilis or Pirofani and a couple of beers at the Arion while you wait for your ship to make it through the queue to the dock.
But if you come to see Lax you will probably land with the ferry late at night and end up in one of the cheap little hotels, like the Rex or the Australis, that are run by friendly old ladies who only lose their tempers when you put paper in the toilets or ring the bell to be let in at 2 or 3 in the morning after all the bars have closed. The toilets are easy to catch on to, but the hours are not. Patmos is a long way from Mykonos, but during the summer it's a sociable place and people stay out late.
On my first visit to Patmos I spent most of my evenings in Lax's little house above the bay, chatting amiably over cakes and tea. I was rarely the only guest. Lax used to have visitors nearly every night during the summers. Some made their way to Patmos for a few days, some stayed for months or even years. A few have never left. Today he is more retiring, but he still corresponds with the various students, academics, psychologists, and priests who have found him out at one point or another. He will enclose a drawing or a poem with his letters, which are prompt but rarely very long and always signed with a yellow dot.
"What's the dot for?" I asked him, after a few years.
"Nothing at all."
Lax is essentially simple and devoid of secrets
Lax is not really averse to direct questions: It would be more accurate to say that he is immune to them, and just as well, too. Young college graduates who have not yet settled themselves will look for oracles in stranger places than Patmos, but they will certainly look for them there. The island has a sizeable colony of expatriates, after all, who have dropped out of various societies and careers in some more or less vivid way, and an even greater number of visitors who would like to try. Many of these find their way to Lax's door at some point and step over the fish bones that have been picked clean by all the stray cats of the neighborhood to ask his advice.
If they are emotional and melodramatic, as the young often are, they are likely to be disappointed by Lax's demeanor and puzzled by his verse, for Lax is essentially simple and devoid of secrets. This is, in fact, a rarer quality than clairvoyance -- so much so that it is difficult to recognize at first. And if they are clever, they may well be thrown into confusion over the absence of rationale in Lax's scheme of things -- which in reality is eminently practical.
Sometimes grammar is rather more than a writer needs. Sometimes a narrative is superfluous. If you want a poem, look out the window. If you want a world, relax. There's one already here. That is how Lax thinks and lives, and it's not as strange as it may sound. Why write a poem about the afternoon, when the afternoon is making a poem of itself?
river
river
river

Now in his 80s, Lax has spent the better part of his life abroad. He has managed to elude the fame which most writers equate with success, although he has developed a kind of cult of his own. On Patmos he is a familiar figure, but this is no real distinction on an island of fewer than three thousand souls. More remarkable are the numbers of travelers he has attracted across the various seas and continents he has placed himself behind. Many read his poems and came. Others had merely heard of him. Some had simply come to Patmos, the Jerusalem of the Aegean, and discovered him once they arrived.
reading of lovely Jerusalem,
lovely, ruined Jerusalem.
we are brought to the port
where the boats in line are
and the high tower on the hill
and the prows starting again
into the mist.
for we must seek
by going down,
down into the city
for our song.deep into the city
for our peace.
for it is there
that peace lies
folded
like a pool.
there we shall seek:
it is from there
she'll flower.
for lovely, ruined Jerusalem,
lovely, sad Jerusalem
lies furled
under the cities
of light.
for we are only
going down,
only descending
by this song
to where the cities
gleam in darkness,
or curled like roots
sit waiting
at the undiscovered pool.
what pressure
thrusts us up
as we descend?
pressure of
the city's singing,
pressure of
the song
she hath withheld.
---
James J. Uebbing '82 is poetry editor of Kirkus Reviews and a graduate of both Columbia College and the Columbia Writing Program. His anthology of Lax's poetry and prose, Love Had a Compass, was published by Grove Press in 1996. All poems are copyrighted by Robert Lax, appeared in various compilations of his work including A Thing That Is (Overlook Press, 1997), Journal F (Pendo Verlag, 1997) and The Hill (Pendo Verlag, 1999), and are used with his permission. His latest, Circus Days and Nights, will be published by Overlook Press later this fall.