By Shira J. Boss '93

D escriptions of Roone Arledge '52 range from Life magazine's designation as "one of the 100 most important Americans of the 20th Century" to a friend's lovingly calling him "a pain in the ass, like everyone else!"


Though not as well-known as many of the on-air personnel he's guided from the control room or the production truck, Arledge has changed the look and feel of television over his 38-year career with ABC as president of the sports and, later, news divisions.


As the creator of Monday Night Football, he has given armchair quarterbacks a reason to look forward to Mondays and shattered the notion that sports could not attract a prime time audience. He turned sportscasters into celebrities, and when he moved to the news side he developed the notion of superstar anchors, making them among the most recognized and highly paid people in the profession. After an initial embarrassment, his 20/20 project became a television institution; and under Arledge's tutelage, Nightline started as a temporary news source during the Iran hostage crisis, then overcame industry skepticism to become a successful late-night topical news show.


Even in college, the Queens native had a taste for the finer things in life, cruising the West Side in an MG and seeking classes with Mark Van Doren and other celebrity professors. As editor of the 1952 Columbian, Arledge peppered the book with images of himself. His friends at Spectator —including Larry Grossman '52, who would head PBS, Max Frankel '52, of later New York Times fame, and Richard Wald '52, eventual editor of the New York Herald Tribune, then president of NBC News—joked that he took the job because it was paid.


He is described as modest, a soft-spoken, shy figure who has a reputation of running the calmest control room in the industry and who prefers to arrive late to large events and duck out early to avoid uninspired chit-chat. In the meantime, though, he has made it a point to meet everyone important and interesting.


"If there's a great athlete, he wants to see him. If there's a great statesman, he wants to meet him," said Wald, who joined Arledge at ABC News in 1978. "He is sincerely interested in people and things that represent the best of what we can do. He probably knows more important people in the U.S. than anyone not in politics."


He gives a new twist, however, to the saying "don't call us, we'll call you." Arledge's reputation is more like "call me, but I won't call back," something for which he took quite a bit of ribbing when he was honored at the Hamilton Award Dinner at Low Library in November. Even top public personalities and those who work for him notoriously have had a hard time getting through to the real Roone. An industry quip is that Arledge's idea of happiness is "having the whole world on hold."


"But when you do finally get him on the phone, it's impossible to get him off," said Wald. "He's a terrific schmoozer. He makes you feel that you're the most important person ever, this conversation is the center of the universe, and he's got all time in world. The joke in the industry is that 'you've been Rooned.'"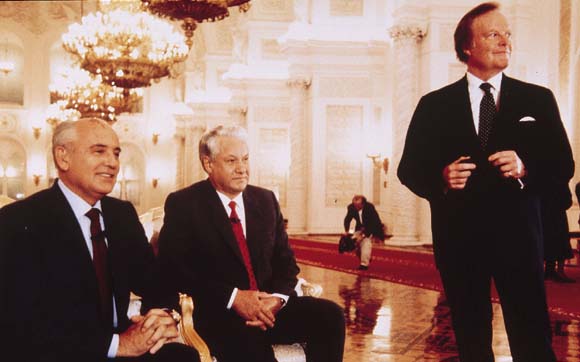 Always looking to break ground, Arledge traveled to Moscow in 1991 to meet Soviet leaders Mikhail Gorbachev and Boris Yeltsin.
PHOTO: ANTHONY SUAU/ABC NEWS
Despite being an honorary celebrity now, the elfin executive gives the impression of a gentle, easy-going guy who seems as curious about you as you would naturally be about him. From his office in ABC's giant West 66th Street headquarters in New York, he temporarily ignores the built-in block of nine televisions—a channel surfers dream, a television executive's duty—to tell some of the stories behind a few of the 36 gleaming Emmys and other awards received for having shaped network television over the past four decades.

Arledge started out an insatiable curiosity seeker, wanting to write for one of the weekly news magazines exploring subjects from politics to theater. After graduation he enrolled in SIPA to study Middle Eastern affairs but left shortly thereafter, intimidated at the prospect of having to learn Arabic and disappointed that the graduate school was not as stimulating as the College.

H e was hired by the Dumont network and quickly realized that working in television offered him the same opportunity that working for Time or Newsweek would have, allowing him to cover broad topics and avoid a narrow specialization. After a two-year term in the army, where he produced radio programs at the Aberdeen proving ground in Maryland, he joined NBC in 1954. At first the ball was slow to get rolling: after he joined the network, his self-described high point of every year was producing the lighting of Rockefeller Center's Christmas tree.

When Arledge came to ABC Sports as a producer of NCAA football games in 1960, the network was in financial shambles. The International Olympic Committee even wanted a bank to guarantee ABC's contract to broadcast the games.

Arledge went straight to work creating the far-reaching and long-running ABC's Wide World of Sports, which debuted in April, 1961 and has become the most popular sports series ever. Arledge designed it to cover every type of athletic event, from mainstream sports like football to lesser-known events like luge, and he was the first regularly to bring international events home live via satellite (a big deal for the time). Phrases like "spanning the world" and "the joy of victory and the agony of defeat," intoned by Jim McKay on the program's introductory voiceover, quickly became among the most familar slogan in sports television.

Over the next few years, the look of those programs became more intimate, more entertaining, as ABC under Arledge introduced techniques such as slow motion, freeze frame, instant replay, split-screen, hand-held cameras, endzone cameras, underwater cameras and cameras on cranes.

With the creation of Monday Night Football, Arledge not only anchored ABC's prime time programming but created a national pastime. At first nobody, including the affiliates and the advertisers, supported the idea of prime time, beginning of the week football. "But I thought there was something special about football," Arledge said, "because there are so few games, and relatively few teams. Also, there is something about the look of a night game, with the lights bouncing off the helmets."

It was not only the lights that made watching Arledge-style football on ABC an event in itself. The games were transformed into events through Arledge's jazzy technical innovations and through a new style of sportscaster embodied in Howard Cosell. ABC was the first network not to allow announcer approval by the league from which it was purchasing broadcast rights.

"CBS had been the basic football network. They treated it like a religion and would almost never criticize it," Arledge said. "But if you screwed up on Monday Night Football, Cosell would let everyone know about it."

Arledge proudly points out that the program "changed the habits of the nation."

In 1968, Arledge was promoted to president of ABC Sports, where for the next 18 years his job was his hobby, as he describes it: good because he watched sports for work rather than leisure, but bad because then he had no time left for leisure. He made sportsmen into stars, a trend he would later bring to the news division where he lured big guns such as David Brinkley and Diane Sawyer and paid unheard-of salaries, including the first million-dollar contract to Barbara Walters.

Of the 10 Olympic Games that Arledge produced, the most eventful was the '72 Olympics in Munich. "It was supposed to be Germany's step back into acceptance after World War II," Arledge noted. "They had taken diplomatic steps, but this was a cultural and athletic step. They wanted it as a showcase to show the world that they're good people."

After finishing a long day and night's work in the early morning hours of September 5, Arledge was leaving ABC's headquarters next to the Olympic Village when he was struck by the beauty of the lights of the athletes' village dotting the night. "Why don't we stop and take a look," he asked the driver. They pulled over and stood on a knoll that dipped down to the fence surrounding the village and gazed for a while at the tranquil scene.

He made sportsmen into stars, a trend he would later bring to the news division.
Later that morning, Arledge got the news that Arab commandos had invaded the Olympic Village and taken Israeli athletes hostage. He realized that he had been standing what he estimated as less than 50 yards from where the terrorists went over the fence minutes later. "I guess they were hunched down in that slope where the fence was and the lights of the car went just over their heads," Arledge said. "If we had walked over, I'm sure we'd have been dead."

ABC became the world's link to Munich, since the authorities had cut off German TV but allowed ABC's panoramic-view camera since it was not being broadcast in Munich. CBS had requested picking up ABC's footage, but someone on the ABC News desk in New York refused to let the rival network have it. Out of revenge, CBS, which had control of the one satellite operating at that time, re-broadcast an old soccer game to block usage of the satellite by ABC.

"When I found out what happened, I said, 'Of course you can have the picture, this is a news event!'" Arledge said. Years later, he came across a resumé at ABC that listed as an achievement that the man had denied CBS the Munich footage. "He thought it was a great accomplishment," Arledge said. "And here I'd been thinking, 'If I could get my hands on who it was, I'd kill him!'"

Arledge places the Emmy he received for coverage of the murder of the 11 Israeli athletes among the awards that mean the most to him.

In 1977, Arledge was named president of ABC News while remaining at the helm of the sports division. Some were skeptical of the appointment, because he did not have a background in broadcast news.

"People in news were outraged that I hadn't been a reporter or worked my way up. The newspaper articles were brutal," he said. Arledge finally told his secretary that he did not want to read any more articles about himself. So one morning, as he sat at his desk, he opened a newspaper with a huge hole cut out of the middle. "What happened here?" he asked his secretary. "You don't want to know," she replied.

ABC's news division needed resuscitation, but rumors abounded that Arledge would take it down an alternative path of infotainment. In reality, however, Arledge hated "happy talk" chatter on the news. He proceeded to scrape ABC from the ratings floor and turned the network into a wide-ranging, well-respected news source. "And we built it with serious news, not by being 'alternative,'" he noted with pride.

Every attempt was not a success, however. He rushed the first 20/20 program into production and it turned into an on-air disaster. Those who did not see it will get no help from Arledge in recalling exactly what went wrong; at the mention of it, he covers his face with both hands and slowly shakes his head: "It was just...bad."

At that time, Arledge announced, "If we can't do better than this, we won't go on next week." So Arledge brought in the experienced and respected Hugh Downs, who had been filling in on Good Morning America, and also replaced the rest of the show's team, steps that saved the program.


Arledge discusses a point with sports commentator Howard Cosell for a 1970's broadcast.
PHOTO: ABC News


Arledge with his successor as president of ABC News, David Westin.
PHOTO: John Abbott/ ABC News


Arledge traveled created the late-night news show Nightline hosted by Ted Koppel.
PHOTO: Alan Tannenbaum/ABC News
During the Iran hostage crisis in 1979-80 Arledge had ABC running in-depth features every night. "It was something no one thought would work: a serious news program opposite Johnny Carson," he said. Despite the doubts—and criticism that the show was over-dramatizing the tragedy—Americans kept tuning in at the late hour and the program won a regular nightly slot as Nightline hosted by Ted Koppel.

The downside of heading a network news division, Arledge said, is that from 6 o'clock in the morning, when the real programming starts, to when Koppel says good night, you're either monitoring what's showing on your airwaves or the competitors', previewing what might be on, or deciding what else should be on. Arledge hardly had time for his morning exercises.

Arledge's four children are now in their 30s, and seeing their father so busy (or not seeing him because he was busy) while they were growing up did not deter two of them from pursuing television production careers. His daughter, Betsy, produces documentaries for PBS in Boston, while Patricia is a producer for Dateline NBC. Roone Jr., who his dad thinks would have made a great sportscaster on ESPN, is a paramedic and fireman; while Susie is devoting all of her energies to raising her 3-year-old son, one of Arledge's four grandchildren.

In 1997, David Westin was named president of ABC News and Arledge was given the title of chairman, which slows the daily pace but has not left him giving up on new ideas for television. "I'm not sure what it is, but we're in a...not in a rut, but in a position where very little new is being done," he said. "There are more stations and networks than ever, and with all of this they haven't come up with something different and new. I'm going to give some thought to that."

The man who used to be so overwhelmed with work that he once said if he tried to take a safari, "two days into it there'd be 400 calls and they'd be sending cassettes in on elephants' backs," is now looking forward to a more open schedule where he will have time for cooking, golf, becoming more familiar with the Internet, and working on a book.

The book project is still taking shape, but he says it will probably be both about his career in television and the medium's role today. In researching it, he expects finally to read the books that already have been written about his own career, books which he thus far has avoided because the inaccuracies bother him too much. "Movie stars get used to it," he said, "but with someone who is not a movie star they should make a better effort to get the facts straight." (Some of the inaccuracies, such as that he was president of his class at the College and that he majored in business, have found their way into various official ABC biographies.)

Arledge recalled one story in a book that described him trying to get ahead at NBC by hanging around the 53rd floor where General David Sarnoff, chairman of RCA, was stationed, and by befriending a blonde he thought could help his career. "Well, the fact was that I had been on the 53rd floor only once, and that the blonde was my wife of several years already," he said. "Some things are so outlandish. But it's already out there, it's in a hard-cover book, people are going to use it for research. What am I going to do, call up and say, 'That didn't happen! That's not true!?'"

Although Arledge hesitates to laud himself, when asked what makes him the most proud, he easily comes up with a concise statement: "I took two divisions whose reputations were lower than low—ABC Sports wasn't even paying its bills, and ABC News was so far behind NBC and CBS they weren't even taken seriously—and I built them into the best in the world."

---
Shira J. Boss '93, a contributing writer to CCT, recently returned from a trip to Istanbul where she wrote for The Christian Science Monitor.