HILL THE HAWK: Armond Hill played eight seasons in the NBA, mostly with the Atlanta Hawks. PHOTO: courtesy NBA Photos

By Chris Ekstrand '93

Expectations have risen for Columbia basketball.

Poring over the boxscore, Hill sees his team has shot just over 50 percent from the free throw line for this game, and the brow of this intensely competitive yet reserved man is creased with anger. You can see the thunderheads forming in the normally sunny skies of Hill's disposition.


Hill has worked hard to revive the Columbia program. Here he confers with his mentor, former Princeton coach and Hall of Famer Pete Carril.PHOTO: Nick Romanenko
"A game like this, I didn't see anything positive," Hill says with more than a hint of disgust. "You can't miss free throws like this. You can't get outrebounded by a smaller team. Those are very annoying things. I think they are starting to believe what they are reading (preseason basketball publications picked Columbia as high as third in the Ivy League), instead of coming out intent on making themselves better.
"You must understand where you are at, and how far you have to go."
It is a measure of the development of his program that Hill can now criticize the quality of his team's victories. The men's basketball program at Columbia has begun the climb out of the abyss, light years from where it was just a few seasons ago, buried at the bottom of the Ivy League standings. After a 10-4 Ivy mark that was good for second place in 1992-93, Columbia finished last or next-to-last in each of the next four years before climbing to a fourth-place tie at 6-8 last season.
In the mid-'90s, Columbia was a team that had become accustomed to losing. People around the Ivies were reprising the refrain that it was impossible to produce a winner at Columbia, impossible to compete with conference Goliaths Princeton and Penn, impossible to overcome the impediments fashioned over decades of disappointment. After all, Columbia last won an Ivy League championship in 1968, and the team has had just two winning seasons since 1980.
Then along came Armond Hill. An assistant coach and former star player at Princeton, Hill had a plain-spoken message for the Columbia administration.
"I think we can win," Hill told them. It wouldn't happen immediately, he cautioned, and it wouldn't be easy. But it could happen. Columbia could win in the Ivy League, and restore some of the luster the program had not possessed since the glory days of All-American Jim McMillian '70 back in the late 1960s.
"I thought at the time and I continue to believe that we were very, very fortunate to get a candidate of Armond Hill's caliber," said John Reeves, director of physical education and intercollegiate athletics at Columbia, who was the point man in the school's search for a successor to Jack Rohan in 1995. "By caliber, I mean his educational background, his basketball background, his honesty and integrity, his commitment to teaching and his interest in art and literature and education as well as basketball."
Four years later, Reeves remains optimistic that Hill is the right man to attract players who fit into Columbia's overall outlook.
"We needed, and still need, to find guys who want to write their own history," Hill said, his eyes blazing with purpose. "Because we have none right now. The last time Columbia won was in 1968. That's 30 years ago."
In 1968, Armond Hill hadn't even begun a basketball career that would see him become a two-time high school All-American guard at Bishop Ford High School in Brooklyn. At Princeton he was named All-Ivy, All-East, and ultimately, Ivy League Player of the Year in 1976. An eight-year career in the NBA followed, with Hill helping Hubie Brown resurrect a moribund Atlanta Hawks team that went from 29-53 the year before Hill's arrival to 50-32 by his fourth season as the starting point guard in 1980.
Men's Basketball Coach Armond Hill: Beneath Calm Exterior, Burning to Bring a Winner to Broadway
"When we came to Atlanta, we were trying to turn around a program that had suffered major losses for four straight seasons," said Brown. "So we picked Armond on the first round out of Princeton to be our point guard, and he was our starting point guard for 4 1/2 years. The program was not only turned around, but it made the playoffs in three of the years and won the division championship. And he was a major catalyst as the point guard of that team.
"He was the perfect point guard for our system, because we pressed and trapped," Brown recalled. "At 6-4, he was an outstanding defender who had the ability to penetrate, make the play, and then when fouled, shoot over 80 percent on the foul line. His was a major contribution for the type of team we had."
Although proud of his playing accomplishments, Hill is the last person to bring them up in discussion. He understands that his NBA pedigree can serve as an icebreaker with recruits interested in attending Columbia and getting an Ivy League education. But he knows that the power of his message and the intelligence with which he presents it are the greatest factors in attracting the players he needs to help the Lions succeed.
"We've made some progress, but recruiting is so tough," he said. "Our challenge is to find guys who want to come and play and be trailblazers and say, 'Yes, it is possible. Princeton and Penn don't always have to win.'"
Columbia was 4-22 in 1994-95, which precipitated the retirement of Rohan, the coach who had led the Lions to their Ivy title in 1968 during his first stint on the bench. After Rohan first retired in 1974, four others served as head coach before Rohan took the job again from 1990 to 1995.
When Hill arrived on the scene, he immediately set about improving the atmosphere surrounding the program. Losing had become pervasive, so much so that it didn't seem to bother some around Levien Gym. At the time, the respected Blue Ribbon College Basketball Yearbook wrote, "It might be difficult to find a new coach in America who faces a tougher job than Columbia's Armond Hill."
"When I came here, we had an attitude of not caring about winning and not caring about playing," said Hill, his voice going flat at the memory. "We had to find guys who cared, guys who love to play, guys who want to be successful, instead of accepting defeat and accepting being mediocre."
The attitudes changed more quickly than the results. Though Columbia went 7-19 in 1995-96, that record included a two-point loss to Princeton and a sweep of a road weekend at Yale and Brown, Columbia's first Ivy road sweep in three years. Hill was finding a few winners, including then-first-year guard Gary Raimondo, who today is one of four seniors who have brought pride back to Columbia basketball.
"I think the seniors have come a long way with Coach, through a lot of ups and downs," said Raimondo, who earlier this season became Columbia's 20th 1,000-point career scorer. "All of that history brings us together. We've been together when we've lost and been together when we've won. All of that has helped to create a special bond between us."
Columbia posted a 6-20 record in 1996-97, a season after which Hill stated: "The premium now is on winning." What followed didn't exactly satisfy Hill (his expectations remain an unspoken challenge to his team) but it did put Columbia back on the Ivy League map and reminded those around the league of long-ago days when teams wanted no part of the Lions.
Columbia went 6-8 in the Ivy League in 1997-98 and won 11 games overall, both bests since the 1992-93 season. The Lions delivered their first sweep at Harvard/Dartmouth since 1985, and posted their longest Ivy win streak on the road since the 1970-71 season with four straight victories.
"I think he gets as much out of players as any coach that I have ever seen, and I think he presents a very respectable product every time that we take the floor," Reeves said of Hill. "After the four straight road wins last year, people around the Ivy League perked up and started to take a close look at Columbia basketball."
This year's team is built around a nucleus of four seniors--Raimondo, Abe Yasser, Justin Namolik and Erik Crep. The rest of the roster is comprised of sophomores and first-years; there's not a junior on the team, which could create some leadership problems next year. But that's next year.
"I'm proud of my seniors," Hill said. "We've come a long way from those early days of getting beaten by 20 and having long bus rides home. We've cried, we've fought, we've done everything as a group."
But these accomplishments are not enough to satisfy Hill, and he doesn't want them to be enough to satisfy Columbia, either.
"We've made some progress, but we have a long way to go," Hill said. "I tell the players, `Now, you are here, and what are you going to do when you are here?' Now is put-up time."
Pete Carril believes Hill is up to the challenge of trying to bring winning basketball back to Columbia. The Hall of Famer and Ivy League coaching legend won 525 games in his 29 years at Princeton. Today an assistant coach with the NBA's Sacramento Kings, Carril has an unshakable belief in the man he successfully recruited to Princeton in 1972, winning a celebrated recruiting war over then-basketball powerhouses like Notre Dame and Maryland.
"The guy sees everything," Carril said. "He's not an egomaniac. He doesn't think the world revolves around him. You can see him immersing himself into the character of his players. He relates to the players very well. He's going to give it a day's work, and he's going to be honest with his kids. That's very important."
Carril and his boss, Sacramento Kings Vice President of Basketball Operations and former Princeton star Geoff Petrie, had dinner with Hill this past summer when they were in New York scouting players at The Goodwill Games. It was then that Carril, who brought Hill back to Princeton as an assistant coach in 1991, saw something in his usually stoic protege that made him happy.
"We've made some progress, but we have a long way to go."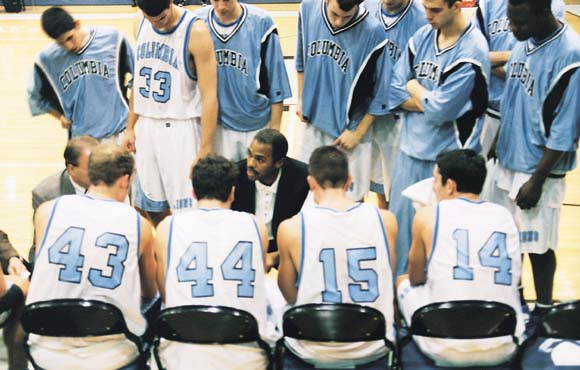 Hill calmly instructs his club during an overtime win over Stony Brook earlier this season.
PHOTO: Alex Sachare
"What I liked was that he was so excited about his team," Carril recounted. "Armond was never a verbose type of guy. He very rarely showed emtion. That's why people sometimes thought he didn't care. When he started talking about his players the way he talked about them, I could see then and there that this guy was going to be a success. It was two hours, but I saw everything that I wanted to see.
There was a time when Carril wasn't sure Hill wanted a career in coaching, and that was fine with the former Tiger mentor. Hill, who holds a degree in psychology from Princeton and has a lifelong interest in art, had established himself outside of basketball following his NBA playing career, first working at The High Museum of Art in Atlanta and then returning to New Jersey as an art curator at the Lawrenceville School.
But the Lawrenceville administrators enticed him to add coaching basketball to his duties, and Hill began his journey back to the sport at which he excelled. He guided Lawrenceville to the 1990 New Jersey State Prep School championship and was named Coach of the Year in 1989 and 1990. Shortly thereafter, Carril came calling, and Hill became a contributing member of the coaching staff that helped Princeton lead the nation in scoring defense four straight seasons.
The lessons Hill learned from Carril, and from his NBA coaches like Hubie Brown, Don Nelson and Lenny Wilkens, are being put to good use today.
"I am demanding," Hill said. "I am asking the players to bring their best. And so, like any teacher, I want to see them improve. So they have to deal with me, yelling a little bit."
While Hill has relied on his seniors to help him teach the younger players how to play Division I basketball, the future of the program depends on attracting talented young players like freshman center Mike McBrien, an all-city player from Sacramento. McBrien, an immediate starter at Columbia, made it clear that Hill was a big part of why he is in New York.
"He's a teacher, and he stresses the small, fundamental things," McBrien said of Hill. "I'm here for the education, first of all. But also, this is an up-and-coming team. I wanted to be a part of that. I liked the offense, and I liked Coach Hill. Coach Hill can teach me a lot. He's been in the NBA, played at Princeton, and has all kinds of experience. Hopefully, that will rub of on me."
Hill knew it wouldn't be easy to turn back the clock to the 1960s and the glory years of McMillian, Heyward Dotson '70 and Dave Newmark '69, or the undefeated regular season posted by the 1951 team that was led by John Azary '51, Jack Molinas '53, Bob Reiss '51 and Al Stein '52. But at 45 years old, Hill is a man who is in his element, with a thirst for the challenge at hand and a basketball philosophy in which he has great confidence.
"Winning basketball should be played with consistency," Hill said. "If you are true to your teammates and true to yourself, that's what you are going to step out to do when you step on the floor. Every time. All this time."