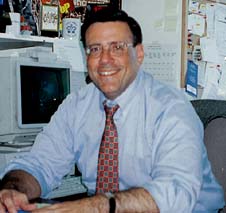 As promised, a few words about the new editor of CCT, from the new editor of CCT. I graduated from the College in 1971, having majored in sociology and minored in Spectator. The latter helped me land a job as a sports writer for the Associated Press, where I covered everything from the World Series to Muhammad Ali fights to U.S. Open tennis, and also served as the news service's pro basketball editor. In 1981 I joined the National Basketball Association as director of information and later became vice president, editorial, overseeing all print projects and also the launch of NBA.com, the league's popular website. When I joined the NBA it had about 30 employees in one office in New York; when I left in 1996 it had over 800 people in 14 offices around the world. Along with numerous magazine and online articles, I have written eight books on basketball, most recently The Complete Idiot's Guide to Basketball with Walt "Clyde" Frazier and The Chicago Bulls Encyclopedia.
Since my graduation I had made only infrequent visits to Morningside Heights, so it was rather interesting to take stock of the old neighborhood. I noted the passing of Ta-Kome (I was more of a Mama Joy's fan, to be honest), Salter's, the Gold Rail, Chock Full o' Nuts and the College Inn, the renaming of Livingston, the rise of East Campus and the fall of Ferris Booth Hall. But as much of a sentimentalist as I am, I can't say I was disappointed when I went up to Baker Field and found an attractive, functional stadium, complete with an elevator (an elevator!) to a modern press box.
A word about Ferris Booth Hall, which has taken more than its share of abuse. I probably spent more hours on the third floor of FBH, where the Spectator offices were located in those days, than in my Carman and Hartley dorm rooms. I know I spent more time there than in Butler! And yes, the building was pedestrian at best; it was the people, the camaraderie and the satisfaction of doing what we were doing that made the days and nights spent there so much fun. But the bottom line is that I had a great time in 316-318 Ferris Booth Hall, and I can only hope the students who will get to use Lerner will look back just as fondly on their time in the new student center.
One of my goals with CCT is to present articles which will give readers insight into the people who are running Columbia, and particularly the College, today. Toward that end, this issue of CCT features the first half of an interview with Austin Quigley, the dean of the College (the second part will appear in May). While the transcript of the interview was edited both for clarity and length, it is presented in a question and answer format so those of you who have never had a chance to hear Dean Quigley speak (the majority, I presume) can get a better feel for the way he expresses his thoughts and states his case. Also, the Q&A format lets readers form opinions based on the subject's own words, with as little editorial filtration as possible—and if there is one thing of which I am sure, it's that CCT readers don't need much help forming their own opinions.