Monday, September 20, 2021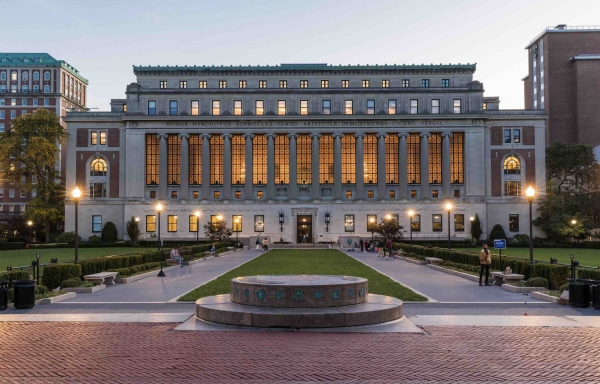 R
ising to its highest position ever, Columbia has placed second in
U.S. News & World Report'
s annual rankings of the nation's best universities.

Alma Mater shares the spot with Harvard and MIT; Princeton is ranked first. The list was released on September 13, 2021.
"It is gratifying to receive this confirmation of the success of our undergraduate programs, which has been achieved through the commitment of so many faculty, staff and alumni," Dean James J. Valentini said. "The heart of our philosophy is to put people first, and I believe that foundation is what has enabled us to thrive."
Columbia had been ranked third from 2019 to 2021; the upward move for 2022 can be attributed in part to its strong graduation rates.
"We are especially proud of our graduation rate, which is an indication that the individualized support provided to every student, which we have emphasized throughout my 10 years as dean, has had an effect," Valentini said.
Columbia has now been ranked in the top five for the last decade, a period marked by a number of milestones and innovations at the College.
Support for undergraduate well-being has been a priority, and in 2017 a new task force was charged with evaluating and strengthening the University's student health and wellness efforts. Helmed by Valentini, the group's work led to the introduction of Live Well | Learn Well, a campus-wide health and wellness resource, and My Columbia College Journey, an initiative that encourages students to take a holistic view of personal development and skill-building.
The College also deepened its commitment to the Core Curriculum, which celebrated its centennial in 2019–20. This unique liberal arts program is taken by all College undergraduates, and is regularly reviewed and updated to promote discussion and critical thinking that reflects the current moment. In addition, the College launched the Eric H. Holder Jr. Initiative for Civil and Political Rights, which amplifies the Core's discourse on justice and civil and political rights through courses, student internships and fellowships, public events and more.
Perhaps most importantly, the College undertook two transformational campaigns that strategically plan for the future. The first was Core to Commencement — the first fundraising and engagement campaign dedicated exclusively to the College — which to date has raised $667 million. And, earlier this year, the College unveiled a historic financial aid initiative committed to raising $500 million by 2025.
"The rankings are only one piece of data among many that prospective students can consider when choosing where to attend college; however, Columbia is proud of all the factors that led U.S. News & World Report to see us as one of the best universities in the world," said Jessica Marinaccio, dean of undergraduate admissions and financial aid. "We have been working on every level to support our students, and are proud to be recognized for this."
Now in its 37th year, the U.S. News rankings evaluate more than 1,400 colleges and universities using 17 key measures across nine broad areas: graduation and retention, graduation rate performance, graduate indebtedness, social mobility, faculty resources, expert opinion, financial resources, student excellence and alumni giving.