The Need for Financial Aid
As you consider supporting this important initiative, the below FAQs provide answers to questions about how financial aid currently works at Columbia and why we've prioritized this effort.
What is covered in the cost of attendance?
Tuition & Fees
Room and Board
Assumed costs for books and other expenses such as travel
How does Columbia consider financial aid in the admissions process?
Columbia's admissions and financial aid policies are made up of a need-blind, need-based, and full-need approach.
Need-blind – Admission to Columbia is need-blind for US Citizens and Eligible Noncitizens, meaning the Office of Undergraduate Admissions considers a student's application without regard to their financial need. Undocumented students who reside in the United States are also evaluated in a need-blind manner.
Need-based – Financial aid at Columbia is need-based; there are no academic, athletic or talent-based institutional scholarships. Instead, we evaluate a family's ability to pay based on the information they provide in their financial aid application. A thorough financial analysis is conducted for each student every academic year in order to determine financial aid eligibility.
Full-Need – Columbia College meets 100% of the demonstrated financial need for all first-years and transfers and continues to meet that need for all four years.
What percentage of Columbia College students receive financial aid?
On average, 51% of the student body is receiving some form of financial aid; packages range from $2,000 to the full cost of attendance and are made up of grants and student work. Loans are not included in financial aid awards.
How much financial aid does Columbia College award each year?
Columbia College awards more than $125 million in financial aid to our students each academic year.
Isn't the rising cost of attendance the reason the need for financial aid keeps growing?
The cost of educating Columbia students substantially exceeds tuition, and our New York City location, while integral to the student experience, is also costly. As costs of operations increase, so does tuition although the amount of financial aid being awarded is growing at an even faster rate: the cost of tuition has increased 42% in the last 10 years, but the College's financial aid budget has increased 69% in that same time period. This indicates our student body has an increasing need for financial support and it is the College's goal to meet that need.
How does Columbia College pay for financial aid?​
Approximately a third of the financial aid expense is paid for through payout from endowed scholarships, with the balance being sourced through the Columbia College Fund and tuition dollars.
The Columbia College Fund is an essential source of dollars that helps the College cover its annual financial aid expenses. Approximately 10,000 alumni, parents and friends make gifts to the Columbia College Fund every year, providing the College with flexible, current-use cash of more than $18 million that helps to pay for the cost of financial aid, along with other budget items not covered by the endowment and tuition.
Columbia has a large endowment – why does the College need more money?​
While the University's $11.3 billion endowment is substantial, it must be preserved in a way to ensure Columbia's continued excellence for decades and centuries to come and provide a reliable source of annual income to weather short-term economic ups and downs. Therefore, typically only 4.5-5.0 percent of the endowment is available for spending each year. What's more, the endowment comprises more than 5,900 funds, almost all of which are specifically restricted to individual schools or units based on the donor's intent. Of the University's total endowment, less than 10% is designated to Columbia College.
There also remains a significant gap between the size of Columbia's endowment and those of our closest academic peers, with whom we compete for students and faculty of the highest caliber.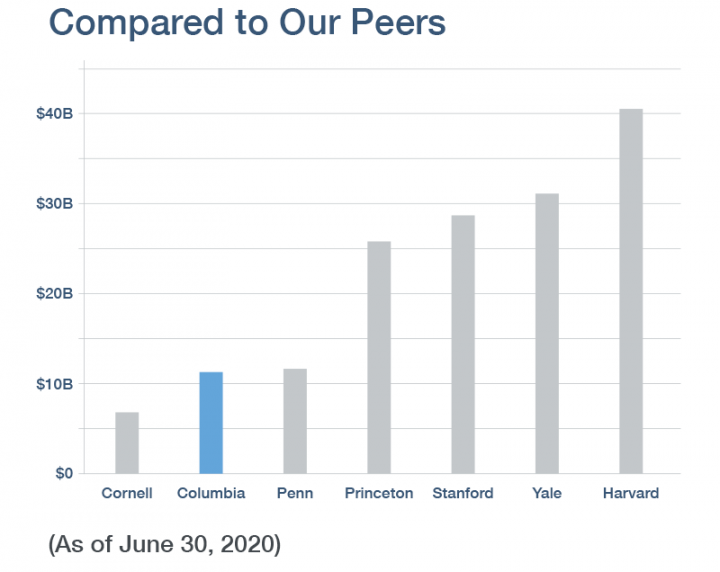 A concerted effort to build the College's endowment today will help ensure that the College can continue to attract, admit and retain the best and brightest students from around the world.
Can the College use more of the endowment for financial aid?​
Of the College's <10% share of the endowment, approximately 85% of the funds are already designated to support financial aid, with the other 15% supporting other priorities of the College including the Core Curriculum. Given the restricted nature of endowments described above, existing funds cannot be repurposed for priorities not in keeping with the donor's original intent.