| | | |
| --- | --- | --- |
| | | 1 | 2 | 3 | | |
FEATURE
Columbia Unleashes New Lion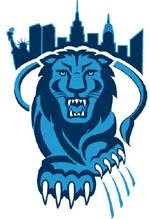 The Columbia Lion has a more ferocious look these days, at least on paper.
The athletics department has unveiled a new logo, complete with sharp teeth and claws, created by artists working for the Office of Public Affairs. It comes in two versions, with or without an accompanying rendering of the New York skyline.
The goal, according to Director of Athletics John Reeves, was to come up with a Lion that "had a kind face, but (was) also capable of attacking. We want teams to think of us as kind, sportsmanlike people, but not to take us for granted."
The new logo replaces a pride of old Lions. "When we look back on our publications," said Associate AD Al Carlson, "we probably had about six or eight or ten different Lions. We just didn't have an identity." The old logo, shown here in football and basketball versions, was referred to by some as "lettucehead" - hardly an image to strike fear in Ivy rivals.
| | | |
| --- | --- | --- |
| | | 1 | 2 | 3 | | |