| | | | | | | |
| --- | --- | --- | --- | --- | --- | --- |
| | | || | | || | | |
FEATURES
The Voice of the New York Mets
By Daniel Fastenberg '06
It was summer, and Gary Cohen '81 was sitting in his bedroom at his parents' home in the middle-class community of Parkway Village in central Queens.
It was 1967. Cohen was 9 years old. And he was transfixed by the sound that crackled from his radio every day. It was the voice of Bob Murphy, broadcasting a New York Mets baseball game. The Mets were awful that year, compiling a 61–101 record and finishing last in the National League.
But their losing ways didn't matter — OK, not too much — to young Gary. It was the games themselves that began his love affair not just with the Mets and baseball, but with experiencing the game on the radio, describing its action, telling its stories, illuminating its personalities.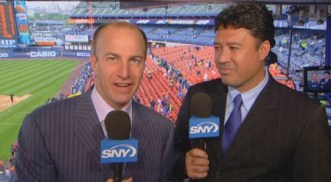 Photo: SPORTSNET NEW YORK

"My real aspiration growing up was to be the starting shortstop for the Mets or starting power forward for the Knicks," says Cohen, 48, with a laugh as he recalls a childhood as a sports nut that revolved around playing pick-up games with friends and reading The Sporting News cover-to-cover. "But I didn't have the talent for the former or the height for the latter.
"So, growing up, I knew I wanted to do something involving sports and I thought being on the radio would be cool. At Columbia, those ideas converged," says Cohen, who realized while working for WKCR that he could be a part of sports by calling games rather than playing them. "I wanted to see if I could make a name for myself."
Today, after more than 17 years in the broadcast booth at Shea Stadium — first on the radio, and this season as the play-by-play man for SportsNet New York, the Mets' new cable television network — the name that Cohen has made for himself, is, quite simply, the Voice of the New York Mets.
"I think he's a terrific talent," says Bob Raissman, longtime sports media columnist for The New York Daily News. "He's done every game for the last 17 or 18 years [except when he was sidelined for two weeks in June following an attack of appendicitis], and it shows. He knows the team."
Cohen's journey from Queens to Morningside Heights and back to Queens took a detour through Philadelphia. He originally enrolled at Penn, but when he went home for Thanksgiving his freshman year, he met a girl named Lynn, a student in New York. Smitten, Cohen transferred to the College to be near his new love; he thrived on 116th Street, even though his relationship with Lynn ended after a few years.
But, to use the aforementioned Bob Murphy's signature phrase, here's the "happy recap," according to Cohen: "We broke up then, but Lynn and I met again many years down the road; she's now my wife, and we have five kids between us. So it all worked out."
As for his time at Columbia, Cohen says, "I was a city kid and loved going to school in the city. The education, obviously, was unrivaled. But I admit that I spent most of my time WKCR."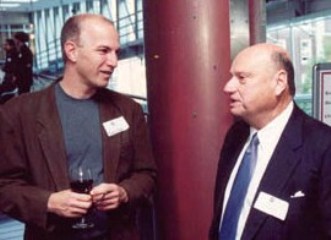 Photo: Michael Dames

Cohen came to Columbia's radio station with a year of experience under his belt. During his first week at Penn, he attended a football game and made his own tape while sitting in the stands, seemingly miles from the action. Cohen describes that first demo tape as "the worst thing you've ever heard. I still have it and keep it with me to stay humble."
Undeterred, he dove into his on-air duties at Columbia, broadcasting games played by virtually every team. "The great thing about KCR, and this is unlike lots of other colleges, is that the students do the work," he says. "They operate the station and learn by doing, which is the best way to learn radio."
Cohen's WKCR memories remain fresh. Two of his favorites are covering a soccer game while sitting in a car during a driving rainstorm with a soccer analyst named George Stephanopoulos '82, and having to fill a half-hour of air time on a moment's notice when the start of a men's basketball game was delayed by a power outage.
Not all of Cohen's time, however, was spent in either a broadcast booth or a booth at Tom's Diner, which was conveniently located just steps from his off-campus apartment on 112th Street. A political science major, Cohen delighted in classes taught by Charles Hamilton and James Shenton '49, though he freely admits that he wasn't the world's greatest student.
"I learned a lot, don't get me wrong, but let's just say that my time at the library was limited. Today, if I could do it again, I think I'd be more dedicated to academics. But that just wasn't my focus then."
His focus was sports. During his junior year, Cohen took time off to work at Sportsphone, an on-demand phone service that supplied sports scores in the era before the internet or ESPN. His job was to read off 30 scores or more in 60 seconds. It wasn't much, but it was a start. And that was where Cohen met another up-and-coming broadcaster named Howie Rose, who would become his partner on WFAN, the Mets' radio home.
Cohen, who entered the College with the Class of 1979 but graduated in January 1981, says, "When I graduated, there were two routes" to a career in professional sportscasting. "Stay in New York and take an internship or producing job, or go out of town and get on the air. That is what I decided to do — to get out and learn by doing."
What followed was a tour of radio stations along the East Coast. Cohen's first stop was Lebanon, N.H., where he took a news broadcasting job (rather than a sports position) just to get his foot in the door. Next up was Spartanburg, S.C., followed by Norfolk, Va., where he hosted a fishing and boating report, among other things.
Catching trout aside, Cohen's time in Virginia was fruitful: It was there that he got his first taste of broadcasting something "recognizable," as he called Old Dominion's Division I basketball games. And it was there that Cohen first covered professional baseball.
The Durham Bulls, who were later immortalized by the movie Bull Durham and now are the AAA affiliate of the Tampa Bay Devil Rays, hired Cohen in summer 1986 to broadcast all 140 of their games — by himself, with no analyst. " For the first two or three weeks, the task was so daunting, I was questioning whether I was doing the right thing," he recalls. "But having grown up a baseball fan, I knew about the day-to-day soap opera nature of the season, and how these day-to-day stories lent themselves to radio. I loved it."
In 1987, Cohen moved to Rhode Island to call the games of the Pawtucket Red Sox, the AAA farm team of the Boston Red Sox, and picked up side gigs calling college games for Providence and Brown. His stay in the minors didn't last long, however. After two years in Pawtucket, Cohen was called up to the big leagues. To the Mets.
"I grew up with Bob Murphy, and now suddenly I'm his partner. I grew up with the Mets, and now suddenly I'm calling the team's games. It was rather extraordinary," Cohen says.
Cohen was hired to be the radio play-by-play man for the Mets, who three years before had captured their second World Series title. To this day, he marvels at his good fortune in getting to The Show at such a young age, and doing so with the team he lived and died with in his youth.
"I think the beauty of that is I arrived in the big leagues with a frame of reference. In another city, I would have started from scratch with the team's history or the attitude of the fan base. For instance, had I been in San Diego, sure, I would have known that the Padres lost the 1984 World Series. But I wouldn't know the random guy who played three games in the outfield for them that summer. And I wouldn't know what made them tick.

"I arrived in the big leagues with a frame of reference. "

"With the Mets, I already had all that minutiae in my brain. It's all stuck in random little pieces in my head. And sometimes, those pieces break off and come out of my mouth," says Cohen, who in recent years also has broadcast games for St. John's, Seton Hall, the New York Rangers and the U.S. Olympic hockey team.
"Gary is and has been for quite some time one of the finest announcers in baseball," says Dave Howard, e.v.p. of business operations for the Mets. "He is the Voice of the Mets now, succeeding legendary announcers like Lindsey Nelson, Bob Murphy and Ralph Kiner."
Cohen's transition to WFAN in 1989 was a smooth one, once he adjusted for the in­creased crowd noise at the major league level ("55,000 fans make a lot more noise than 3,000," he notes) and to having, for the first time, a broadcast partner — and a legend at that.
"It was a situation where I had to pinch myself quite a bit in the course of the 15 years we worked together," says Cohen, fondly remembering Murphy, who called Mets games from the team's inception in 1962 until a year before his death in 2004. "Murph had such an incredible baseball sound to his voice."
Unfortunately for Cohen, his arrival in Flushing coincided with nearly a decade of Mets teams that entered seasons with tremendous potential only to grossly underachieve. Clutch leaders such as Keith Hernandez and Gary Carter faded away, superstar talents such as Dwight Gooden and Darryl Strawberry flamed out, and dozens of high-priced acquisitions — from Bobby Bonilla and Vince Coleman to Mo Vaughn and Roberto Alomar — did little but disappoint a fan base already living in the shadow of the crosstown Yankees.
Indeed, in Cohen's 17 full seasons covering the Mets, the Amazin's have only made two playoff appearances: In 1999, they lost in the National League Championship Series to their arch-rival Atlanta Braves, and in 2000, they were defeated by the Yankees in the Subway World Series.
"I did a forum at the Museum of Television & Radio a few years ago with John Sterling [the radio voice of the Yankees] and Joe Castiglione [the radio voice of the Red Sox], and they were talking about their great moments in broadcasting, the no-hitters, the World Series games. And I have, what, a Joe Orsulak home run?" says Cohen, laughing, as he refers to an obscure Mets outfielder from the mid-1990s.
Though Cohen tags the 1999 season, the Mets' first playoff appearance in 11 years, as his favorite, he strongly believes that his career highlight is yet to come and that this year's team may be the one to deliver it. With established stars such as Pedro Martinez, Carlos Delgado, Billy Wagner and Carlos Beltran, as well as homegrown young talent such as David Wright and Jose Reyes, the 2006 Mets got off to a fast start and are in the unfamiliar role of World Series contender.
"This is certainly a team built to win and they probably have greater expectations on them than perhaps any other recent Mets team," says Cohen. "They have the foundation in place to be a successful franchise for years to come."
His vantage point on the Mets changed this year when he began, for the first time, doing television as the play-by-play man for SNY. "TV was something I resisted for a long time," Cohen says. "I considered myself a radio person. My skills lent themselves very well to radio; I was good at bringing [the game] to life in the listener's brain. But this was a great opportunity; incredible people are building a TV network from the ground up."
Cohen's transition to the small screen has been widely praised. Richard Sandomir, sports media critic for The New York Times, dubbed him " a superlative announcer with a penchant for bracing candor" and applauded SNY for hiring a commanding voice unafraid to criticize the home team when such criticism is warranted.
Raissman, of The New York Daily News, agrees. "One thing he has to watch is that the network is owned by the Mets and the perception is that the Mets influence everything that's said. He's walked that line well so far, though. No one's going to be able to manipulate him. He won't be told what to do."
Curt Gowdy Jr., v.p. and executive producer of SNY, says Cohen has made "a smooth and natural transition" to TV. " Gary is an exceptional broadcaster. His in-depth knowledge of the game and familiarity with the Mets has provided viewers with an entertaining and informative broadcast."
Cohen is happy to be doing what he loves. "The substance of what I'm doing is the same," says Cohen, who enjoyed a rare in-season off-day at his Ridgefield, Conn., home while the Mets were traveling from Milwaukee to St. Louis. "The mechanics are different — I have to dress better, talk less and be more collaborative. I have to fill in the blanks that pictures can't provide.
"It's the same, but it's different," he says. " And it's still exciting."
---
Jonathan Lemire '01 is a frequent contributor to Columbia College Today and a staff writer for The New York Daily News.
| | | | | | | |
| --- | --- | --- | --- | --- | --- | --- |
| | | || | | || | | |