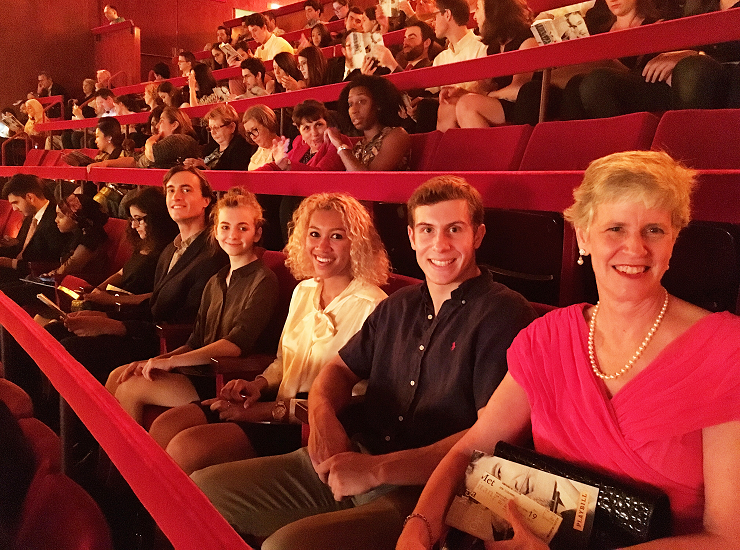 Music Hum is taught by more than 30 instructors — from music theorists to musicologists to music historians — who coordinate in-class listening sessions and organized lecture-demonstrations. Most have a background in performance and are able to use the piano to guide the class through their playing (though not all works call for a piano).
The syllabus begins with Medieval and Renaissance music, such as Gregorian chants and madrigals, continues through Baroque, Classical and Romantic music, and typically ends with 20th-century offerings from the likes of Stravinsky and Armstrong. Some instructors also include contemporary music, especially as it ties into some of the live concerts students are required to seek out and attend independently across the city to complete a small series of concert reports.
The trip to the Met, however, is different because all Music Hum sections, about 35 total, travel together to Lincoln Center on three designated nights. "Historically, opera is a medium of intellectual and social interaction," says Giuseppe Gerbino, professor of music, historical musicology. "It represents the ultimate narrative device precisely because it combines music, dramatic action and emotional reaction. And this is a power that can only be understood in a live performance. Listening to a CD or watching a DVD is a pale, and frankly misleading, approximation."
Elaine Sisman, the Anne Parsons Bender Professor of Music and Chair, Music Humanities, adds, "At the Met, students are in the presence of the art of opera at its very highest level. The living, dramatic musical work needs to be experienced live. Opera calls forth strong feelings and responses because it brings together the aural, the textual and the visual in ways that transcend all three."
While most college students might not seem jazzed about going to an opera, these students, dressed in some of their nicest attire, seem pretty "pumped" on the night of Don Giovanni. By intermission, many of them are already floored by the experience they say.
"We made it, you know? At the Met Opera! With its spiraling velvet staircases and descending chandeliers… honestly, it's crazy." says William Tang CC'17, who is majoring in biology."
Each instructor has a different way of diving into the opera and the syllabus. In Tang's Music Hum section, taught by Professor Marilyn McCoy, each student is assigned a different scene of Don Giovanni to summarize, analyze and post about on their class blog for all to read. That way, McCoy feels, they go into the opera with an idea of what to look out for throughout the production and can make their own observations based on a frame of reference from class. Some say they are on the edge of their seats when it's time for their assigned scene. How is it going look? How is it going to sound? How am I going to react?
Ben LaZebnik CC'18, an urban studies major from Los Angeles, says, "I thought I'd come in to the opera confused but I'm surprised I feel well-prepared for understanding the content." The sound, too, surprises them: "Students are always amazed that thrilling voices reach them without electronic amplification in the large and magnificent theater," says Sisman. Erin Flowers CC'17, who is majoring in astrophysics, agrees: "I'm surprised by how much the sound carries from the opera singers without a microphone. It's insane how well they can project."
Alessandra Gest CC'19, who is majoring in political science, says: "There are the recordings that we've seen in class, but it's much more exciting and special to actually watch it happen versus watching it on a screen!" The recordings she's referring to come from a variety of productions to show students different ways directors and companies have approached Mozart's opera since it premiered in 1787.
"It's gripping! I absolutely love it! Seeing this opera after having learned about music — different types of music — and all the different components that go into it is wonderful."
Susan Boynton, Professor of Music and Chair of the Department of Music, points out: "As a Core experience, nothing can compare to attending a live performance at the Metropolitan Opera, which students consider an exceptionally memorable aspect of Music Humanities. The shared evening at the opera creates a special bond between students and professor. Together, they witness and are drawn into the drama that music renders emotionally mesmerizing."
Aside from the potential to get to know their professor better, the trip marks the first time many of these students learn their classmates' names. Music Hum students are different class years and all different majors. McCoy takes her students for pizza beforehand at V&T, a dinner the Center for the Core Curriculum makes possible for all instructors. Socializing with unfamiliar classmates can be awkward for some undergraduates at first, especially with the instructor nearby. Nevertheless the tension appears to melt away over the cheesy pies. Overheard are conversations about dorm living, classes and, of course, midterms. Audrey Andrews CC'19 has two exams the next day, in anthropology and oceanography, neither of which are stopping her from trying to have a good time, it seems.
Will Tang CC'17 agrees about the social connection element of the evening. "The trip definitely improves the classroom vibe. It's a great way to build a sense of community and make the learning environment more enjoyable." Don Giovanni clocks in at more than three hours, which fly by when students are engaged with both the material and with one another, they say. Few undergraduates, not even those who also attend other schools in the city, have the opportunity to share an iconic cultural experience like this.
Walking out of the opera, Laura MacMullin CC'18 gushes again about the evening: "Tonight is like a sensory overload!" As she runs to catch up with classmates and head to the subway, the reality of college life settles back in. That same night, when the students return to campus, it's safe to assume many of them will head to Butler to clock in a few more hours of schoolwork. Until then, they'll likely soak up the last few minutes of their escape and maybe, just maybe, make a resolution to return to the opera on their own.
"Ever since [her] class" — says one of Professor McCoy's former students — "I have become a real opera fan. Quite unexpected!" Though judging from how current students continue to appreciate the legendary Met Opera trip, it's not all that unexpected… just undeniably incredible.
Learn about our blueprint for the future of Columbia College
Discover your passion. What made your Columbia College experience memorable?