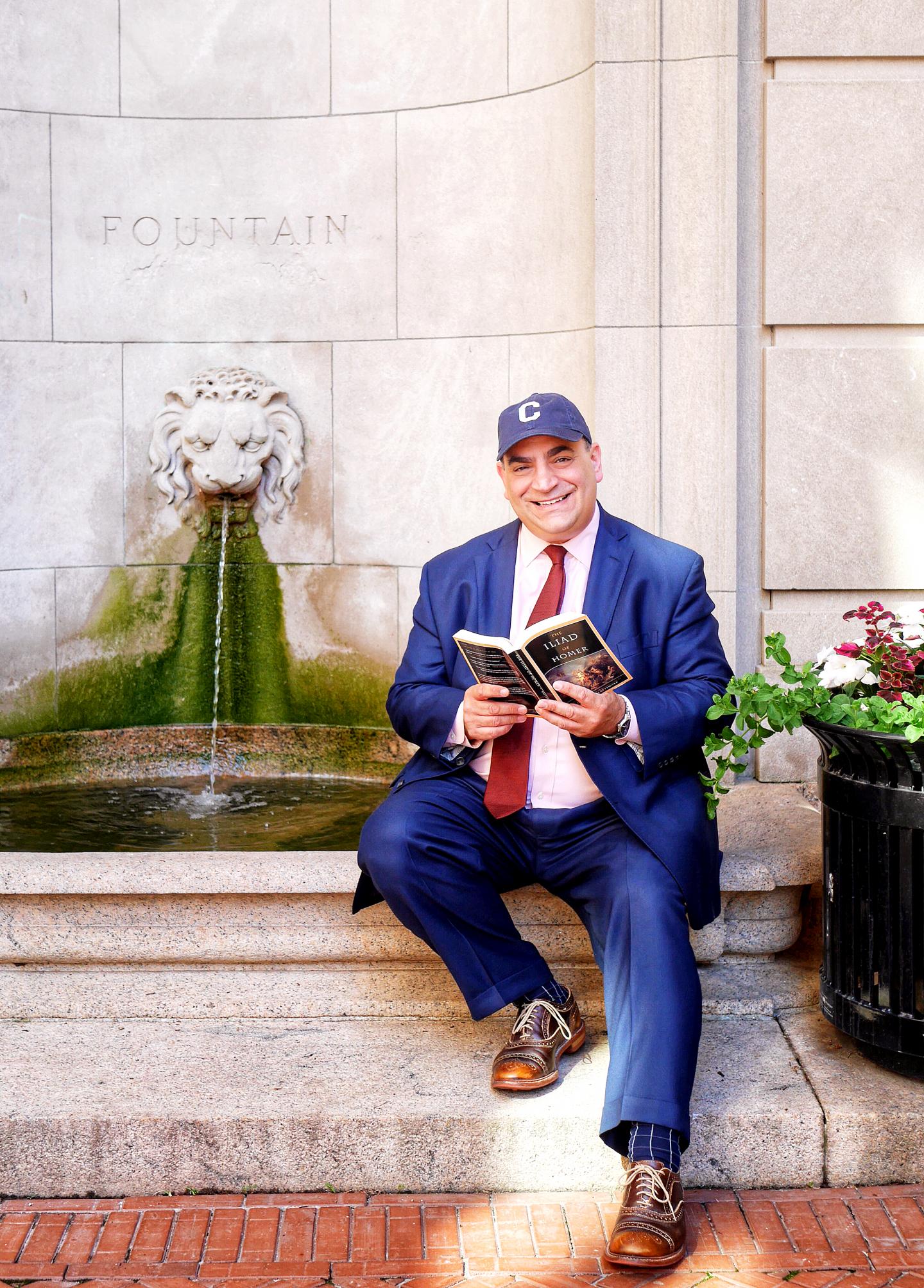 "A beautiful escape" — those are the first words John Vincenti '90 uses to describe Columbia College's Mini-Core Classes. Vincenti should know: The general practice attorney is something of a super fan. In the decade since the alumni program was introduced, he's taken upward of a dozen classes covering topics from Montaigne, Shakespeare and Chekhov, to dinosaurs, extinction and climate.
"You're breaking away from your daily, repetitive grind of work," he says. "Even if it requires thought — and a lot of thought — it's different. It's free thinking, just for the sake of thinking, for the sake of learning. That's what makes it special."
For the uninitiated, Mini-Cores embrace the spirit of the Core Curriculum, with Columbia College professors leading a series of three small-class dialogues on enduring topics. Vincenti signed up for his first in 2008 as an excuse to get together with a classmate. "This started as 'Fun, I'll do it,'" he says. "The curiosity was there. And then I realized, 'This is even better than I anticipated. I should keep doing this.'"
While Mini-Cores don't necessarily revisit the undergraduate syllabi, many of the same thinkers and writers recur. "You read Hobbes in college and he's sort of the stodgy monarchist and everybody pooh-poohs him," says Vincenti, who was a political science major. "I read Hobbes and his insights into human nature now and I say, 'Well, this guy had a point!'
"One of the joys is comparing what you think now to the ideas you had when you were 18," he adds. "I was so certain back then that what I was thinking had to be right. And when you put 30 or however many years on top of it, you really do read these works and get different views. It's always evolving. Which is what makes these works worthwhile reading in the first place."
The opportunity to reflect on his own perspective is only one reason Vincenti keeps taking classes. He also thrives on the discussion. "There's a lot of talking past each other right now, politically — this is how it applies to real life," he says. "These courses encourage me to get down off my pedestal or soapbox and listen to what the other person is saying. And everybody else does the same." He smiles. "This is one of the things John Stuart Mill said: You allow everything in, because it's not always about which one is right and which one is wrong. Sometimes it's about, well, you might be right but maybe there's some facet of it that alters because you've listened to the other person."
Vincenti notes that the classes include alumni spanning decades of graduating classes, which makes for an eye-opening diversity of experiences and views, even as they share the foundation of the College experience. The Core is a "greenhouse effect kind of learning," he says. "The learning takes place not just in the classroom, but also everywhere else the students are talking about it. They go back to their dorm and in the middle of the night they're having a discussion about Plato's allegory of the cave. They might be joking about it, they might be in a panic cramming for an exam — but they're talking about it, which means they're learning.
"And then you get out of college, and not only can you talk to other people from your class, you but you can also talk to somebody who graduated 20 years earlier than you, and 80 percent of what comes up you've both read and can discuss. That's a huge advantage, because the learning just continues. The way the Core was taught — and maybe the ideas that are emphasized might change — but everybody is still familiar." ("Everybody," he says, includes his father, Vito Vincenti '54, LAW'57 — "I have all his Contemporary Civilization books on my bookshelf; we talk at all hours!")
Asked about what it means to have an ongoing learning opportunity, Vincenti quotes Galileo. "'For who would set a limit to the mind of man, who would dare assert that we know all there is to be known?'
"I didn't come prepared with that," he quickly adds. "That was a quotation from my yearbook. And while I've changed a lot of opinions from the time I entered the College to now, one thing I've always felt is that you never stop learning. If you stop learning, you stop living, you stop enjoying things, you stop exploring. Your mind hardens. And, just like we exercise our bodies to keep in shape, we must keep thinking and pushing — we must exercise our minds."
To learn more about Mini-Core Classes, which are offered several times a year, visit: college.columbia.edu/alumni/learn/minicore.
Learn about our blueprint for the future of Columbia College
Discover your passion. What made your Columbia College experience memorable?