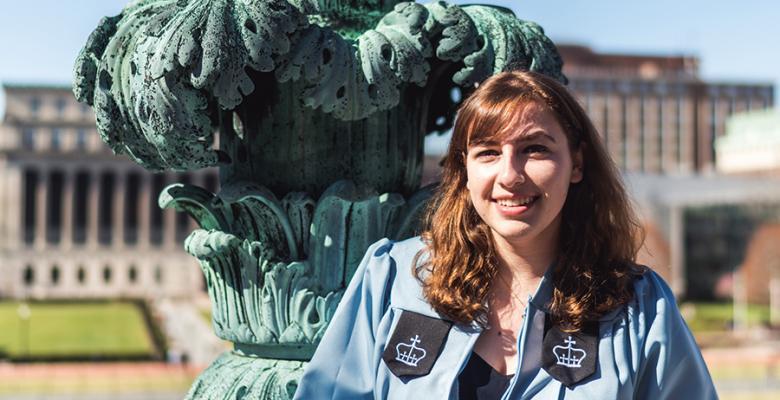 The College leaves an impression on all who pass through the Gates, but it had a particularly tremendous impact on Sara Sakowitz '18. The first female president of the Columbia Organization of Rising Entrepreneurs (CORE) and first two-time winner of #StartUpColumbia Festival's Venture Competition says she didn't even know what "entrepreneurship" meant when she arrived on campus.
"I think you traditionally consider Bill Gates or Mark Zuckerberg or other tech giants, who are so far removed from who you are," Sakowitz says with a laugh. "Never in a million years would I imagine that by the time I graduated I would start two companies, be the president of CORE or win [startup funding] competitions — none of that was even on my radar."
Sakowitz caught the entrepreneurship fever in her first few weeks at the College, after meeting CORE members at the Club Fair on Low Steps. "That semester was like a 180 for me in terms of having no knowledge of entrepreneurship, to trying to immerse myself in every aspect of the entrepreneurship community on campus," she says. "I volunteered at a ton of events, and that ignited my enthusiasm." She started her first company, Blue Moon Box, a science kit subscription service for kids, over winter break. "That's how everything got up and running for me," Sakowitz says.
"Entrepreneurship is very Columbian," she adds. "It's not necessarily about building companies or selling products or creating the next Facebook — it's about problem-solving. That was how CORE presented it to me, and that's the emphasis that Columbia places on it: That just by looking at my world differently, in terms of problems that I could solve, I would be thinking like an entrepreneur."
Sakowitz became part of the CORE Board of directors in her sophomore year, was elected president junior year and stayed on through graduation. "It was the most incredible journey, and I learned so much about leading a team," she says. "As president, my job was to lead the executive board of 50 students and a leadership team of almost 90, and to create programming and events to engage the larger CORE community of almost 5,000. And I know how important even one event can be in terms of making entrepreneurship exciting and drawing someone in."
"Entrepreneurship is very Columbian," she adds. "It's not necessarily about building companies or selling products or creating the next Facebook — it's about problem-solving."
As the first female president, Sakowitz made an effort to bring in non-traditional elements of entrepreneurship in the hopes that it becomes a more inclusive and more engaging community on campus. In 2018, she helped launch both the Enterprises program, a lecture series tied to CORE events, and Tech Treks, trips to Berlin and Stockholm taken by CORE members on semester breaks, packed with visits to tech companies, accelerator programs, incubator programs and meetings with CEOs, founders and CTOs.
"I think some of the CEOs [we spoke with] have been surprised," Sakowitz says. "They maybe don't expect the level of interest and engagement, and also expertise the students come in with. I've seen a lot of shocked looks on people's faces — not because of the content but because Columbia students are not afraid to ask hard questions. Really challenging what we want to learn from this — that to me is so entrepreneurial."
In April, Sakowitz organized the undergraduate arm of the Columbia Venture Competition and won her second award — third place and $10,000 seed money for BITE, her subscription-based snack company (Blue Moon Box won the first prize, and $25,000, in 2016). The competition is divided into four tracks: Tech Challenge, Undergraduate, SIPA Challenge and Startup Columbia, for the other schools and alumni. Contestants present elements of their business plan in three rounds to a panel of judges across different industries. The judges then select their top three.
"We've had teams enter from all across the spectrum — whether still in the idea space or actually selling a product — and it's a great learning experience," Sakowitz says. "It benefits the College because students really engage. It's a very real business plan competition, there is very real cash on the table and hundreds of people enter. It's a great way to do something out of class that could benefit you in class.
"Columbia is very much a place where innovation pours out of the walls," Sakowitz adds. "The entrepreneurial spirit is something I think follows students into classes and dining halls and libraries and defines every aspect of their lives, whether or not they identify themselves as entrepreneurs," she says. "I have no doubt that the students who come out of Columbia are applying the spirit of innovation in whatever they're doing."
Sakowitz is working on BITE full-time at the Columbia StartUp Lab this summer, finalizing nutrition labels and designs, packing snacks and visiting BITE's commercial kitchen in Brooklyn. "Since graduation, I've been doing a lot of reflecting and strategizing and I feel a lot of gratitude for CORE and for the College," she says. "The experiences I had and the opportunities that were available to me really shaped who I am and the person I hope to be. Going in, I had no idea what a Columbia experience would be like, and coming out, I just can't imagine who I would be without it."
​
Learn about our blueprint for the future of Columbia College
Discover your passion. What made your Columbia College experience memorable?