FEATURE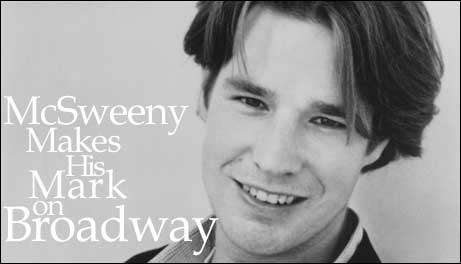 College's first theatre and dramatic art major directs Gore Vidal's The Best Man
By Laura Butchy
Less than a decade after becoming the College's first graduate in drama and theatre arts, a major he helped to develop, Ethan McSweeny '93 already has directed his first Broadway show, Gore Vidal's The Best Man, currently in a limited run.
"It was unforgettable, unrepeatable, and mostly unprintable," McSweeny says of his initial experience working on the Great White Way. "I had a stupendous cast, each with a unique artistic personality. And I had unbelievable dinner discussions with Gore [Vidal]."
How does the young director explain his quick rise to one of the most prestigious jobs in the theater?
"Enormously fortunate luck and timing," McSweeny answers.
McSweeny first learned of the plan to revive Vidal's political comedy in 1999 from producers Michael Rothfeld '69 and Jeffrey Richards, who worked on McSweeny's highly successful Off-Broadway production Never the Sinner.
"He is an exceptionally talented and sensitive director," said Rothfeld of their decision to hire McSweeny. "He has a great understanding, from his own childhood in Washington and his father's experience as a political journalist, of the issues in the play."
McSweeny fell in love with the script and soon found himself in Italy visiting Vidal, who, like McSweeny, is a native of Washington, D.C. They immediately agreed not to change the play in any way, ignoring the temptation to update it to mirror contemporary political conventions.
"In some strange way, the play works better now than in 1960," McSweeny muses. "You can look at Bush, Gore, McCain and Bradley and see how much they're there."
A scandal when it premiered in 1960, the play remains timely today, an amazing accomplishment for a political satire. McSweeny continuously compliments the "sheer craftsmanship" of Gore, whose career has included work as a novelist, essayist, memoirist, playwright, screenwriter and film actor.
The Best Man is set at a 1960 presidential convention, where a former governor and secretary of state with high ideals and a penchant for womanizing vies for his party's nomination with a self-made, seemingly virtuous young senator who is not adverse to dirty campaigning. The plot revolves around the wavering support of a dying former president, the discovery by each candidate of dirt on the other, and the question of who will begin the mudslinging.
"Some directors who have worked on this play have known nothing about politics," Vidal said in an interview with USA Today. "This kid [McSweeny] knows everything, even more than I do now."
The production, which opened Sept. 17 and runs through Dec. 31 at the Virginia Theatre, features an all-star cast that includes Charles Durning, Spalding Gray, Chris Noth, Elizabeth Ashley, Michael Learned, and Christine Ebersole. "In the first act, every time a door opens, another star walks in," McSweeny comments.
The New York Times called the show "a hit," and according to the New York Post, "The present production is made all the more welcome by Ethan McSweeny's fast-paced staging and a sweetly balanced cast."
So where does McSweeny go after directing on Broadway? Back to work. He directed a production of Wit for the Pittsburgh Public Theater that opened Nov. 16, and he is now working on a new play called Tamincanfly that opens in January. The new comedy about a racehorse will be performed at the McGinn/Cazale Theater on the Upper West Side.
"My biggest influence as a director was sitting around my family's table growing up," McSweeny said in an interview with CurtainUp. "We're Irish and the mode of discourse is to tell stories. At all of our holidays and family gatherings, the most exciting part was always the end of dinner when everyone would kick back and enjoy an after-dinner drink and start spinning stories."
McSweeny names Michael Kahn, artistic director of The Shakespeare Theatre in Washington, as one of the major influences on his career. Another is Dean of the College Austin Quigley, who taught several of McSweeny's theater courses and attended opening night of The Best Man.
"He was clearly a gifted student back then and he directed two outstanding student productions, John Osborne's Look Back in Anger and an outdoor version of Shakespeare's The Tempest," Quigley said. "I am not surprised to see how rapidly his career has developed. His first Broadway production. has proved a great success and I am confident it will be the first of many."
McSweeny says he chose to attend Columbia to get away from theater, since the College had no theater major at the time. But in McSweeny's sophomore year, Quigley arrived as the College was creating a theater degree, in which McSweeny quickly became involved.
"In our hubris and youthful arrogance, we told them [the administration] they were doing it wrong," McSweeny laughs. He was surprised to suddenly find himself on the committee to develop the major, where he supported students' requests for an academically rigorous major heavy on English and history classes, not just acting.
"I liked [that] it was about student-produced events and initiatives," he says of Columbia's program. "Extracurricular theater was all voluntary." McSweeny was the first student to sign up for the new major and became the program's first graduate.
"I think I got a diploma in the mail eventually," McSweeny notes with amusement. "I owed the library about $1,000 in fines."


Spalding Gray (center) plays presidential canididate William Russell and Michael Learned plays his wife Alice in Gore Vidal's The Best Man.
PHOTO: PETER CUNNINGHAM

Most of his practical training came after graduation, when he returned to Washington and spent four years working as assistant director of The Shakespeare Theatre under Kahn.
"Theater, I think, is one of the last professions where the apprentice position is alive and strong," McSweeny says. At The Shakespeare Theater, he directed over two dozen plays, many Shakespearean, between 1993-97, also aiding in casting. He credits that time as teaching him how a theater operates.
In 1997, he landed his first engagement as a director at the Signature Theatre in Arlington, Va., little knowing it would catapult him (and the show) to rave reviews Off Broadway.
"It's never supposed to work like this in the theater," McSweeny says with a smile, "but Eric Schaeffer [artistic director of the Signature Theatre] called me and said, 'Hi, I've got this play and all I need is a director.' We met, I read the play, I pretended to take two weeks to think about it, and then I called him and said yes."
McSweeny directed John Logan's Never the Sinner at the Signature Theater and then through three transfers: to the Rep Stage in Columbia, Md., to New York's American Jewish Theatre, and finally to a large off-Broadway stage, the John Houseman Theatre on West 42nd Street. McSweeny says he was not surprised by the critical and popular success of the play.
"It's an intelligent play with big ideas being debated in it. It's not a four character play about why my mother messed up my life," McSweeny explains. "It was an enormous jump-start for my career."
Since then, McSweeny has been working as a freelance director for theaters all over the country, including The Guthrie Theater and The Alley Theater.
"New York is a great base, and the only one for freelance directors," McSweeny says. Looking toward the future, McSweeny hopes to someday return to Washington as an artistic director, which he considers the most challenging job in the American theater. In the meantime, he hopes to continue directing works by both classical and living playwrights.
"In this country, there's a terrible tendency to categorize artists," McSweeny says. He has been careful not to let himself be pigeonholed, especially now that his success allows him to invest himself in projects that interest him.
"One of my great ambitions," he adds, "is to get Austin Quigley off the dean's bench and in to dramaturge a show for me."
About the Author: Laura Butchy, who is studying dramaturgy at the School of the Arts, wrote the cover story about Professors Karen Barkey and Tony Marx in the May 2000 issue of Columbia College Today.