Our Vision
When Columbia College launched Core to Commencement publicly in 2015, we set out to enhance every part of the undergraduate experience to ensure it was the best possible.
We have had tremendous success. Alumni, parents and friends have rallied in support of a shared belief that the College is an institution that will help shape the future of society and change the world. The campaign — the College's first-ever — has secured new endowed professorships, created almost 1,000 funded summer experiences and established initiatives that increase the offerings to undergraduates in both business and the field of civil and political rights.
The summer of 2018 marked an expansion of Core to Commencement to a goal of $750M, with a renewed focus on enhancing wellness and community, increasing the real-world experiences students have beyond the classroom, supporting the teaching and mentoring of our faculty and developing greater access and support for all of our students.It was also intended to fortify the Core Curriculum — as we celebrated its centennial in 2019 — in order to extend the experience and its imprint into the next 100 years. This effort will be made possible through innovation, increased interdisciplinary programming and, importantly, contributions to the public domain that will firmly establish the College as a leader in liberal arts education and our students as trailblazers who are actively advancing society.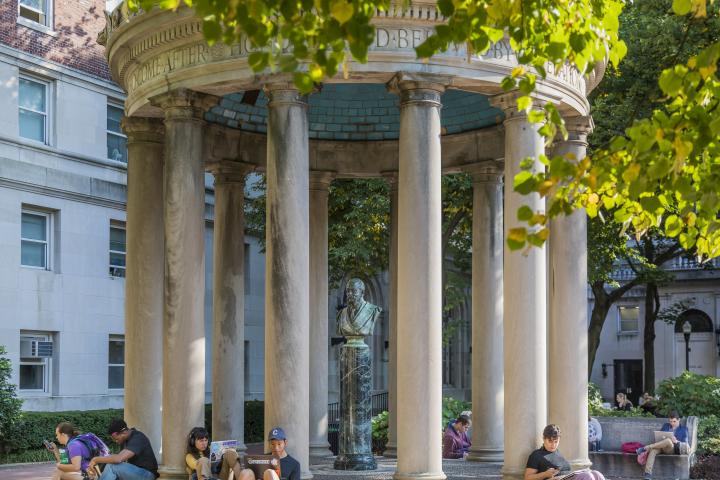 When you support this campaign — with a gift or by volunteering:
You signal your commitment to the College's faculty and students, and to the future of an institution beloved by many.
You express your belief that all students are better human beings for having read Homer and Aristotle, listened to Bach and Louis Armstrong, and studied Picasso and the Parthenon.
You show an appreciation for a thriving community that teaches students skills for life, which go far beyond the classroom.
You value our faculty, who seek to create knowledge to improve society while engaging students in a way that enriches their lives and broadens the impact of our faculty's work.
In short, your support for Core to Commencement testifies to your conviction that an education at Columbia College can prepare thousands of young people each year to help build a better world not just for themselves, but also for us all.
Learn about the largest financial aid campaign in the history of the College and the University.
How did financial aid affect your life? What was it like to say Yes to Columbia?