Charles Zhang P: '17, '20 and Lynn Chen-Zhang P: '17, '20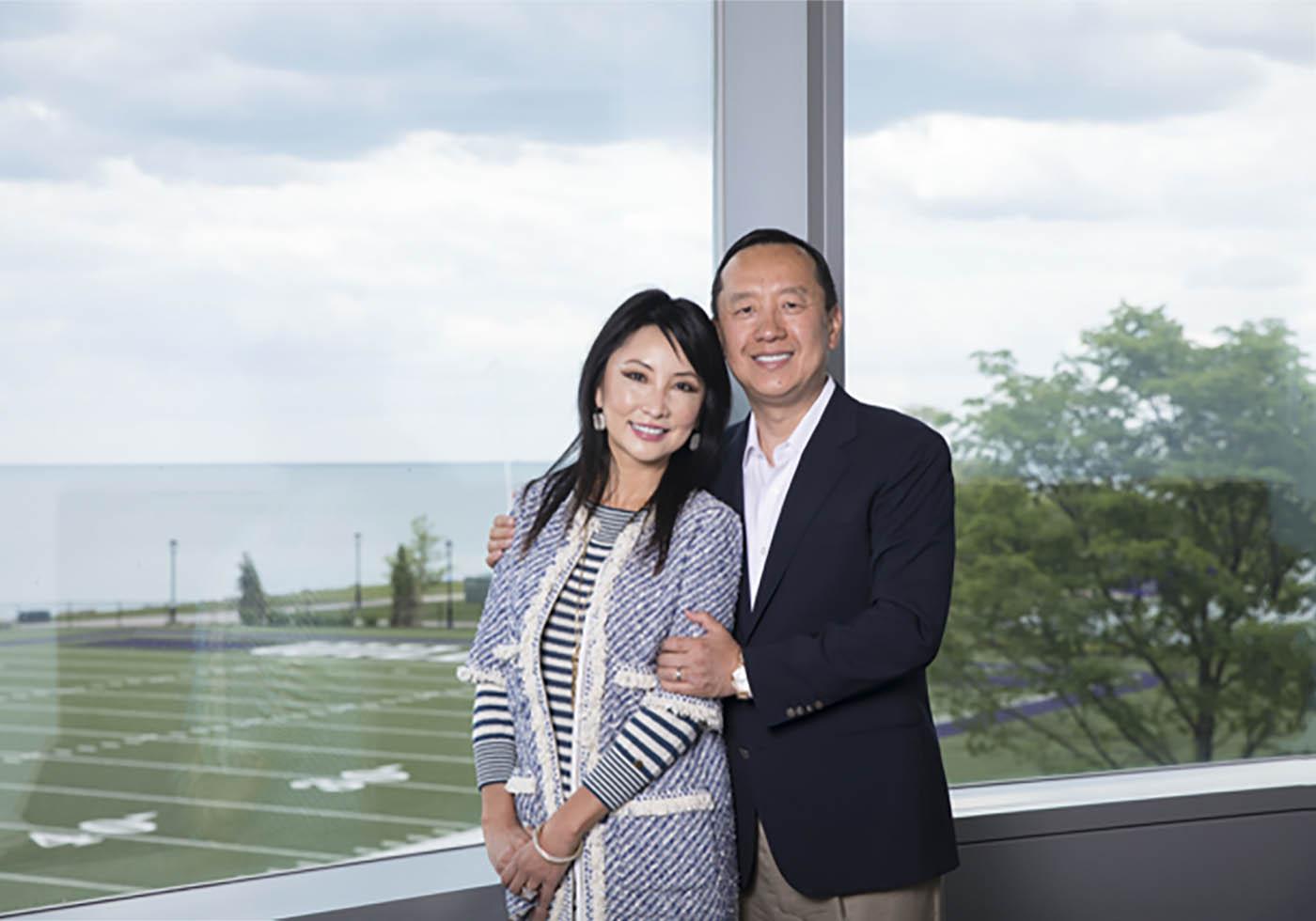 Citing education as the driving force behind their success as entrepreneurs and financial advisers, Charles Zhang P: '17, '20 and Lynn Chen-Zhang P: '17, '20 generously support the institutions of higher learning that have had a positive impact on their lives — and now, on the lives of their two sons.
The Shanghai-born Zhangs, who are partners at Zhang Financial, a prominent wealth-management firm based in Michigan, have endowed two professorships at Columbia. The couple has held the University in high regard since 2009, when they attended the Executive Education program at the Business School. However, it was the experience of their sons, Mitchell '17, who majored in economics, and Alex '20, who will major in creative writing and economics, which inspired the nature of their gifts. Not ones to play favorites, the couple has accordingly endowed the Charles and Lynn Zhang Professorship of Economics and the Charles and Lynn Zhang Professorship of English and Comparative Literature.
"For each kid we send to Columbia, we'll help [the University] retain one professor," jokes Lynn.
"Mitchell had a great experience," says Charles. "He always talked about the program, the professors, how much they care — the economics department especially, but other departments as well."
While Mitchell graduated this past spring and is pursuing a career in finance at Gordian Group, LLC, Alex is a burgeoning poet and essayist whose journey at Columbia has just begun. "Alex had a fantastic first year defined by formative relationships with faculty," shares Lynn. "He adored his Literature Humanities class and the fact that he could always discuss a full range of topics with Professor Humberto Ballesteros. In Intermediate Poetry, Professor David Tomas Martinez readily provided Alex with personalized reading recommendations and feedback on additional pieces he wrote outside of class. Charles and I are so happy to hear that Columbia's professors have been such a valuable resource for Alex."
---
In 2015, José A. Scheinkman became the first Charles and Lynn Zhang Professor of Economics. Prior to arriving at Columbia in 2013, Scheinkman spent 26 years at the University of Chicago. In addition to numerous research, visiting faculty and consulting positions at prestigious academic and financial institutions both here and abroad, Scheinkman also was chair of the Economic Sciences section of the National Academy of Sciences from 2012-2015. In addition, Scheinkman always dedicates time to teaching undergraduates, and finds the reciprocity between research and teaching very satisfying.
"It's enormous fun to teach the bright undergraduates here at Columbia," says Scheinkman, who teaches a popular course on financial crises. "It makes me think hard about interesting problems. When you are interacting with undergraduates, you have to go beyond the consensus, the things everyone knows in your profession. It's a very interesting challenge."
In 2017, Branka Arsić became the first Charles and Lynn Zhang Professor of English and Comparative Literature. A specialist in nineteenth-century literature of the Americas, she is a highly creative and prolific writer who expertly navigates literary history, philosophy, history and the history of science. Her most recent book, Bird Relics: Grief and Vitalism in Thoreau, is a revolutionary approach to the poet. "Her work simply stands out," praises Sarah Cole, chair of the Department of English and Comparative Literature. "I believe Bird Relics will be viewed as a real masterpiece."
Endowed professorships allow Columbia to attract and retain the most influential thinkers in a field and bringing in one such figure can trigger a chain reaction.
Donald Davis, the Ragnar Nurkse Professor of Economics and department chair at the time of Scheinkman's appointment to the Zhang Professorship, notes that Scheinkman's presence was a crucial factor in recruiting renowned economist Harrison Hong, who taught at Princeton and joined Columbia in 2016.
"In addition to his own contributions, he's become a big attraction for others to come [to Columbia]," says Davis of Scheinkman, adding, "The best want to be with the best. If you can get one person of José's quality, your likelihood of getting other people of very high quality is going to go up."
As an ingenious historian of ideas who bucks trends in academia, Arsić has likewise strengthened Columbia's English faculty enormously. According to Cole, "She is a scholar of high repute, whose work is often breathtaking in its depth, brilliance and originality. She is a prolific scholar, leading her field, and her presence at Columbia since 2012 has appreciably increased our national stature in this important area of American studies. Her courses and devotion to teaching have, moreover, reinvigorated our curriculum in this crucial field, as she brings the same creativity and intelligence to the classroom that is so striking in her scholarship."
When asked about her teaching experience, Professor Arsić shares, "There are many reasons why being able to do research and teach at Columbia University is a wonderful and privileged experience, but one of the most relevant to me is the quality of our undergraduate students. I am impressed time and again by their curiosity, preparedness and involvement. Each time I teach an undergraduate class is a transformative experience."
For the Zhangs, the decision to support the Core to Commencement campaign by endowing two professorships stems from their conviction that top-level professors not only attract other distinguished faculty, but also allow the University to continue to draw a bright and dynamic student body.
Says Lynn, "We view this as a 'chicken or the egg' situation. What makes a University great? The student body. How do you attract the best students? Professors."
Learn about the largest financial aid campaign in the history of the College and the University.
How did financial aid affect your life? What was it like to say Yes to Columbia?