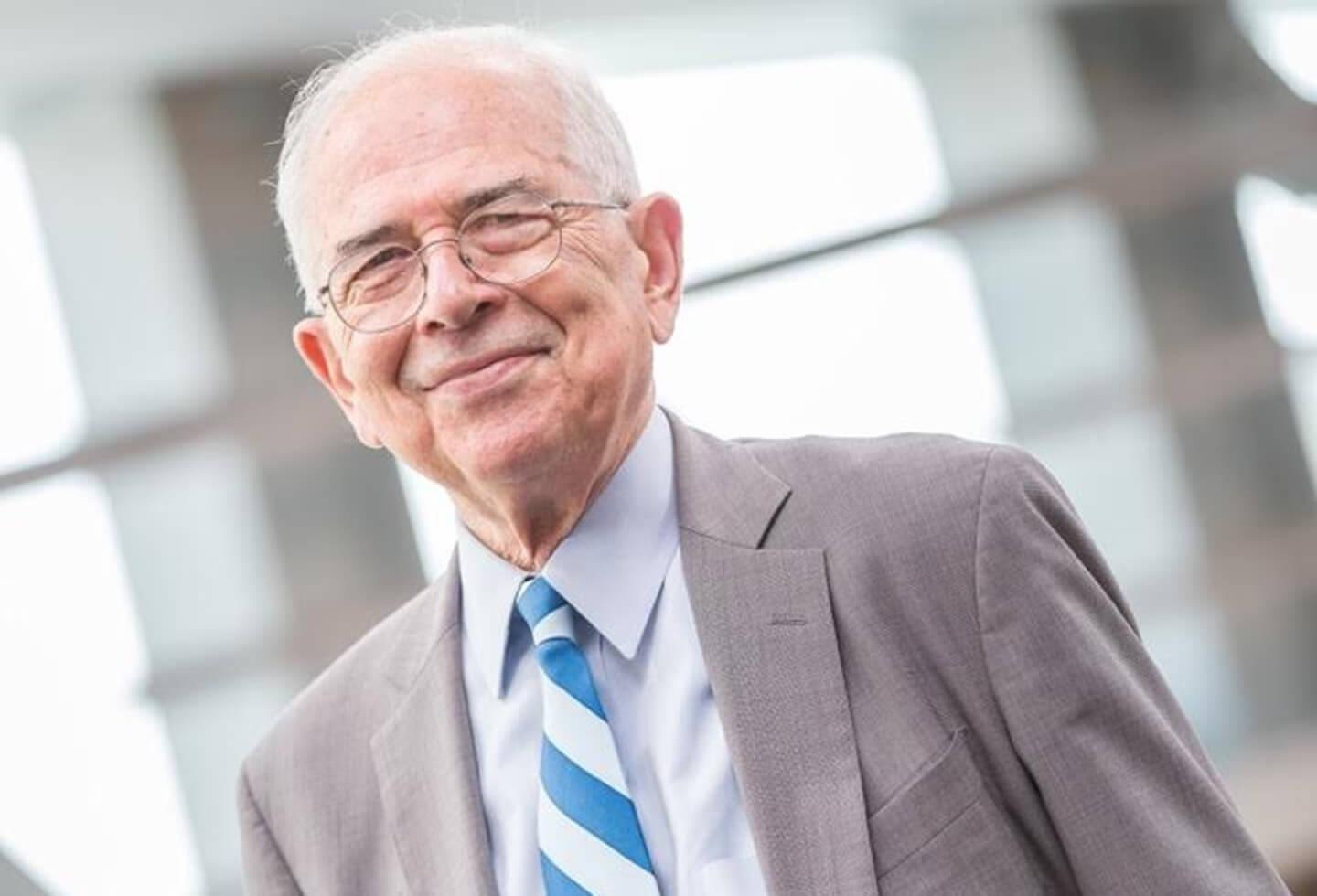 To say that Gerald Sherwin CC'55 is 60 years removed from the College is a bit imprecise; save for a two-year stint in the Army after graduation, he's never really left.
Known to many as "Mr. Columbia" for his ubiquitous presence at Columbia events, Sherwin has served alma mater with devotion since the late 1950s. A president emeritus of the Columbia College Alumni Association, he is currently president of the Class of 1955 and co-chair of the Manhattan region of the Alumni Representative Committee, which interviews prospective College and Engineering students. He is also a member of the Board of Friends for the Double Discover Center, which has offered programs for low-income Manhattan youth since 1965.
"You have one meeting and it leads to two or three meetings," jokes Sherwin, adding, "If I'm going to do something, I'm going to do it all the way."
Now retired, Sherwin is a fixture at Alumni Reunion Weekend — whether it's his class' year or not — as well as Dean's Day and Columbia Alumni Leaders Weekend. He also attends the John Jay and Alexander Hamilton Award Dinners every year. His motivation for staying so involved with the College is gratitude: "Very simply, giving back," he says. "I know it's an old cliché, but I give back to Columbia to because the school gave to me. I learned quite a bit here."
Young alumni are the future.
Sherwin is particularly committed to keeping young alumni involved with the College. Such is his dedication to that cause, that the Gerald Sherwin CC'55 Young Alumni Service Award was established in 2013 to recognize an alumnus/a who "by his or her action and support, has enhanced the community, well-being or engagement of the College's young alumni." Each year, Sherwin presents the award, along with the dean of Columbia College, at the Young Alumni Spring Benefit.
"Young alumni are the future," says Sherwin, who was born in Manhattan and grew up in Queens. "If you grow the young alumni base, eventually they are going to give more to the [Columbia College Fund], they're going to go to reunions and participate in other events. It's just a matter of keeping them going."
One of Sherwin's longest commitments has been to the men's basketball team, which he managed as an undergraduate. A chairman emeritus of the Men's Basketball Alumni Advisory Committee, he has even traveled to away games with the team. For those contributions, he was inducted into the Columbia University Athletics Hall of Fame in 2010 under the Special Category for Individual Achievement.
When he meets players and other current students, Sherwin offers to put them in touch with contacts he amassed during his long and successful career in advertising, marketing and communications. "Whenever students get jobs based on my help, it makes me happy," he says.
In 1989, Sherwin was awarded the Columbia University Alumni Medal which recognizes "distinguished service of 10 years or more to the University." In 2007, he received the College's John Jay Award for distinguished professional achievement.
These days, Sherwin visits the Morningside Heights campus as many as five days a week. When he is not in a meeting for one of the many committees he sits on, he might take in basketball practice or relax at the Columbia Alumni Center. Recently, Virginia Cornish CC'91, the Helen Rubinstein Professor of Chemistry, invited him to sit in on one of her lectures. "I learn every day, whether it's an event or a class or a meeting," says Sherwin.
Ultimately, it's the fond memories of his College years that keep him coming back to create new ones: "I enjoyed myself here," he says. "When I accomplish something, when I get things done, that's happiness."
Learn about the largest financial aid campaign in the history of the College and the University.
How did financial aid affect your life? What was it like to say Yes to Columbia?