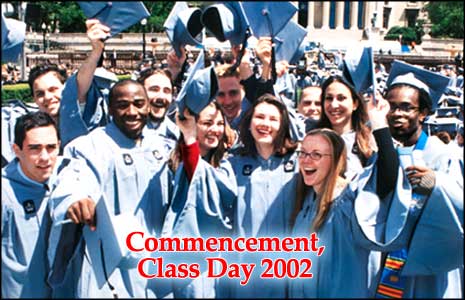 PHOTO: EILEEN BARROSO
Globalization, Personal Responsibility Are Themes Of Class Day, Commencement
By Alex Sachare '71

A year that began with the tragic events of September 11 ended in joy and jubilation as approximately 1,000 members of the Class of 2002 celebrated their graduation at Class Day on May 21 and at Commencement the next day.
Dean Austin Quigley, speaking on South Field on a glorious, sunny morning, urged graduates to uphold their responsibilities as citizens of the world and to "shoulder personal responsibility to make it a better world. Your happiness will come not just from the goods that you acquire, but from the good that you do."

Of Related Interest
Class Day 2002 Videos
David J. Stern '66L, commissioner of the National Basketball Association, chair of Columbia's Board of Trustees and keynote speaker at Class Day, spoke of globalization and urged the graduates to "commit to furthering your elders' understanding of different cultures." He compared Class Day to "a very special Most Valuable Player ceremony, where trophies are about to be awarded to 1,000 distinguished recipients. Use your trophies wisely."
Salutatorian Daniel S. Immerwahr '02 took up the theme of globalization, declaring, "Global politics are our politics. The notion that America can turn away from the world has been erased by the events of September 11." Immerwahr challenged his classmates to take as much as they could from their Columbia experience and use it for the rest of their lives.
Kareen Rozen '02 was recognized as valedictorian, and special awards and prizes were given to Colleen C. Hsia '02. Johnathan Reese '02, Stefanie C. Tsen '02, Charles E. Donohoe '02 and Patrick W. Pearsall '02.
A presentation was made to Jerry Sherwin '55, outgoing president of the Alumni Association, for his tireless work on behalf of the students of the College. Another presentation was made, by the chairs of the Class of 2002 Fund Committee, to Dean Quigley: an envelope containing the name of each senior who had donated to the College Fund and helped the Class of 2002 achieve a record participation rate of more than 50 percent. "It is our hope that our senior gift has set us on a path of giving back to the College as alumni," said Ali Hirsh '02.
At Commencement, outgoing President George Rupp bestowed seven honorary degrees, including one to his successor, Lee Bollinger '71L. Others went to former Senator George Mitchell, author Joan Didion, Brown University President Ruth Simmons, Later American literary scholar Roberto Gonzalez Echevarria, neuropsychologist Brenda Milner and MacDowell Professor Emeritus of Music Jack Beeson. George Yancopoulos '80, '86 GSAS, '87 P&S, was awarded the University Medal of Excellence, which is given annually to an alumnus who has made significant contributions to society.
In his ninth and final commencement address, Rupp spoke of the challenges posed by globalization, saying, "We are all at Ground Zero. Our destiny cannot be divorced from the fate of the rest of the world. One challenge we face together is to make globalization work for the impoverished as well as for the wealthy." Rupp also spoke of the need for a balanced relationship between private incentives and public standards, saying that the private marketplace works best when there are "rules of the game that all the players respect."



Other photos are available from Columbia College Today.