SECOND CAREERS CONTINUED [ 3 OF 3 ]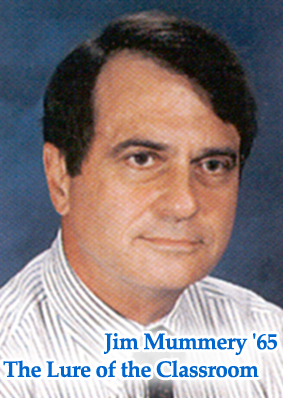 Jim Mummery '65 studied history at the College and never gave up his love for the subject. But after serving four years in the Marine Corps, including piloting a helicopter in Vietnam, he started a family, and his top priority was to make a stable living.
Mummery took advantage of the GI Bill to earn an M.B.A. from NYU and then entered a management training program at New York Telephone Co. (now Verizon). His business management career, which included a stint at Blue Cross in Chicago and then 16 years in customer service at The Bank of New York, took him right up to his 25th college reunion. "There were periods when I really got into it, but ultimately, I'm not a business personality," Mummery says of his first career.
Around the time of that silver reunion, Mummery did some reevaluating. He told classmates that he was thinking of switching careers and becoming a teacher. Alan Fenton '65, who is a teacher in Texas, encouraged him to make the switch. With his youngest child, daughter Alex Mummery '95, going off to college, Mummery went back to school to earn a master's in history from Queens College.
With a nest egg from his years in the business world, Mummery was able to quit his job and start over as a student teacher at a high school in Brooklyn. With his fresh credentials, he sent out his résumé, and the first call came from a school district in Farmville, Va. Mummery was assigned to teach government at the public high school. "One of the teachers said, 'These students will eat you alive!'" Mummery says. "But of course, he's small-time. I may not have been a top student at Columbia, but I'm still big-time."
Mummery got on well with the students and coached the soccer team. Unfortunately, his wife, Joan, was finding it harder to embrace conservative Farmville. "After two years, she said, 'I'm leaving. You can stay with this job you love so much, or come with me,'" Mummery says. "So I went to Washington, D.C. You have to keep your priorities straight."
For the past three years, Mummery has taught government to seniors at The Lab School of Washington, a private school for learning disabled children.
"I've always envied people who know what they want to do, because I never did, and I finally found something rewarding," he says. "I like having my own classroom and doing my own thing. I've been far more respected as a teacher than I ever was as a businessman. It doesn't pay as well, but I don't need as much money now."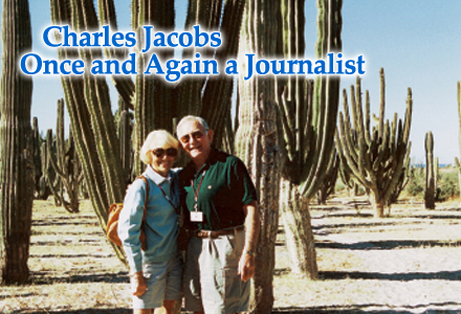 From the beginning, Charles Jacobs '52 wanted to be a newspaperman. While in high school in Paterson, N.J., he contributed to the local paper, and while at Columbia he was managing editor of Spectator.
But after graduating from the Journalism School in 1953, Jacobs served two years in the Army, and then was asked to join the family business, a small soft-goods store in Paterson that was opened by Jacobs' grandfather. "My family pleaded with me," Jacobs says. "I agreed to come in for six months to a year to help out, and that turned into 20-something years."
During his time in retail, Jacobs watched his friends and roommates from Columbia rise in journalism: Max Frankel '52 became executive editor of The New York Times, and Larry Grossman '52 became president of NBC News and PBS.
"I hated retailing all the time I was in it and envied my dear friends who were in the field that I loved and were so successful at it," Jacobs says, noting that he also felt a lot of pride in them. "But it was family obligation, and I felt that that took precedence over everything else."
After many years at its helm, Jacobs had transformed the family store into a 225,000-square foot department store and considered his duty fulfilled. In the mid-'80s, he sold the store and turned back to newspapers, first as a publisher, then as an editor and finally as a freelance writer.
How did he make the transition? As head of the department store, Jacobs had gotten to know Dean Singleton, the publisher of numerous newspapers including the Paterson News, where Jacobs advertised. Singleton arranged for him to go to California for some training. Then, because of Jacobs' business background, Singleton offered him the job of publisher at the Alameda Newspaper Group, a cluster of newspapers in the San Francisco area.
"I waited for a long time and always dreamed about getting back into the field," Jacobs says. He broke into writing by, as he says, "dribbling out freelance stories with small newspapers, even weeklies - anywhere I could get published - and building on that."
His business and travel stories have since appeared in newspapers such as The New York Times and The Los Angeles Times, and he is under contract for a nonfiction book about a double murder.
"I realized I'll never catch up to the kind of success [classmates such as Frankel and Grossman] had in the field, but I had a late start," Jacobs says. "I'm very pleased and happy with the way my career has gone so far."



Shira J. Boss '93 is a contributing writer for Columbia College Today and other publications.


[ home ]