AROUND THE QUADS
In Memoriam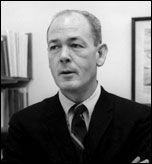 Wallace Gray

April 4, 2002
3:30 pm to 4:30 pm
St. Paul's Chapel
A memorial service will be held on campus at St. Paul's Chapel for Professor Emeritus of English Wallace Gray, who died on December 21, 2002. A reception will follow.

Related Stories


Wallace Gray, a professor emeritus of English and comparative literature and a favorite teacher for generations of College students, died on December 21 in Manhattan. He was 74 and lived in Morningside Heights.
Gray taught one of the College's most popular courses, "Eliot, Joyce, Pound," for some 20 years. The course was known as E.J.P. among students, who would line up overnight to register for the chance to hear Gray in his crowded auditorium. It being a somewhat daunting theme, Gray liked to put his audience at ease as he started each new semester. "Let's be frank about this," he was quoted as saying in fall 1985, "I know more about Ulysses than anyone else in the world, and I'm going to teach it all to you." That same year, Gray published From Homer to Joyce (Macmillan), a collection of 18 of his essays.
Gray, who also taught at Hunter College for several years, joined the Columbia faculty in 1953 as an instructor and rose to full professor in 1974. He took emeritus status in the mid-1990s but continued to teach courses at the College until last year. Gray was the teacher with the longest service in Lit Hum, and during his career he also served as director of freshman composition and assistant dean of students.
He was the recipient of numerous awards and accolades. The Society of Columbia Graduates honored him with its Great Teacher Award, and the student body gave him its Mark Van Doren Award for teaching excellence. In 1997, he was a co-recipient of the Award for Distinguished Service to the Core Curriculum.
Born July 13, 1927, in Alexandria, La., Gray served in the Navy in World War II before graduating from Louisiana College in 1946. He received a master's degree from Louisiana State University in 1951 and a doctorate in English and comparative literature from Columbia in 1958. He had a part in campus theater productions and wrote more than a dozen plays, including Helen, which envisioned a 40-year-old Helen of Troy back in Sparta; it opened off-Broadway in 1964. His Cowboy and the Tiger was at one time the longest-running musical for children in New York City's history and also was shown on television.
George Stephanopoulos '82, ABC News commentator and former Presidential adviser, spoke for many when he said, "Professor Gray gave me a gift that will — literally — last a lifetime: He taught me how to read literature."
Gray is survived by a brother, Aubrey.

Joseph Kabakow died on January 11 in Palisades, N.J. at the age of 107. Kabakow served in France during World War I and received that country's highest citation, the Legion of Honor. Following his discharge from the Army, he settled in New York and ran the College Delicatessen, on Amsterdam Avenue across from what was then Livingston (and is now Wallach) Hall, until his retirement in 1961.

Related Stories