| | | | | | | |
| --- | --- | --- | --- | --- | --- | --- |
| | | || | | || | | |
FEATURES
Ivan Koota '60 Goes Home to Brooklyn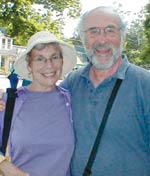 Ivan Koota '60 and his wife, Sharon '84 TC, in Woodstock, N.Y., in 2003.

It is said that you can't go home again, but that does not preclude a sentimental journey to one's roots. If you're a Brooklynite, you'll delight in making that trip with Ivan Koota '60, and even though your roots may be planted in one of the other boroughs or well beyond, you'll be equally enchanted by Koota's evocation of the Brooklyn of his youth in the paintings that mark his second career.
Koota is a self-taught artist who began painting in 1991 and has established himself as a successful folk artist after retiring in 1994 from pediatric medicine practice. Working in acrylic on canvas and employing bold colors and an unerring eye for details, Koota has built an oeuvre of about 60 city-scapes that capture Brooklyn's soul. Although he and his wife, Sharon, live upstate in Delhi, it is to Brooklyn — where he spent the first 26 years of his life, attended public schools and Downstate Medical School after Columbia, and met his wife at a Brooklyn College sorority party — that Koota's thoughts ever turn.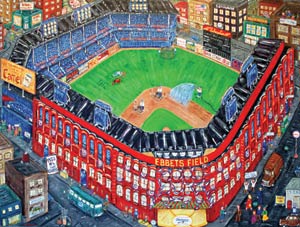 Before The Game, acrylic/canvas (1997)

Koota's first solo exhibit, "Brooklyn on My Mind," was held in April 1996. His painting of Ebbets Field, "Before The Game," was exhibited at the Fenimore Art Museum in Cooperstown, N.Y. In 1999, his rendition of "Grand Army Plaza" was shown at the Fenimore in an inclusive survey of New York State Folk Art. Koota's most extensive show was at the Brooklyn Public Library's main branch in 2003 and "Grand Army Plaza" now is part of the library's permanent collection. Most recently, Koota exhibited his work from October 15, 2004, through January 16, 2005, at Hartwick College.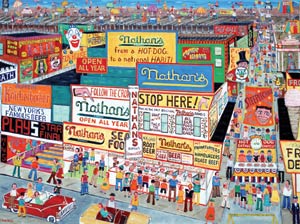 Nathan's - Coney Island, acrylic/canvas (2002)

Koota invites alumni to visit his Delhi studio and see him at work. "My subject continues to be scenes of Brooklyn, as it always has been." If you can't get to Delhi, you can appreciate Koota's love affair with Brooklyn on his website (www.brooklynplaces.com), through which he can be contacted. The spare geometry of "Dinner at Lundy's Clam Bar," the stunning majesty of the Russian Orthodox Cathedral in Greenpoint reflected in "Cathedral" and the bustling cacophony of commerce and leisure in "Nathan's – Coney Island," are among his many marvels.
Reflecting on his second career, Koota comments: "Painting has been a great joy to me. It has made retirement from pediatrics so complete, it's like starting a new life." He looks forward to attending the upcoming class reunion, June 2–5.
Bob Machleder '60
| | | | | | | |
| --- | --- | --- | --- | --- | --- | --- |
| | | || | | || | | |


CCT Home


This Issue


Previous Issue

CCT Masthead