| | | | | | | |
| --- | --- | --- | --- | --- | --- | --- |
| | | || | | || | | |
FEATURE
Bob "No Excuses" Shoop
BY JONATHAN LEMIRE '01
In England, as in most of the world, "football" usually means soccer. However, during the past two decades, the American version of football — complete with shoulder pads, linebackers and cheerleaders — has made its way across the pond. And, while nowhere near as popular as the game that features the round, black and white ball, the football played with an oblong pigskin has slowly been gaining fans in England and Europe, as evidenced by the moderate amount of success experienced by NFL Europe.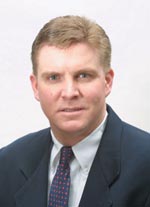 Head football coach Bob Shoop
PHOTO: GENE BOYARS

Lower levels of the American game also are played in England, allowing players born on either continent to play with the hope of catching the eye of a major league club or just to continue their love of the game. Far from glamorous, these semi-pro leagues feature low pay, long bus rides, and, in the case of the British-American Football Association, players who also need to act as coaches, general managers, scouts and even fund raisers.
A player has to love the game of football to play in the BAFA. Bob Shoop loves the game of football.
"It was a bullcrap league," recalls Shoop, the new head coach of the Columbia's football team, as he laughed about his six-month stint in 1989 with the Birmingham Bulls of the BAFA. "At the age of 24, I basically had to run the whole team.
"But it was really neat; it was what I wanted to do," Shoop says. "I wanted to play football."
Play football, and then coach it. An assistant on six coaching staffs since hanging up his spikes, Shoop takes on his first head coaching assignment this fall with the Lions, but his lack of experience in the top spot does not faze Columbia Athletic Director John Reeves.
"When Bob was asked that question in his interview, he responded that, while an assistant, he would always analyze football decisions as if he were the head coach in order to prepare to be just that someday," Reeves says. "We're confident that he can make the leap and become a very successful head coach here."
Shoop's passion for the game blossomed in college. Born in Pittsburgh (his younger brother, John Shoop, is the offensive coordinator for the NFL's Chicago Bears), Shoop attended Yale, where he was captain of the baseball Bulldogs — a left-handed finesse pitcher, he was named to the All-Ivy team as a senior — as well as an accomplished wide receiver for the football team.
A possession receiver with good hands ("but no speed," he recalls wryly) who earned All-Ivy Honorable Mention honors as a senior, Shoop wanted to stay involved in football after he graduated in May 1988 but was talked out of it by friends and advisers.
"Quite candidly, I was told that, as a Yale grad, I should be doing more with my life than just playing or coaching football," says Shoop, who majored in economics. "So I took a job in Connecticut working for Procter & Gamble. But, after six months, I just couldn't do it anymore. It simply wasn't for me." To get back into football, Shoop packed his bags for England.
The 1989 Birmingham Bulls were predominantly populated by British players who had day jobs, making it sometimes difficult to even field a team, not to mention schedule practice time. Finding solutions to those logistical problems — as well as recruiting players and soliciting sponsors — fell on the shoulders of the squad's three Americans. "It certainly taught me things that I've since applied at my coaching jobs back in the States," says Shoop.
Shoop returned to the New World, and, more specifically, New Haven, in the fall of 1989 and landed a position on the staff of legendary former Yale football head coach Carm Cozza. As Cozza's wide receivers coach, Shoop got his first taste of life as a collegiate coach, and instantly, he was hooked.
"Coach Cozza had as dramatic an impact on my life as anyone that I've known," Shoop says. "I always will be appreciative of what he did for me, especially the passion he displayed for teaching young people."
Shoop only spent one year coaching at Yale, establishing a precedent for short stays — always ambitious, he was forever looking to take the next step up the coaching ladder — on staffs up and down the East Coast. The next stop was Charlottesville, Va., where he spent a year as a graduate assistant at Virginia and was compensated not in money but by being allowed to take several graduate classes in sports psychology.
In the summer of 1991, Shoop moved to Boston, where, despite having no experience on the defensive side of the ball, he was hired as defensive backfield coach and special teams coordinator at Northeastern.
"It was a tremendous opportunity to gain experience on defense," Shoop notes. "In fact, I consider it one of my strengths that I have a solid background on both sides of the ball. I know that prepared me to take over a head coaching job someday."
Shoop returned to Yale in the fall of 1994, when, at 28, he took over as the Bulldogs' defensive coordinator. Though Yale was only moderately successful during the three seasons of Shoop's second go-around on Cozza's staff, he became involved in recruiting the team's roster and soon became aware of the difficulties in assembling a competitive team that also could hold its own in an Ivy League classroom.
"I've always coached at outstanding academic institutions — that's important to me — and I've learned how to recruit for as good of a school as Columbia," Shoop says. "I'm as fierce in recruiting as I am on a Saturday in the fall, and we've put together an energetic young staff that is the same."
Following Cozza's retirement in 1996, Shoop hoped to be named as his successor, but he did not get the job. "I thought I was being groomed for the job, and I was devastated when I didn't get it. My hope had been to get the job at Yale and then live there happily ever after," he says. "However, looking back on it, I realize now that I was too young for the job, and it's for the best that things worked out the way they did."
Disappointed, Shoop left New Haven to take another defensive coordinator position, this time with Villanova, whose squad spent several weeks as the No. 1-ranked Division 1-AA team in the nation en route to a 12–1 season. The following year, the itinerant coach moved from Philadelphia to West Point, where he took over the same position at Army, fulfilling his goal of becoming a Division 1-A assistant coach.
In 1999, Shoop returned to New England after being recruited by Boston College head coach Tom O'Brien, who was the offensive line coach at Virginia when Shoop was a graduate assistant there, to take over as the Eagles' secondary coach. In his four years on Chestnut Hill — the most successful four years in the program's history — the school played in four bowl games, winning three. The team's success also helped fuel the fire that already was burning in Shoop to take over his own team.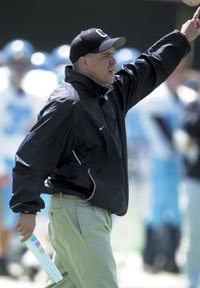 "All we can ask is that our players play with passion, play with toughness and play together."
PHOTO: GENE BOYARS

The call he had been waiting for came early last December. Shoop fielded it on his cell phone while on a recruiting trip in western Pennsylvania. It was from a representative of the 14-member search committee at Columbia, which was looking to fill the head coaching position vacated by veteran coach Ray Tellier.
"At first, I had some doubts, since, as a student, I had only seen Baker Field and never the campus," recalled Shoop during a brief mid-July vacation on Cape Cod with his wife, Maura, and their sons, Tyler (6) and Jay (3). "But when I went for an interview and saw the campus, I liked it so much more than I thought I would."
Though eager to assume the reins, Shoop needed some assurances before taking the job, and, he recalled with obvious enthusiasm, all of his requests were met immediately. He would have control of the hiring of his coaching staff; there would be a new playing surface — a synthetic Astroplay turf — for the team's practice field; there would be a new NFL-caliber video system that the players could access from their dorm room computers; and there would be meetings with the College's directors of admissions and financial aid — Eric Furda and David Charlow '85, respectively — as to how to bring the best possible student-athletes to Morningside Heights.
"What set Coach Shoop apart" from the other candidates, says Reeves, "was the 'no excuses' mantra he repeated to the search committee. "He has Ivy experience, he connects extremely well with student-athletes, and he is committed to winning."
On New Year's Eve, Shoop agreed to become the 17th head football coach at Columbia. He was introduced to the school on January 9 at a press conference at Low Library.
"The administration has pledged to support our coaches, who are energetic, intelligent and hard-working," says Shoop of his staff, which includes one holdover from Tellier's regime, offensive coordinator Rich Skrosky. Tim Weaver was hired away from Harvard to serve as defensive coordinator. "There's no job too small; we're going to get our hands dirty and do whatever it takes to turn this program around."
That will be no small chore: The Lions went 1–9 last season, finishing last in the Ivy League at 0–7. The team's last winning season was in 1996, when it went 8–2 behind NFL star Marcellus Wiley '97.
Shoop understands the task ahead of him. "We don't deny that we were 1–9 last year, but we can only worry about the present and the future," he says. "The two ways to improve the program are simple: improve the players we have and get better players."
"All we can ask is that our players play with passion, play with toughness and play together," adds Shoop. "In the seven months that I've been here, through practices, camps and off-season workouts, they've done just that."
Though Shoop likens his desire for his players to be in shape before training camp begins to the philosophy of Dallas Cowboys head coach Bill Parcells, it's another NFL skipper that that comes to Reeves' mind when he thinks of his new hire.
"He reminds me of [Tampa Bay Buccaneers coach] Jon Gruden with his youth, intensity, preparedness, and, in the words of former Knicks coach Jeff Van Gundy, his 'laser-like focus,' " Reeves said. "At a moment's notice, he can rattle off all of the strengths and weaknesses of any player on our team."
And, according to Shoop, those strengths may outweigh the weaknesses. "Last year, the team was much better than its 1–9 record, for it lost something like five or six games by less than a touchdown," he says. "We have a lot of seniors back, and we're going to surprise some people."
Though the team's quarterback position is up for grabs due to an injury to last year's starter, Steve Hunsberger '04, Shoop says that the Lions' offense, which will feature running back Rashad Biggers '04, should be capable of producing more big plays in 2003.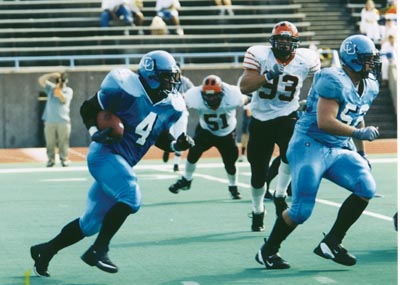 Running back Rashad Biggars '04 should be one of the Lions' best weapons in 2003.
PHOTO: SHANNON STAPLETON

On the defensive side of the ball, Shoop has modeled the Light Blue on the defending Super Bowl champion Tampa Bay Buccaneers, whose defense is built on speed rather than size. He expects that the unit, which will be spearheaded by tackle Michael Quarshie '05 and cornerback Jason Auguste '05, will create more turnovers than a year ago.
Insisting that he has no five-year plan or any other long-term goals, Shoop — whose family recently moved to Old Tappan, N.J. — pledges to "give [his] best, during every practice and every game," starting with Columbia's season opener at Fordham on September 20.
"We plan on being competitive with the very best teams in the Ivy League every year," Shoop says. "No excuses."
Jonathan Lemire '01 is a frequent contributor to Columbia College Today and a staff writer for The New York Daily News.
| | | | | | | |
| --- | --- | --- | --- | --- | --- | --- |
| | | || | | || | | |