| | | | | | | |
| --- | --- | --- | --- | --- | --- | --- |
| | | || | | || | | |
COVER STORY
Local Stories, Wide Impact
Jen Maxfield '99, '00J reports stories that transcend neighborhoods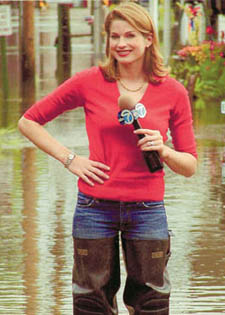 Eleven years ago, Jen Maxfield '99, '00J was reporting for the Echo, the newspaper of Tenafly H.S. Today, Maxfield still reports on New Jersey. The difference is that she's doing it for the No. 1 news station in the No. 1 media market in the country.
Maxfield is the New Jersey correspondent for WABC-TV Channel 7, covering a demanding beat that keeps her on the go.
"One of the biggest misconceptions about my job is that people think that I travel with an entourage, that my job is to wait for someone to hand me a script and read it," Maxfield says. "People think I have a field producer, a hair person, a makeup person. But the truth is that it's just me. I make my own phone calls, I set up my own interviews, I write my own scripts. Typically, I do my hair and makeup in the rear view mirror. My day is so full with the sheer logistics of putting together a balanced story that I don't think I could possibly fit anything else in."
Maxfield began reporting professionally while still a Columbia student, when she interned for CNN at the United Nations and was allowed to fill in writing stories for a reporter on leave. At CNN, she supplemented her Columbia classes (she was a political science major) and her journalism experience (she wrote a regular Spectator column called "The Max Factor") with a real-time education in international relations and the news business.
The year was 1997, and the United States was embroiled in a first round of conflict with Iraq. "It was so exciting to be 20 years old and sitting in a press conference in the United Nations at that time," Maxfield says. "It was above and beyond anything that I had done." When the internship ended, Maxfield stayed on as a freelancer at CNN Financial News, where she worked on a technology program until she graduated from the College and began her master's at the Journalism School.
Upon graduating, Maxfield went to work for the ABC affiliate in Binghamton, N.Y., where she was an anchor and reporter, and then for the ABC affiliate in Syracuse, where she reported full-time. In October 2002, she was offered the job covering New Jersey for WABC, the network's flagship station in New York.
"She was in New York three years out of Columbia, which is totally unheard-of," says fellow reporter Brooke Ritchie '00J, who has known Maxfield since they "bonded at prospective student weekend" before beginning their master's program. "But it didn't surprise me a bit. She's so smart, so well-read, such a creative reporter and one of the best reporters I've ever met in terms of making a story happen."
Shortly after taking the job at WABC, Maxfield married Scott Ostfeld '98, '02L, '02 Business. They had become friends at Columbia after realizing, one crowded night at The West End, that they would be taking an Italian Renaissance sculpture class together the following year. Ostfeld manages a hedge fund in Manhattan; he keeps a small television under his desk so that he can see Maxfield on the air.
Maxfield's colleagues say she does an expert job of making contacts with sources, that she has an extraordinary memory for facts, and that, like veteran colleague N.J. Burkett '84, '85 SIPA, she tells a great story.
Her most surreal day as a reporter so far, she says, was August 12, 2004, the day that then-New Jersey Governor Jim Mc­Gree­­vey '84 gave his "I am a gay American" speech. Maxfield began getting calls several hours before the speech — McGreevey's staff had said the governor would announce "a human resources change" — but no one knew what McGreevey actually would say.
"I remember I'm standing outside the statehouse in Trenton, and I'm listening to the speech live in my ear, and the words are coming out of his mouth, and I simply cannot believe what I'm hearing," Maxfield recalls. "When you cover politics in New Jersey, to have the top elected official in the state come out with such an announcement is really the most bizarre and significant thing you can imagine."
Most days are less dramatic, although not necessarily less newsworthy. Maxfield files at least one story daily; often those stories are features about local events, issues or disputes that provoke interest beyond the communities that they immediately affect. A story about a Western New Jersey town highlighted a group of citizens who were upset because helicopters flying overhead were creating noise pollution. A story about elementary schools near the Jersey Shore shed light on the growing popularity of "green" architecture.
"There's something about a story on a small scale that can appeal widely," Maxfield says. "Most people can identify with it, even if it's not in their town. Part of my job as a reporter is to make a small story appeal to a broad audience."
Maggie Gram '05
| | | | | | | |
| --- | --- | --- | --- | --- | --- | --- |
| | | || | | || | | |