| | | | | | | |
| --- | --- | --- | --- | --- | --- | --- |
| | | || | | || | | |
FEATURES
Restoring Lions' Pride
New coach Norries Wilson faces challenge of rebuilding football program
By Alex Sachare '71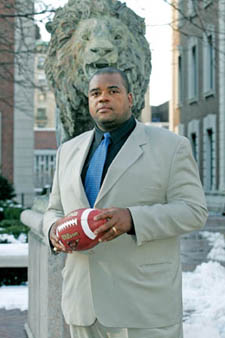 Photo: Gene Boyars

Norries Wilson has a promise for Columbia football fans wondering what to expect when the Lions debut under their new head coach this fall: "We will not win the Ivy League championship," Wilson declared in an interview with CCT in his office in June. "I'm guaranteeing that."
Quickly, Wilson appended his statement.
"But I really think that we will be better," he said. "We have to be better."
Wilson knows that many would say it's hard for the program to get worse. Columbia was 2–8 last year, winless in Ivy competition and has managed only three winning seasons in the past 44 years. But the new coach grasps the size of the task he has accepted.
"It's going to be a challenge on a lot of fronts," he says. "You've got to recruit against all the very good schools in the Ivy League, and you've got to change what's been going on with the program here. There hasn't been a winning season in quite some time. I know it's going to be a long and hard road.
"My first goal will be to scratch and claw and get Columbia out of the Ivy League basement, and then to start moving toward the top of the league."
Wilson, 40, is a large man who played offensive tackle at the University of Minnesota, serving as Gophers captain in 1986 while advancing to the NCAA wrestling championships as a heavyweight that year. When he played, he was listed at 6 feet 5 inches and 283 pounds, and he has not shrunk in stature. He seems to strain against the confines of his windowless office in the basement of the Dodge Physical Fitness Center, as if he can't wait to start pacing the Baker Field sidelines. It has been six months since he was named head coach of the Lions on December 11, and his first game is still three months away.
So how's it going?
"I'm still undefeated," he says with a smile, looking up from the papers on his desk. "I haven't had a chance to talk much football, except with [defensive coordinator] Lou [Ferrari] and offensive coordinator Vinny [Marino]. I'm spending more time on alumni relations because of funding issues — football is expensive. I'm also spending time cultivating relationships with high school coaches, alumni and the administrative staff."
Although this is his first head coaching job, Wilson is no stranger to building a college football program. He spent the last seven years, including four as offensive coordinator, as an assistant coach at Connecticut during which time the Huskies moved from the Yankee/Atlantic 10 Conference and Division I-AA to the Big East and Division I-A. Connecticut's offense ranked eighth in the nation in total yardage in 2003 and led the Big East in scoring and total yardage in 2004, and the Huskies routed Toledo 39–10 in the 2004 Motor City Bowl, the school's first bowl game.
"From our experience here, building UConn essentially from the ground up, he knows what it will take to build Columbia into a winner," Connecticut coach Randy Edsall said when Wilson left to join the Lions. "I am confident that Norries will take the lessons that he learned here and with his own unique twists, make Columbia a winner."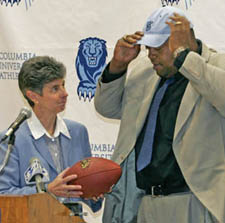 Photo: Gene Boyars

In addition to his experience at Connecticut, Wilson has been an assistant coach at Bucknell, Livingstone and North Carolina Central and a graduate assistant at Minnesota. He also participated in three NFL Minority Coaching Fellowships, with Kansas City, Jacksonville and Indianapolis. "I learned a lot from Coach Edsall," he says, "but I think I've taken things from several coaches I've known. I will rely on those relationships a lot. I don't have all the answers — well, I have all the answers, but they're not necessarily the right answers. I've already been calling some head coach friends to bounce off ideas."
What will a Norries (rhymes with Maurice) Wilson football team look like?
"A team that never quits, whether we're up or down," he replies quickly. "We will play physical, we will play fast, attack, be enthusiastic. Our hope is to take away the mental mistakes that hurt us in the past. As for our offense, some have called it 'slash and burn' — we'll slash at you with the run, then try to burn you with the pass.
"I liken it to going to a salad bar. Whatever is going to make us healthy each week is what we're going to take. We're not going to be the same every week, just like you don't take the same food from the salad bar every time."
S ix weeks after Wilson was named Columbia coach, Newsday ran an article with the subhead, "New coach Wilson has to overcome Columbia's losing culture." In that article, one player was quoted as saying, "There's a tradition of losing at Columbia, and the players coming through have almost started to accept that." When that quote was read to Wilson, he shook his head and said, "Oh, that's bad, that's bad. But we don't talk about losing. We talk about whatever it takes to be successful. We'll show them what they were doing wrong and correct it, and then move on from there."
Wilson voiced the same thought in a March interview with Spectator. "I wasn't here, so I don't know what the attitude was," he said, "but we have to lose the 'Oh, no, here we go again' idea. We have to be able to say, 'OK, this is going wrong, this is what we have to do to stop it,' and swing the momentum back in our direction."
Wilson knows that to be successful, he needs to do more than correct a lineman's blocking technique or the precision of a receiver's pass routes. That's why he invested time this spring cultivating relationships with alumni, fellow administrators and other coaches, at Columbia and the high school level. He recognizes that if Columbia is to overcome its "losing culture," it may never have a more opportune time than the next few years.

"We don't talk about losing. We talk about
whatever it takes to be successful."

Consider the following: Col­umbia's president, Lee C. Bol­lin­ger, came from the University of Michigan's big-time Big Ten athletic program and has repeatedly stated his dissatisfaction with
a non-competitive athletics program. "It is my belief that athletics are a critical part of a university experience," he said. "Fundamentally, I think the combination of the intellectual and physical capacities that are involved in competitive athletics are as important an experience as just about anything else we do."
Columbia's director of athletics, M. Dianne Murphy, came to Morningside Heights in November 2004 from the University of Denver, which won four NCAA Division I titles in her six years and moved up in ranks from Division II. Murphy inherited Bob Shoop as football coach from her predecessor, John Reeves; she selected Wilson following a national search. "We are convinced that the man we have selected is the best person to be the head football coach at Columbia," she said. "He is a true leader, in every sense of the word."
Columbia's Board of Trustees is chaired by Bill Campbell '62, captain of Columbia's 1961 Ivy League co-championship football team and the Lions' head coach from 1974–79. Campbell, who says he "wasn't hard-edged enough" during his time as coach, described winning the Ivy title this way in the May 2005 CCT: "Other than getting married and having your kids, nothing could be more important than that. It was a magic season. You had guys who were in a small, tight group. But we stayed close. We are still close today." Campbell repeatedly has voiced his support for Murphy's efforts to rebuild Columbia's athletics program.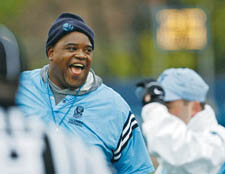 Photo: Mike McLaughlin

Clearly, the powers that be are aligned in support of the football program and its new leader. Whether that is enough to overcome the problems that have plagued the program through the years remains to be seen. At Wilson's introductory news conference in Levien Gym, Murphy said she was developing "a plan for victory for Columbia football. We know that we can achieve greatness and we will finally address some of the opportunities that have been ignored for too long. We are serious about this. We are committed to building the infrastructure of our football program, not just the hiring of the right football staff. Our plan, which has been endorsed by the University at the highest levels, includes short-, mid- and long-term initiatives. Coach Wilson will help shape and execute our plan."
"Dianne Murphy has put her heart and soul into bringing in our next football coach," Bollinger said, "I was immediately won over by his humor, by his wit, by his dedication to this kind of program. I believe that he, too, will put his heart and soul into it. It couldn't make us happier to have this fresh start."
Wilson des­crib­ed his expectations this way: "We're going to set small goals on our way to reaching our ultimate goal, and that is to get to the top of the Ivy League and win the Ivy League title. That's not going to happen overnight, but we don't expect to wait until the next millennium, either."
But, as the saying goes, Lions fans may have to "wait till next year." After all, Columbia lost its last eight games in 2005 and Wilson arrived at the tail end of the recruiting season. "We got in late, but we didn't settle," he says. "We wanted to get the right kind of players." Those players, says Wilson, will be bigger, faster and more athletic.
"In physical stature, we don't match up with the rest of the Ivy League," he says, describing his reaction upon watching tapes of last season's games. "We have to get ourselves bigger, but not just bigger, better. We have to recruit bigger kids who can play this level of football. There is talk about the Ivy League being a level playing field, but other teams are bigger and more physical than we have been."
Nevertheless, Wilson believes Columbia can be competitive as early as this season. "By competitive I don't necessarily mean winning. I mean the game being in balance in the fourth quarter, the score close with six or seven minutes to go. Then you've got to teach them how to win, how to close it out."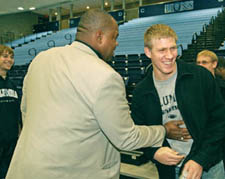 Photo: Gene Boyars

Wilson speaks enthusiastically about this teaching aspect of the job, and of tailoring the lesson for each student. "They used to try to teach all people the same way, and that doesn't work," he says. "Some people, you tell them what to do and they know what to do and how to do it right away. Others, you may have to write it out on the board. Others, you may have to take them and walk them through it. You have to figure out how your kids learn, how best you can teach them.
"You also have to be careful not to give more than they can handle. You can't try to fit a big square peg into a small square hole. You can have a huge playbook, but you can't give them all of it. You have to figure out what system they will play best to.
"I'll try to make it fun. We'll break up practices by holding different competitions, like team leapfrog or bag tackling or football rolling with your nose. The bottom line is it's still a game. Kids need to have fun."
W ilson is Columbia's 18th head football coach and the first African-American. He also is the first African-American head football coach in the Ivy League, and one of a scant few in college football.
"Is this a big deal to me?" he says, repeating a question. "To me, no. Like anyone else, if I don't win games, I'll be fired, too. And that's the way it should be."
Why are there so few African-American head coaches, when so many players are African-American? Wilson hears the question in virtually every feature interview, but politely suggests that it is misdirected. "They're asking the wrong people the questions. They don't do the hiring. Go to the ones who are doing the hiring and ask them."

"There is talk about the Ivy League being a level playing field, but
other teams are bigger and more physical than we have been."

Floyd Keith is the executive director of the Black Coaches Association and a former head football coach at Rhode Island. "The situation at Columbia is a milestone," he told IvyLeagueSports.com after Wilson was selected. "Unfortunately, today it draws attention because of the lack of. We would like to think that in the future we won't have a discussion about this."
Wilson points out that when head coaching jobs open up, perhaps those who do the hiring, athletic directors and/or university presidents, are reluctant to entrust a marquee sport such as football to an untried candidate. "It's the old catch-22 — it's hard to get a head coaching job without head coaching experience."
That played a part in Wilson's decision to come to Columbia. Two years ago, Wilson had discussions about becoming the head coach at the University of Massachusetts but turned it down. "It wasn't the right time to leave Connecticut," he says. "We had kids who had taken a chance on UConn, made a commitment to help turn the program around, and I didn't want to leave."
Joining Columbia was not an easy decision, either. "It was hard to leave Connecticut," he says. "My wife (former UConn basketball player Brenda Marquis) went to Connecticut. Her family lives there. But you have to gauge that against how many opportunities you'll get to be a head coach. From a personal perspective, now was the right time."
Now, Wilson, his wife and their 1-year-old son live on Morningside Heights. The move from Storrs, Conn., to New York City has had its positives and negatives. On the plus side, says Wilson, "There's always something new to do with the family. Last weekend we went to the children's zoo in Central Park. You can't run out of things to do in New York."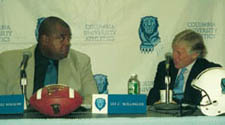 Photo: Alex Sachare '71

And the negatives? "Every day is garbage day. Not the trucks, I can sleep through that. But when you walk down the street, it seems there's garbage piled up every day waiting to be picked up. And this city is expensive! I thought when we moved to Connecticut, that was expensive. But when we moved here, I found out what expensive really is. And everything is smaller."
"The space constraints at Baker Field are an issue," says Wilson. "I've never been in a place where all the coaches share the same lockerroom. I guess maybe it will build closeness."
Baker Field's location, five miles north of the main campus, is not an issue for Wilson. "It's really not that far from campus, maybe 17 minutes," says Wilson, who pointed out that it was 35 minutes from the UConn campus in Storrs to Rentschler Field in East Hartford. And for the fans he hopes to attract to Columbia home games, Wilson says, "Baker Field is not an issue. Believe me, if the Giants were playing there, they'd go. I have a responsibility to give them something to be a fan of."
That begins on September 16, when the Lions host Fordham in the annual Liberty Cup game. After another non-conference game against Georgetown the following week, Columbia tips off its Ivy League schedule against Princeton on September 30 at Homecoming. "We're fortunate to have the first four games at home," says Wilson. "Maybe that will help us get our feet under us."
How does Wilson want Columbia supporters to judge his team? "How many games did we win, and also how many games were winnable, close with six or seven minutes to go? How did our kids respond to adversity? Were the kids prepared to play on Saturday?"
---
For more on Columbia football and coach Wilson, log onto the Columbia Athletics site.
Alex Sachare '71 is the editor of Columbia College Today.
| | | | | | | |
| --- | --- | --- | --- | --- | --- | --- |
| | | || | | || | | |