| | | | | | | |
| --- | --- | --- | --- | --- | --- | --- |
| | | || | | || | | |
COVER STORY
Alex Wallace '88 Hustles To Keep NBC Nightly News On Top
By Maggie Gram '05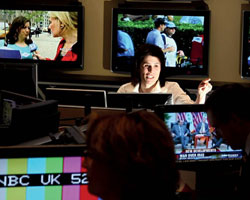 Photo: Chang W. Lee /The New York Times/Redux

When Alexandra Wallace Creed '88 graduated from the College, she expected to take a year off and then go to law school. To fill that year off, she applied for internships at the three major broadcast news networks. Two of them said yes, so she took a day shift at one and a night shift at the other.
To be sure, it wasn't long before Wallace had to choose between the two networks. In the eyes of Brian Williams, the man who anchors NBC Nightly News — for which Wallace is now executive producer — it's the story that best represents just who Alex Wallace is. "Alex just said, 'You know what? I'll do both,'" Williams marvels. "That's how you know she's a hustler. And in my lexicon, that's absolutely a positive quality."
In Williams' and Wallace's business, it's not just a positive quality — it's a necessary one. In March, Wallace took the reins of one of America's three major national news broadcasts. The New York Times called her charge "the equivalent of a battlefield commission:" maintain what was at that point Nightly News' tenuous hold on the top slot in the evening news ratings, and thwart a run for the top by NBC Nightly News' principal rival, ABC's World News with Charles Gibson.
Since taking the job, Wallace has spent each day competing with her aggressive and well-equipped rivals to identify and orchestrate the coverage of the top nine or 10 news items that will keep Americans watching during the most watched half-hour of broadcast television news in America. So far she's kept Nightly News at the top of the rankings: After a year of neck-and-neck competition with ABC's show, NBC came in with the greatest number of total viewers during the September 2006–September 2007 season. But Gibson's newscast was the No. 1 evening newscast among adults ages 25–54 — in industry terms, the "seasonal demo" winner — so Wallace has her work cut out for her in the coming year.
Her days, Wallace says, are "pretty crazy." She goes to bed reading the newspapers and wire stories and then wakes up to Today and another review of the newspapers and wires. She checks her BlackBerry and performs the necessary e-mail maintenance, feeds breakfast to her 5-year-old daughter and 3-year-old son, makes sure they've brushed their teeth and lands in NBC's Rockefeller Center offices with plenty of time before the station's 9:30 a.m. meeting. That's when the NBC news bureaus from around the world present what's going on in their regions, and then she begins to "lay out the day" — to decide how the station will use its resources during the eight hours between that meeting and the 6:30 p.m. broadcast.

"If you have a half-hour to catch up on what
happened, I want it to be with us."

What it is that will occupy the day is determined in part by the contents of a now-famous and ever-changing list of lists, written with thin felt-tipped marker on tiny white pieces of paper. Williams calls them "Alex's Sanskrit cuneiform notes," and Wallace refers to the complete set as her "crazy person list." She seeks to explain the list by pointing out individual sections: "my little list of who I love and would love to get on Nightly," "things I want to do with my kids this weekend" ("I'm really protective of my time with my kids," she explains"). Then there are single, stand-alone entries: "Make sure so-and-so is happy at the desk where he's sitting," or "Viewer e-mail" ("Because I want to do more of it, I want more of it read on air, I want listeners to know that we do care about what they're saying and that Brian is listening").
Wallace meets with senior producers, reads scripts, runs staff meetings and rushes through business lunches that often begin just as soon as she can run downstairs, grab a salad and run upstairs. She handles management and personnel issues, focusing on giving positive feedback to her 55 employees and "making sure people are excited to come to work." She brings the newsroom together for a rundown at 2:30 each afternoon. Then comes 6:30, when the Nightly News goes on air — and Wallace and her colleagues can begin thinking about the next day's broadcast.
"I literally feel," Wallace says, "like I walk in the door and five minutes later the day is done."
Four years at Columbia and nearly two full decades in the news business were, Wallace says, the best possible preparation for this demanding job.
As a College student, Wallace majored in English and played on the tennis team. She also formed an immediate friendship with Teresa Saputo Crerend '87, '92 Business and Leslie Gittess '88, who remain her best friends and frequent traveling companions. (Later, all three were married within a single year.) She was not a student journalist, but she says the Core Curriculum left her "incredibly well-prepared" for a news world in which she had had no specific experience before she got her first job. "Even now, I reference or refer to or rely on what I learned and read at Columbia a lot," she says. "I draw on that basic knowledge, on history and on the understanding of narrative that you get from reading the Core."
When she graduated, Wallace took the LSAT. After taking the NBC night shift internship and the CBS day shift internship simultaneously, she stuck with the unpaid day shift at CBS. She never left the business.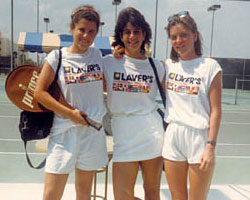 After 17 years at CBS News — where her precipitous climb from intern status included a stint on the foreign desk in London, some time as a field producer for CBS Evening News with Dan Rather, a period as the senior medical producer in New York for CBS This Morning (and earlier incarnation of The Early Show) and a period as a senior producer of The Early Show — she came to NBC in March 2005 to oversee the weekend broadcast of Today. Just a year later, she was promoted to v.p. of the news division and deputy to the president of the NBC News company.
In the traditional salary hierarchy of broadcast news, the v.p. position is more prestigious than the executive producer job to which Wallace moved in March. But when the offer came, she says, she couldn't say no. She knew Williams was a "great guy," she says: Once, when she had first come to the network, he had called her out of the blue to tell her he thought she had asked a great question in a meeting, which she "thought was a really menschy thing to do." And he had a well-earned reputation for being more than just "on-screen talent," as they call it in the news business. Williams is a hands-on, pavement-pounding journalist. Wallace knew she would have a partner in shaping the content of the broadcast. She took the job.
Williams was thrilled when he learned Wallace had accepted. "I hadn't thought she'd do it, because she was already ranked above this job," he says now. "I was enormously flattered that she would want to work with me and to work to make this broadcast better."
It has been a gratifying partnership. "We have similar personalities. We're both news nuts," Wallace says. "I don't think he has lists like I do, but I do know that 24 hours a day we're both thinking about the broadcast. We have e-mail exchanges at midnight about what we want to do next."
Williams agrees. "We have a close and easy relationship," he says. "We banter back and forth all day — we make fun of each other, more like siblings than like coworkers."

"We have similar personalities. We're both
news nuts," Wallace says of Williams.

Balancing all these priorities takes fuel, and many of the people in Wallace's life — from her personal assistant to her best friends from college — cite her boundless energy as one of her strengths.
Gittess says that Wallace is "so incredibly high-energy, upbeat, enthusiastic." Gittess recalls memories from their roommate days when they spent hours jumping and dancing on their beds to the music of the band Erasure.
Williams describes the same characteristic as "Alex's unbridled intellectual curiosity and energy." One day this summer, he recalls, he told Wallace, "'I think this was a good day: You finished two sentences.'" She laughed, he says, because "she has more thoughts than time to express them in the average day. She is fairly bursting with information and ideas from sun up to sun down."
As of press time, Wallace's job was only becoming more challenging. ABC's World News with Charles Gibson had edged ahead to take the top spot in the weekly news ratings, holding the No. 1 viewership rating on and off since early summer. On the weeks that ABC won out, NBC Nightly News with Brian Williams still hovered near the top, holding a close second.
They joke, he says, about "the many options open to us" as ways to advance in the ratings: switching over to covering exclusively Paris Hilton or Lindsay Lohan, running a ticker tape at the bottom of the screen counting down to "when either one or both of them gets out of her respective institution."
But in the world of serious global news coverage, all networks must chase the same stories, and journalists such as Wallace and Williams focus on covering them rigorously and well. "We've got to watch the journalism," as Williams puts it, "and just truly hope we will come out on top. We truly believe that the best journalism will do best on television."
In the meantime, they say, Wallace will not be implementing any major changes to try to get back on top. Both Williams and Wallace describe the television watchers of America as a huge audience of habit, slow to evolve — an audience that doesn't like big changes and must be acclimated slowly to the progress of any broadcast.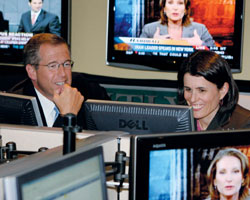 Photo: ML Flynn/NBC News

What changes will come to NBC Nightly News will be mostly changes to the content of the coverage. She would like to introduce more coverage of environmental issues, which, she explained, enter into Americans' decision making every day: "Do we buy our groceries at Whole Foods because we feel that they were grown by farmers who took a little better care of our environment?" She also hopes to introduce more foreign coverage into the broadcast as well as expanded coverage of education — a topic she finds compelling not only because she is the mother of school-aged children but because her husband, Kenny Creed, is a former classroom teacher and the head of the lower school at the private Brearley school in Manhattan.
"The hardest thing about this job is that there's so much news that it's hard to winnow it down to what you need and want to do at 6:30," Wallace says. "That is a struggle every day, all day. There are 15 things I want to put in the broadcast every night, and we end up with nine or 10, and I'm always bursting with wanting to do an addendum: 'Here's the other part of Nightly, the part that you didn't get to see!'"
It is the content of the broadcast, not the form, that she believes is the priority for American television viewers.
"Most of all, I just want us to be interesting," she says. "I want us to fit as much fascinating stuff as possible into a half-hour. If you have a half-hour to catch up on what happened in the world every day, I want that to be with us."
---
Maggie Gram '05 is a first-year student in Harvard's Ph.D. program in English and American literature and language.
| | | | | | | |
| --- | --- | --- | --- | --- | --- | --- |
| | | || | | || | | |