| | | | | | | |
| --- | --- | --- | --- | --- | --- | --- |
| | | || | | || | | |
FEATURES
Michael Lehmann '78: Satire and Subversion on the Silver Screen
By Jennifer Preissel '05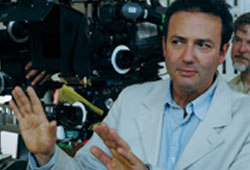 Photo: Mark Doering-Powell

Early in the film Heathers, directed by Michael Lehmann '78, Veronica offers the leader of her high school clique a hangover remedy, unaware the concoction is laced with lethal household cleaner. Popularity queen Heather begrudgingly accepts the mixture and, soon after drinking the glass whole, tumbles backward (in slow motion), shattering a glass table into shards on the candy- colored carpet. Veronica arrives at a horrified revelation: "I just killed my best friend!" Her partner-in-crime JD reminds her, "And your worst enemy." Veronica's jaded response? "Same difference."
Employing the signature exaggerations of melodrama and invoking the spitfire wit of the screwball comedy, Lehmann wrings laughs from murders and suicides in this quintessential black comedy of the 1980s. What might seem tragic in another context comes off as rip-roaringly funny in this film, a subversive upending of the high school movie depicting teens' quest for popularity, a genre popularized by director John Hughes and his stable of Brat Packers. As Lehmann's College roommate and fellow filmmaker Ric Burns '78 states, "[Michael] is a great cartoonist, and I think there's a way in which he exposes the cartoon comedy of real-life behavior. His tendency is to draw it out in exaggerated, broad strokes."
But what is a cult ironist like Lehmann to do these days? At a time when the majority of studio comedies star caricaturists such as Will Ferrell, Ben Stiller and Jack Black, it seems Hollywood has little room for quirky comedies that do more than deliver punchlines. Though Lehmann has always been comfortable as a studio hire — he recently helmed Because I Said So, starring Diane Keaton and Mandy Moore — his sensibilities skew more eccentric and satirical than most multiplex fare. Rather than throw in the towel, Lehmann has shifted to smaller passion projects such as the upcoming InDigEnt feature Flakes; in order to support such independent projects, he multitasks with stints on television series (he won an Emmy for directing The Larry Sanders Show) and commercial jobs.
Born and raised in San Francisco, Lehmann describes himself as "a California kid." He spent his youth frequenting the city's famous Fillmore concert hall, playing guitar in rock bands and drawing comics inspired by underground cartoonists such as R. Crumb. Though registered to attend UC Berkeley, he says, "I had that epiphany that the comfortable place I'd grown up wasn't where I wanted to be. I left Berkeley as soon as I could."
Enrolling in the School of Visual Arts in Manhattan, Lehmann studied expressionist painting and conceptual art but soon grew disenchanted with art school. Influenced by the writings of the English group Art & Language and New York conceptual artist Joseph Kosuth, Lehmann decided he would rather study philosophy than painting. "These people were not painting anymore — they were writing about art and questioning what it was. I figured if the artists weren't practicing the traditional craft anymore, wouldn't I be better off studying philosophy at a university and coming to grips with the things those artists were talking about?"
When a friend suggested he consider Columbia, Lehmann inquired where the school was. "I'd never been north of 96th Street," he admits. After sitting down with an admissions officer, Lehmann submitted a transfer application and entered the College in 1976.
Burns, also a transfer student, recalls meeting Lehmann on "a blizzarding morning in January 1976 in a dean's office in Hamilton Hall. There were 17 pale-faced, under-caffeinated transfer students sitting around sort of miserably … Michael and I immediately decided that we would try to find an apartment together."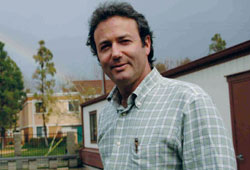 Photo: Mark Doering-Powell

Burns glows when he talks about his old roommate. "He has this kind of … puckishly obsessive compulsive personality where he focuses in on something. He's aware of what is comic about his obsessions. I kind of loved him immediately." The two were enthusiastic about academics (Burns remembers spending "hours and hours sitting back-to-back in our apartment, him studying philosophy and me studying literature"), but also thrived on the excitement of gritty 1970s New York. Burns recalls their cockroach-ridden Morningside Heights apartment. "When we got tired of working," Burns notes, "we would turn the oven on and wait for tens of thousands of cockroaches to burst off the back of the oven in waves. We would smash them with rolled up copies of the Sunday Times Magazine."
Electing to major in philosophy, Lehmann fondly recalls taking courses with Robert Cumming, Edward Said and Michael Rosenthal. Taking advantage of the College and city's film resources, Lehmann took classes with Columbia film scholar and then-Village Voice critic Andrew Sarris '51. He also passed free time educating himself on film history by frequenting the city's many cinemas. In addition to dollar screenings at the Olympia and the Thalia, where he took in works by the rising tide of New American directors, Lehmann ate up films by New German auteurs Wim Wenders and Rainer Werner Fassbinder and frequented revival houses to watch films by Luis Buñuel and Douglas Sirk.
Though a film lover, Lehmann initially opted to pursue a career as an academic. Graduating summa cum laude, he was granted a Fulbright by the German government and traveled to Berlin to pursue a course of study in philosophy. However, Lehmann soon realized that the life of a scholar was not for him. Burns notes that upon leaving Berlin, his friend "went off to sell hot dogs in San Francisco and found a job at [a studio in California], which is maybe a perfect way of describing Michael. He is someone who is effortlessly, seamlessly at home reading [Martin] Heidegger and eating hot dogs and laughing at the most cartoonish jokes in the world."
After moving back to California, Lehmann landed a job at Zoetrope Studios, Francis Ford Coppola's nascent production company. Coppola, fresh from the success of The Godfather films and Apocalypse Now, "had just bought a studio in Los Angeles … He tried to turn it into an old-fashioned, 1930s-style Hollywood studio, with a full staff, development people, a production department, actors under contract, writers under contract." While Lehmann initially was a receptionist, he eventually headed the video department, overseeing Coppola's attempts to revolutionize the process of filmmaking by using video feeds to edit his films during production. Though common practice today, this technique was unheard of at the time. According to Lehmann, "Everybody said, 'Francis is crazy.' Nobody believed that what he was saying had any validity." To make matters worse, in order to make One from The Heart, an ode to Hollywood musicals, Coppola "built Las Vegas on that lot and basically went broke, and the movie was not successful. The studio didn't last." Lehmann, anticipating Zoetrope's demise and eager to strike out on his own, enrolled in USC's film school.
Screenwriter Larry Karaszewski, a fellow USC student, remembers "being in awe of [Michael], because most USC film students were lowly undergraduates or people who had gone to law school and decided they wanted to become filmmakers. But here was Michael, who seemed light years ahead of all of us because he had worked with Coppola." Before long, Karaszewski and his writing partner, Scott Alexander, became friends with Lehmann; both worked on Lehmann's notorious thesis film Beaver Gets a Boner.
"At USC's film school at the time, you could not make a movie unless you got it approved by a group of five ancient faculty members who felt that students should only be making movies that were about things from their personal experience," Lehmann recalls. "So virtually every student film from that time at USC was about a kid who was deciding between taking that scholarship to go to college or staying at home to help dad with the farm." In contrast, Lehmann's thesis film, in a mold that would define much of his later work, parodied the coming-of-age narrative. Scripted by Redbeard Simmons, the film, about a druggie who cleans himself up to win a college scholarship but ultimately reverts to his destructive ways, was viewed as legendary by classmates. When the film was screened for the industry at USC, the response was so great that it garnered Lehmann an agent (no small feat for an emergent filmmaker). "It's really terrible — you're not allowed to see it," Lehmann jokes, though he begrudgingly admits, "It was like a John Waters movie; it was irreverent."
Despite Lehmann's reservations about the film, studios and producers came calling. Through Alexander and Karaszewski he met screenwriter Dan Waters, who had just penned Heathers. Lehmann shopped the film around and found an interested party in New World Pictures, an independent B-movie studio known primarily for churning out low-budget horror flicks and frat house comedies. "A guy at New World saw my student film and read the script and said, 'I'll make this for a price.' It happened a lot more easily than movies are supposed to happen."
Anchored by Winona Ryder's breakout performance, the movie has become a cult classic, inspiring many imitators, from 1999's Jawbreaker to the Lindsay Lohan vehicle Mean Girls. The picture featured many characteristics that would go on to become Lehmann trademarks: pitch-black humor, subversion of genre and surrealist flamboyance.
According to Lehmann, "Heathers was a kind of conventional dark comedy, where well-intentioned people kill people — it was like Kind Hearts and Coronets" or Frank Capra's Arsenic and Old Lace. The film was an unexpected critical and commercial success. (The Washington Post wrote, "Heathers may be the nastiest, cruelest fun you can have without actually having to study law or gird leather products.")
When Heathers was released, Lehmann was in post-production on Meet the Applegates, an outlandish film in which Stockard Channing and Ed Begley Jr. play the matriarch and patriarch of a family of South American bugs (yes, bugs) hiding out in a Midwestern suburb. Lehmann describes the film as "a ludicrous, cheesy B-movie idea that I never thought anybody would make." However, because the execs at New World were so happy with Heathers, they "gave me the money to make the movie though I didn't think it was ready." Though he felt the screenplay needed work, a concurrent writer's strike prevented him from making any drastic changes to the script before he was set to shoot. New World threatened to take the project to another director, so he made the movie, despite reservations. "It's a flawed movie, but I love how out-there it is. I wish, in retrospect, that I just made movies like that for the rest of my life. But they're really hard to get made."
For his third feature, Lehmann moved into the big time, working with producer Joel Silver and star Bruce Willis to make Hudson Hawk, an over-the-top satire of action movies. "I thought it was an opportunity to take a conventional genre film — an action-adventure movie of the kind that were being made on big budgets in the late '80s — and turn it completely on its head," Lehmann states. "The sentiment behind it was, these movies are so conventional, they follow such a pattern, that if we just twist it everywhere, we can just have fun with this. And that's the movie that we made." The critics were not kind. Silver and Willis had essentially made their fortunes on the kind of films Hudson Hawk was poking fun at, and in Lehmann's opinion, people "didn't really believe that those two guys could really be involved in something that attempted to be both ironic and mocking their own careers. What I learned was you don't subvert a genre unless you're willing to get punished for it."


Photo: Ric Burns '78

Around the same time Hudson Hawk received its critical lambasting, Lehmann's old friends, Alexander and Karaszewski, wrote the script to Problem Child. Though financially successful (the film garnered two sequels), the film was universally derided by critics. Joking with each other about their critical woes, Alexander and Karaszewski decided that they would write a film about Ed Wood, one of the worst filmmakers of all time, to be directed by Lehmann. Tim Burton expressed an interest in the project and took over the directorial reins, but Lehmann remained in the producer's seat. Martin Landau won an Academy Award for Best Supporting Actor for his portrayal of a heroin-addicted Bela Lugosi in the film.
After wrapping the cult comedy Airheads, Lehmann departed from his previous work with The Truth About Cats and Dogs, a romantic love triangle complicated by mistaken identity. In making a gendered twist on the traditional Cyrano de Bergerac tale (with Uma Thurman and Janeane Garofolo occupying the respective roles of pretty face and seductive voice), Lehmann modernized the film with the inclusion of a "phone sex scene that nobody had done in a conventional movie. It was very much in the time of when [people were reconsidering] how to relate sexually since AIDS had changed people's sexual behavior."
The throughline in all these comedies is in Lehmann's ability to warp genre expectations and play with divergent tones. His best work follows the tradition of Billy Wilder and Hal Ashby, stable studio directors who managed to convey their idiosyncratic style while working within the Hollywood system. Michael London, producer of Sideways, The Family Stone and the Lehmann-helmed comedy 40 Days and 40 Nights, says Lehmann "has the ability to take mainstream movie ideas but bring an original voice to them. The struggle that Michael has had is, how do you continue to make movies within the system and not lose your originality? And I think he's worked pretty hard on that."
Since the mid-'90s, Lehmann has directed episodes of several television series, principally on HBO. After a film project he was developing with Barry Levinson's production company fell through, one of Levinson's producing partners approached him about directing an episode of a new series. " I said, 'I've never done television before,'" Lehmann recalls. "And they said, 'We like that. We want to have different people direct the show.' So I went to Baltimore and I watched Levinson shoot the pilot" of the critically lauded series Homicide: Life on the Street. Lehmann directed the third episode of the show. He has also shot episodes of Wonderfalls, The Comeback and Big Love. "The reason I keep doing it is that, when you do high-quality television — and I don't think high-quality television existed when I started — you are usually working with a group of actors and writers who are often higher caliber and more subtly intelligent than those working in most features now, because features are a different game. They're about spectacle and star power."
Despite encountering several bumps in the road as a director, Lehmann is eager to make more films. His indie feature Flakes screened at the South by Southwest Music and Film Festival in March. The film, about a musician whose day job is to manage a Big Easy eatery that serves only breakfast cereals, is a return to the offbeat comedic style with which Lehmann made his name. Variety called the film "one of the more spot-on cinematic attempts to convey the flavor of New Orleans as a place that embraces eccentricity as a way of life." Shooting in the city before Hurricane Katrina, he made the project for about $500,000 with the company InDigEnt. "It's an idiosyncratic little movie. I shot it, ran out of money, and while I was shooting for HBO and Because I Said So, I would go in on evenings and weekends to work on Flakes." Lehmann, still shopping the film for distribution, takes pride in the project that he says he found a "way to make without anybody interfering."
After advising emerging filmmakers at the Sundance Institute this summer, he planned to finish what he calls "a dark comedy script about bioterror, the medical industry and the cattle business. It's pretty funny and very dark and twisted, which is, of course, where my work should be." Of his best friend and former College cohort, Burns predicts, "His best work is still ahead of him. He has 30 to 40 years of films left in him."
---
Jennifer Preissel '05 is the History Project coordinator at the San Francisco Film Society.
| | | | | | | |
| --- | --- | --- | --- | --- | --- | --- |
| | | || | | || | | |


CCT Home


This Issue


Previous Issue

CCT Masthead