| | | | | | | |
| --- | --- | --- | --- | --- | --- | --- |
| | | || | | || | | |
FEATURES
How to Defuse Time Bombs
Quarterback-turned-surgeon Dr. Archie Roberts '65 screens retired football players for heart disease
By Joshua Robinson '08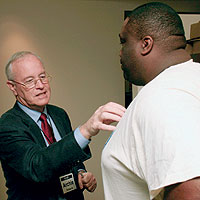 PHOTO: AP PHOTO/LUIS M. ALVAREZ

The score was 3–3, time was running out and the Harvard football fans were turning hostile. The Crimson had just tied Columbia with a field goal, and Lions quarterback Archie Roberts '65 was trying to silence them as he marched the Light Blue toward the end zone.
As the clock ticked down on that October 1963 afternoon, Roberts set up Columbia's chance to win. It was only first or second down and the Lions already were in position for a long field goal. The horseshoe stadium in Massachusetts — among those in attendance was President John F. Kennedy, who had taken the afternoon off to watch his alma mater — grew louder.
This was no time for indecision.
Roberts jogged over to the sideline to consult his coach, Aldo "Buff" Donelli. "Let's try one more play from scrimmage," Roberts argued. "We'll throw into the end zone. If I'm caught, I'll just throw it away." Donelli wanted to try the long field goal right away, but the soft-spoken, deliberate Roberts convinced his fiery coach otherwise.
Roberts lined up under center, the ball was slapped into his hand and he dropped into the pocket. But as he cocked his arm to throw, a hand came up. Suddenly, the wobbly pass was up for grabs. "As luck would have it, it was intercepted and that was the end of the game," Roberts recalls of the tie.
Donnelli chased Roberts across the field and all the way into the locker room, furious for having been talked into changing his game plan.
Today, Roberts laughs when he tells that story, but when the ball fell into Harvard's hands, it was only funny to the home fans, and possibly the President. Roberts often wonders "what in the world went through Kennedy's mind when he saw this quarterback running into the locker room with the coach behind him."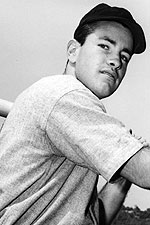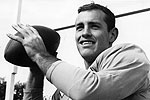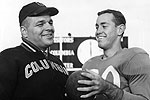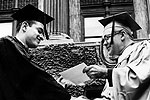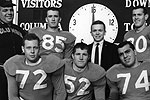 PHOTOS: COURTESY COLUMBIA ATHLETICS DEPARTMENT

Some 44 years after throwing out the playbook against Harvard, Roberts is the man writing it, but this time the objective isn't the end zone. In 1998, Roberts, who spent 30 years as a heart surgeon at hospitals all over the country after flirting with professional football, founded the Living Heart Foundation and has pioneered advanced, mobile methods for cardiovascular screening in an attempt to raise awareness about heart disease and the special risks for former football players.
Since 2003, the foundation has been sponsored by the National Football League Players' Association to conduct screenings of retired players. In the past four years, Living Heart has screened more than 1,300 players in 20 NFL cities. But Roberts believes that they are just beginning to scratch the surface.
"The NFL has been built on a physical prowess and strength and durability, and the idea of psychological or physical problems
has not been what the NFL has been about," he says. "Nor has it been the public's image of NFL players. They look indestructible, they look indefatigable, they look immortal. In that setting, it's hard to be scrutinizing and looking for defects in the product."
When Roberts was playing football, there were only a handful of 300-pounders in the NFL. By 1987, the number was up to 27 players who weighed 300 pounds or more. But as football has followed the trend to bigger, stronger athletes, that figure swelled to 240 by 1997; today the number is more than 350. "What doctors are learning is that size is a risk factor for heart
disease, just like hypertension, diabetes or high cholesterol are risk factors," Roberts explains.
And, he claims, as players make the transition from the professional game to retirement, usually in their mid- to late-30s, those health risks too often are neglected. The widely reported figure for average life expectancy of an ex-NFL player is 55 — life expectancy at birth for the average American male is 74.4 years, according to a 2004 report by the Centers for Disease Control.
"I was aware of the collisions and concussion problems, the things that the average observer of professional football would know about," says Roberts. "I also knew from having been a player that while the team doctors and the teams delivered a high level of healthcare for the active players, once the players transitioned into retirement, there was quite a change. When you retired, you were on your own."
During the past year, a number of alarming studies regarding the long-term effects of concussions on football players have emerged, and retired professional players have made public demands for better care from the league. Roberts asserts the league is taking positive steps toward improving care for retired athletes. Last July, the NFL and NFL Players' Association announced the formation of the NFL Cardiovascular Health Program, to which Roberts is a consultant.
"Doctors have been thinking more about short and long-term consequences of professional football. The owners, the players'
union and the players have spoken out about better methods for the players' union to help them handle the disabilities that occur after football."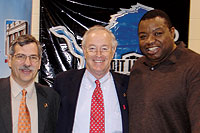 This is Roberts' way of giving back to the game that made his dream of becoming a doctor a reality.
At the College, Roberts lettered in three sports — though he confesses he was nothing special on the basketball court — and had the option to play baseball or football professionally when he graduated. Ultimately, however, sports wasn't his long-term plan. "I loved baseball and I loved football, but I wanted to become a doctor, and that was the most important thing for me."
The St. Louis Cardinals selected Roberts, a shortstop who batted .386 his senior year, in baseball's first college draft in 1965, while he was drafted in the seventh round by the New York Jets as a quarterback, and subsequently signed by the Cleveland Browns.
His numbers made him an obvious candidate for both pro sports. In football, he played offense and defense, threw for 3,704 career yards, set 17 Columbia and 14 Ivy League records and was the first quarterback in Columbia history to complete 300 passes. Donelli once said, "Archie Roberts is as fine a quarterback as I have ever coached, and I believe he is in the same class as the finest forward passers I have ever seen, men like Sid Luckman ['39], Y.A. Tittle and Harry Agganis."
To cap it all off, Roberts also led the Lions in punting.
On the baseball diamond, he set another Columbia record by batting .371 for his career — that now ranks fourth all-time — and as a senior, Roberts led the nation with 30 RBIs in 21 games.
But it was the Browns who made him an offer he couldn't refuse: If Roberts signed with the pro football team, the Browns would put him through medical school.
"The Columbia family was instrumental in helping to arrange the opportunity with Case Western Reserve Medical School and the Cleveland Browns," he acknowledges. "I remember in particular, Gene Rossides '49, a former great running back for Columbia, was helpful in contacting Art Modell, who was then the owner of the Browns, and Doug Bond, the dean of the medical school. Being in Cleveland, they knew one another and the Browns had provided funding and grants for the medical school."
As far as Roberts knows, he is the only person to play professional football and go to medical school during the season, balancing his studies and football with remarkable discipline. "Given that both sides, the team and the medical school, were willing to be flexible and creative and permit an unusual thing to happen, I was given this opportunity," he recalls. "It made it possible in that era. In today's world, there's too much demand from medical school and football; it wouldn't be possible."

"I was so busy taking care of my patients and teaching
and doing research that I neglected my own health."

As he approached the third of his four years at Case Western Reserve, Roberts still had not seen a minute of competitive action for the Browns. The starting spot belonged to Frank Ryan, a quarterback whose claim to fame was having a Ph.D. in mathematics. Ryan and Roberts' best shot at NFL history then might be as the answer to a rather obscure trivia question:
"Who was the best educated starter-backup quarterback tandem in football?"
By 1967, Roberts thought the opportunity to be a bona fide NFL quarterback might be passing him by. So when the ewlyformed
Miami Dolphins offered him a chance to start that season, he jumped at it.
"But guess who was drafted as another quarterback?" Roberts asks. "Bob Griese." A future Hall-of-Famer, Griese went on to play in seven Pro Bowls, win two Super Bowls and lead the Dolphins through their perfect 17–0 season under legendary coach Don Shula.
Roberts only played one game and left Miami after a single season to return to Cleveland and finish his medical degree. But he has never felt a twinge of regret. "The goal of medicine was first and foremost. If I had ever been forced to choose, I would have pursued medicine. I was very lucky to have this opportunity along the way."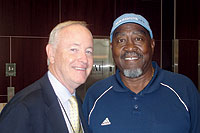 During nearly 30 years as a cardiothoracic surgeon, professor of surgery and researcher, Roberts racked up his most impressive number. He may have thrown for 3,704 yards in college, but he performed more than 4,000 open-heart surgeries in the operating theater.
That came to an abrupt end in 1997.
While lecturing a group of cardiologists in New Jersey, Roberts suffered a stroke. "I'd never been sick a day in my life," he explains. "I'd never been in the hospital as a patient and didn't have any obvious health issues. I was so busy taking care of my patients and teaching and doing research that I neglected my own health."
In the immediate aftermath, Roberts displayed many of the characteristic ailments of stroke survivors — trouble with speech and impaired motor skills on one side of the body. He could barely move the right arm that carried him through Columbia to the NFL and finally to medicine. It hit him hard.
"It took me the better part of a year to come to grips with the fact that I was not immortal and that health issues are unpredictable. I decided to retire from heart surgery, because it's a stressful job with many long hours — probably not what I needed to be healthy," Roberts notes.
As he started on the long path to full recovery, he founded Living Heart, based at Rutgers. The first screenings were at high schools around Holyoke, Mass., where he grew up, and the Columbia football team.
Living Heart rose to prominence, however, during the massive rescue efforts following 9-11. A group of 25 people from the nonprofit foundation set up on the Lower East Side and screened more than 2,000 rescue workers who were worried about the effects of their exposure to the debris, smoke and stress.
"When word got around the city that someone in the health field was reaching out," Roberts remembers, "volunteers poured in from the hospitals. We had more than 400 at the end of the two-week period … 14 consecutive days, all day, all night. There'd be rescue workers lined up around the block in the morning wanting to get in."
Screening retired NFL players is a change of pace, but the impact on people's lives is no different. Roberts continues to travel throughout the year conducting free screenings sponsored by the NFL players' union, as well as a few college football teams.
With an estimated 18,000 retired players scattered across the country, many of whom don't respond to the
union's invitations for a screening, he knows that cardiovascular disease will continue to be a silent killer.
"There's room for much more to be done," he says. "It's all a process, and the league is finding a healthy way of approaching things."
Roberts didn't make it past the fringes of the professional game, but to many retired players, he may be the best teammate they never had.
---
Joshua Robinson '08 was Spectator's sports editor in 2006. His articles have appeared in The New York Times, Pittsburgh Post-Gazette and The Washington Post.
| | | | | | | |
| --- | --- | --- | --- | --- | --- | --- |
| | | || | | || | | |