Ashley Kahn '83 Brings Music to Life
Anne-Ryan Heatwole JRN'09
Known on-air as "The Cincinnati Kid" in his WKCR days, Ashley Kahn '83 has gone from WKCR to the Grammy Awards. With three Grammy nods and a 2015 win for the third nomination under his belt, Kahn has mastered an art that may not immediately come to mind when thinking about music: album notes.
Album notes — also called liner notes — are historical, social, political and/or personal writings that are released with an album to help the listener better understand the context of the work. "My words are attached to this piece of music that's being brought into the world for the first time — I better get it right," says Kahn with a laugh while explaining his approach to writing album notes, adding that he looks at the process as creating a frame for readers to reference the music.
In addition to writing album notes, Kahn is a prolific music journalist and an adjunct instructor in NYU's Tisch School of the Arts' Clive Davis Institute of Recorded Music, teaching music history and criticism. Kahn's 2015 Best Album Notes Grammy was for his writing on John Coltrane's two-disc archival release Offering: Live at Temple University, while his previous nominations were for 2004's Four Women: The Nina Simone Philips Recordings and 2011's Side Steps, another Coltrane release.
Jamie Katz '72, BUS'80, editor-at-large at Smithsonian Magazine (and former editor of CCT), has worked with Kahn at both People and Vibe magazines. "Ashley does the hard work," Katz says. "He's really a historian on the front lines of digging up information that is out there in crates, in people's memories and in recorded fragments. Whatever it may be, he will take the time and effort not only to find it but also to understand it and piece it together."
Kahn was born in the Bronx and grew up in Cincinnati. While at the College, where he majored in English, he developed a popular WKCR Tuesday night blues and jazz show. "WKCR kind of became more of my major than my major did," Kahn says. "I was putting a lot of energy into it and, as such, I found there was a kind of self-teaching that was going on."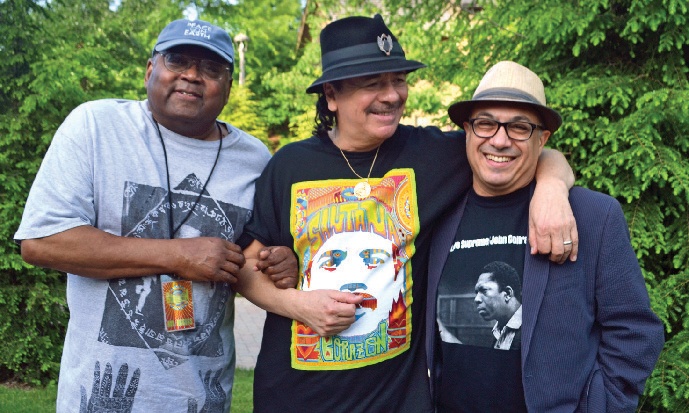 Kahn got his start writing album notes while still at WKCR; his first notes were on blues guitarist Roy Buchanan's career revival album When a Guitar Plays the Blues for a small Chicago label, Alligator. Kahn says the opportunity came to him because someone at Alligator heard his blues/jazz radio show and invited him to Chicago to sit in on Buchanan's recording sessions and to then write up the notes explaining the album and Buchanan's musical history.
After graduation, Kahn moved to New Orleans, where he immersed himself in the jazz and blues scene: working for three radio stations, writing for The New Orleans Times-Picayune and, most influentially for his work, working with the world-renowned New Orleans Jazz & Heritage Festival. That experience propelled him back to New York a few years later, where he worked with the NYC SummerStage program in its infancy, meeting artists like Paul Simon, Peter Gabriel and Ladysmith Black Mambazo, a Zulu choir for which he became the manager and traveled the world with for the next four years.
"Seeing the world through the eyes of musicians — people who are making their living being on the stage, being in studios, creating recordings … It's incredibly informative and incredibly revealing on how to think about music in a way that I never would have done just coming out of a classroom, or as a journalist or DJ," Kahn says.
After being a band manager and producer for several years, Kahn returned to writing with 1998's Rolling Stone: The Seventies, a book of essays chosen to capture the essence of the '70s with both new and republished Rolling Stone articles and photographs. From there, his writing career took off again, with eight books and dozens of articles in publications like Rolling Stone, The New York Times and The Wall Street Journal. His most recent book is a collaboration with guitarist Carlos Santana for the musician's 2014 memoir, The Universal Tone: Bringing My Story To Light. It won the 2015 American Book Award and was voted one of NPR's "Best Books of 2014"; Kahn says the writing process took 81 interviews over the course of 1½ years.
Katz says that Kahn's passion and respect for music shines through his writing, giving listeners an enhanced experience. "There's a certain amount of understatement in his writing," Katz says. "It's like radio — a lot of it takes place in your own mind when you're listening; it's not beating you over the head. His writing has the same quality that great radio has — he opens the door and you come to [experience] it next to him."

Published three times a year by Columbia College for alumni, students, faculty, parents and friends.
Columbia Alumni Center
622 W. 113th St., MC 4530, 4th Fl.
New York, NY 10025
212-851-7852
cct@columbia.edu

Columbia Alumni Center
622 W. 113th St., MC 4530, 4th Fl.
New York, NY 10025
212-851-7488
ccalumni@columbia.edu