| | | | | | | |
| --- | --- | --- | --- | --- | --- | --- |
| | | || | | || | | |
COVER STORY
Master Multitasker
Nicholas Dirks adeptly juggles many responsibilities as Columbia's vice president of arts and sciences.
By Laura Butchy '04 Arts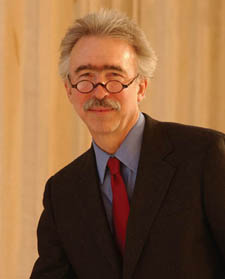 Photo: Eileen Barroso

He manages 29 departments, twice as many institutions, programs and laboratories, and an array of bewildering issues surrounding a budget of more than $300 million, but he is not the CEO of a major corporation. He teaches social anthropology and recently published his latest book, The Scandal of Empire: India and the Creation of Imperial Britain, but he is not a full-time professor.
He is Nicholas Dirks, Columbia's vice president of arts and sciences, and it seems he does just about everything.
"It's a huge job," acknowledges Dirks, who also is the Franz Boas Professor of Anthropology and History and dean of the faculty. "We're managing faculty appointments for six schools and trying to coordinate everything from the Core Curriculum to graduate program changes to issues in the School of the Arts and SIPA, which are often quite distinct."
Dirks pursues a complex combination of educational goals, working with the 29 departments of the Faculty of Arts and Sciences, which includes Columbia College, the Graduate School of Arts and Sciences and the Schools of the Arts, International and Public Affairs, General Studies and Continuing Education. His challenge is to maintain effective working relationships with six deans while working toward myriad diverse goals.
"I discuss College matters with him constantly, from small operational issues to large and long-term planning agendas," says Dean of the College Austin Quigley. "Arts and Sciences always has been a complicated administrative unit, and he manages to distill it down to essentials, distinguish major issues from minor ones, facilitate the necessary conversations and provide the leadership needed to move things forward."
Dirks and Quigley work together to move forward College initiatives at regular meetings, as part of the Council of Deans, and individually. "We work very closely with Austin," Dirks says. "We discuss academic policies, budgeting, programs, fundraising and coordinating thinking about the educational mission of Columbia." This closeness is a plus for the College and a departure from the past, when the relationship between Low Library and Hamilton Hall was sometimes strained by separate priorities as well as limited resources.
When he was asked by President Lee C. Bollinger to assume the job, Dirks admits to being a bit overwhelmed. "I was asked in summer 2004 and I started September 1," Dirks says. "I walked into the office having no idea what was involved."
But Bollinger had confidence in Dirks' capabilities. "Nick is a highly distinguished scholar, dedicated to intellectual life within the academy and in public affairs, internationalist in scope and embracing of diverse perspectives," Bollinger said when announcing Dirks' appointment. "He is eager to take on the serious and complex responsibilities of this distinctive role in the academic world."
In the last two years, Dirks' success in the office has impressed deans and faculty alike. "He has so many direct responsibilities and serious issues to deal with that I don't see how he can get it all done," says Professor John Morgan, chair of the mathematics department. "Yet, he is always there, unflappable, and pushing a coherent vision for the future of the Arts and Sciences. I have been extremely impressed by the energy, the enthusiasm, the good sense and the sense of collegiality that Nick has brought to what I believe is an impossible job."
That job certainly is extensive. The vice president's office is responsible for the day-to-day management and long-term administrative, budgetary and academic planning for not only 29 academic departments but also about 40 interdisciplinary research institutes and centers. The Arts and Sciences currently has in its ranks approximately 600 professors, several hundred full-time lecturers and in excess of 1,000 adjuncts and part-time faculty.
"We deal with space issues and facilities, classrooms, offices, laboratories, faculty and graduate student housing … we do it all," Dirks says. "I've also gotten involved in meeting with alumni and fund raising."
Traveling is a new aspect to the vice president's job brought by Dirks, who hopes to attend alumni events across the country and abroad. "I see my role in particular as making connections across Columbia," Dirks says. "We connect different schools, and we can do that for alumni from different schools, as well. And I want to hear from alumni — their concerns — and tell them we're on the move, making Columbia stronger and stronger."
This year, Dirks traveled to the Sundance Film Festival, where 11 University alumni were in the competition, and to India, where the University sponsored events in Delhi and Mumbai.
"Columbia is fortunate to have Professor Dirks, an esteemed expert on India, who shows such an interest in alumni relations," says Adlar García '95, associate director of University alumni relations. "It behooves us to create awareness in our alumni community in India of Columbia's ongoing relationship with and academic research on India and learn about important initiatives shaping Columbia's future."
A trip to India was no problem for Dirks, who travels there yearly to feed his research appetite for the history and anthropology of South Asia — a far cry from his childhood career aspirations.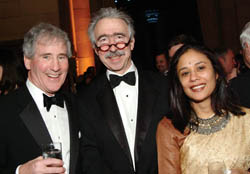 Photo: Chris Taggart

"When I was a kid, I wanted to be a farmer," Dirks says with a smile. "I spent summers on my dad's farm in Iowa, and I thought it was a great life." Appropriately, it was Dirks' father who introduced him to India, after beginning a family connection to Columbia. Born in Iowa, Dirks' father earned a Ph.D. in philosophy from Columbia and became a professor at Yale. His wife, a Chicago native, studied at Teachers College. Dirks grew up with his two older brothers and a younger sister in New Haven, attending public schools from kindergarten through 12th grade.
In 1963–64, Dirks' father received a Fulbright professorship to teach in Madras, India. Then–12-year-old Nicholas lived with the family on campus outside Madras, which sparked his fascination with Indian culture.
At Wesleyan, Dirks majored in African and Asian studies. Before graduating in 1972, he spent six months in India on a grant to write his thesis on Gandhi and events in South India. Working on his Ph.D. at the University of Chicago, he was inspired by his adviser, Bernard Cohn, who taught history and had an anthropology background. Dirks became interested in historical anthropology and spent two years researching anthropology through a historical lens in South India. "I went back to South India every chance I got, like a homing pigeon," he says with a laugh.
Ph.D. in hand, Dirks began teaching "Asian Civilizations" at the California Institute of Technology in 1978. "Kids came to class and fell asleep," he recalls with amusement. "I thought I was boring, but they said 'Don't take it personally, I stayed up all night doing physics homework.' And eventually I learned to teach in a way that they didn't fall asleep."
In 1987, Dirks accepted a joint appointment in the University of Michigan's anthropology and history departments, where he directed the Center for South and Southeast Asian Studies and founded an interdepartmental Ph.D. in anthropology and history, replicating what he had done independently as a structured program.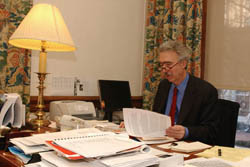 Photo: Eileen Barroso

He continued to promote interdisciplinary work when he came to Columbia in 1997 to chair the anthropology department. "I was asked to rebuild a strong department that had fallen on hard times," Dirks says. "It was thrilling to help rebuild this department, founded by Franz Boas. We hired people from Michigan, all over the country, and Africa and Asia. We created a department that is hugely interdisciplinary that we think is now one of the top three in the United States, which befits the tradition of Columbia."
"He was the crucial leader," says Brinkley Messick, one of the professors recruited by Dirks 10 years ago and now chair of theanthropology department. "Several of the new appointments were of very prominent figures who were not anthropologists by training but who were interdisciplinary in their work. The program as it now stands has the stamp of Dirks' vision and effort."
The daunting administrative task of rebuilding a storied department didn't distract Dirks from his teaching and research. In 2002, a student committee recognized him with the Lionel Trilling Book Award, presented to one faculty author each year, for Castes of Mind: Colonialism and the Making of Modern India. Committee member Daniel Immerwahr '02 recalls, "Convincing a group of undergraduates, many of whom were science majors, that the caste system in colonial India is a topic of great relevance was not a particularly easy task, but Dirks' book did just that."
Though he never took a class with Dirks, Castes of Mind was enough to inspire Immerwahr, who was writing his senior thesis about suburban Long Island at the time. "Reading that book was one of the things that got me interested in South Asian history. After graduating from Columbia, I spent two years at Cambridge studying, among other things, Indian history and the Hindi language." Four years later, Dirks' influence lingers as Immerwahr completes a Ph.D. in history at UC Berkeley, researching ways in which ideas about caste in India have been important for thoughts about race in the United States.
Dirks had a brief respite from administrative work after stepping down as department chair in 2003, before being asked to become vice president. Des­pite his complicated schedule, some things stay the same. "I take my 6-year-old son to the Columbia school every morning — we live on Riverside Drive," Dirks says of himself; his wife, assistant professor Janaki Bakhle; and their son, Ishan. "I try to keep weekends free for my little guy. And I have to clear my weekend schedule with my wife," he adds, though he's seen a bit less of her this year, as she is on a yearlong sabbatical in India.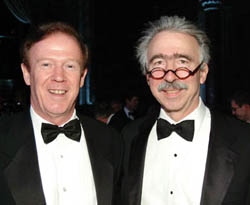 Photo: Eileen Barroso

Surprisingly, the couple did not meet there. "I met my wife when she was an editor at the University of Minnesota Press," he says. "I lectured there in 1994 and was writing a review of a book for publication there, and she came to the lecture to harass me for the review. She got her review."
Now the pair work to enhance Columbia's South Asian studies program. Dirks has played a major role in the expansion of Columbia's offerings in the field, adding new courses and faculty and revitalizing the South Asia Institute. The University's strengths in South Asian anthropology, religion and languages continue to grow, and South Asian studies is embracing disciplines such as economics, engineering and medicine, as well. There now are more than 50 faculty members devoted to South Asian studies, and enrollment in courses related to South Asia are at an all-time high.
"We're also thinking about including African studies in that department," adds Dirks, a member of the Presidential Committee on Global Thought. "I've been thinking about what it means to work on a global university, about courses we give in the category of major cultures and questions of global issues in the undergraduate curriculum. We have a responsibility to make students aware of the importance of living in the world — to help students understand regions of the world, and understand why it is important to know that while living in the United States. One thing we want to do is strengthen the Core Curriculum, including bringing major cultures portions in more."
These ideas are part of Dirks' constant communication with Quigley, whom Dirks regards as a collaborator and adviser. "Austin has been around a long time and gives advice on everything, from expansion of staff — now we have two faculty associate vice presidents — to hiring faculty; issues from the Core Curriculum to concerns about students services; and issues such as athletics, student grievance procedures and quality of space."
"To get things done at Columbia, administrators need to be smart in several ways," Quigley says. "Nick is intellectually smart, which is indispensable. He is smart about people, knowing when to listen, when to guide and when to insist. And he is also politically smart, aware of when to be a leader, a follower, a coalition-builder or a catalyst. With all of these kinds of smarts he is able to earn trust, generate teamwork and get important things done."
Dirks manages to dedicate time to all the departments he oversees. After assisting in the 2005 rebuilding of the economics department, much like he did the anthropology department, this year he is focusing on other departments, particularly those that lost faculty to retirement, such as French and Spanish/Portuguese.
"The pace is dizzying sometimes, juggling so many departments, getting and keeping the best faculty and keeping them from being raided … " He pauses and adds, "We usually win." He modestly credits success in keeping excellent faculty to what he believe are Columbia's advantages.
"The opportunities for teaching and research are No. 1. We have an amazing menu of strong departments in sciences and humanities, we have faculty who like to teach undergraduates as well as graduates, and we have, obviously, New York City, which is a competitive advantage," he lists. "We have more faculty/student contact. It's the same with the student body as with the faculty — the number of people who want to come here has gone up and more people with a choice of institutions choose Columbia."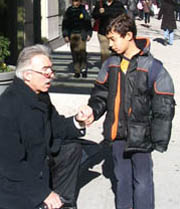 Photo: Laura Butchy '04 Arts

Dirks is focused on Columbia even in his rare free time, reading in arts and sciences fields he is unfamiliar with, especially books by faculty or potential faculty. "He is determined to build on the venerable history of academic excellence in our departments by recruiting the top faculty in their fields and top graduate and undergraduate students," says Vicky Prince, who has worked for Columbia since 1969 and for the vice president's office since its inception in 1982. "He has the wisdom to grasp what is best for all concerned in any situation no matter how clouded, confused or conflicted. I am a great admirer of his enormous integrity and his conviction that people everywhere, on all levels and in all sectors, deserve to be treated with dignity and respect," she explains, adding, "What makes it a pleasure to work for him is his unerring sense of humor."
"No one at Columbia can please all the people all the time, but no one gets things done on their own," Quigley adds. "Making things work in Arts and Sciences and for Arts and Sciences is always a challenge … In his two years in office, he has exemplified values that others can associate themselves with, and he has earned widespread respect for his ability to consult, cooperate and make informed decisions."
Ever the multitasker, Dirks manages to schedule time for his family. "I try to go to India once a year and visit California to see family," he says. And at the end of the day, Dirks always has time for his favorite activity: "spending time with my son."
---
Laura Butchy '04 Arts is CCT's assistant editor as well as a freelance journalist and dramaturge.
| | | | | | | |
| --- | --- | --- | --- | --- | --- | --- |
| | | || | | || | | |