| | | | | | | |
| --- | --- | --- | --- | --- | --- | --- |
| | | || | | || | | |
OBITUARIES
Ralph de Toledano '38: Author, Journalist, Conservative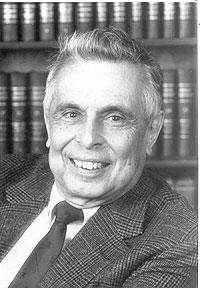 Ralph de Toledano '38, a news magazine editor, syndicated columnist and author of 25 books who was best known for his friendship with Richard M. Nixon and his passionate conservatism, died on February 3, 2007, in Washington, D.C., where he lived. He was 90.
De Toledano, who also went by the last name Toledano, was born on August 14, 1916, in Tangier, Morocco. His father was a journalist and a businessman and his mother a former news correspondent. Both were American, and they brought him to New York when he was 5. At the College, where de Toledano majored in literature and philosophy, Jester was voted the best college humor magazine under his editorship. In 1938, he became associate editor of The New Leader, an anti-Communist weekly, and the next year, when Hitler and Stalin teamed up, he moved further right.
De Toledano was drafted into the Army during WWII as a private and was an antiaircraft gunner, then was transferred to the Office of Strategic Services. Despite a crash course in Italian, he was rejected for covert work in Italy because he was deemed too anti-Communist to work with Italian leftists. After being discharged as a sergeant, de Toledano had several journalistic jobs, then was publicity director of the International Ladies Garment Workers Union.
In 1948, de Toledano joined Newsweek, where one of his scoops was an interview with a Soviet spy who had defected. Newsweek assigned him to cover the Alger Hiss trial and de Toledano took the side of Whittaker Chambers '24, a Time magazine editor who was Hiss' main accuser. De Toledano later wrote a book about the case with Victor Lasky, Seeds of Treason (1950). De Toledano became a Republican and met Nixon, then a congressman, during the case. Later, in 1950, when de Toledano was covering Nixon's Senate campaign, Nixon routinely introduced him as an author of Seeds of Treason and had him speak to the crowds.
De Toledano was a regular contributor to National Review in the mid-1950s, where he wrote "National Review Bulletin," a twice-monthly column from Washington, D.C., and later was the magazine's music critic. When most of the magazine's staff supported Sen. Barry Goldwater for the Republican presidential nomination in 1960, de Toledano backed Nixon. But by 1963, he shifted gears and wrote a book favoring Goldwater. In 1960, he began a column for King Features. He also presided over radio and television shows.
In 1979, de Toledano wrote a book with W. Mark Felt Sr. about Felt's FBI career. De Toledano received half the proceeds, although his name appeared only on the copyright page. In 2003, Felt's son, W. Mark Jr., paid de Toledano $10,000 for rights to any augmentation of the book. De Toledano sued after it was disclosed in 2005 that the senior Felt was "Deep Throat" in the Watergate investigation. De Toledano said that this information was of commercial value and had been withheld.
De Toledano's marriage to Nora Romaine de Toledano ended in divorce. His second wife, Eunice Godbold de Toledano, died in 1999. Survivors include his sons, Paul and James; a brother; a sister; and two grandchildren.
Lisa Palladino
| | | | | | | |
| --- | --- | --- | --- | --- | --- | --- |
| | | || | | || | | |


CCT Home


This Issue


Previous Issue

CCT Masthead