| | | | |
| --- | --- | --- | --- |
| | | || | |
ALUMNI UPDATES
Vampire Weekend Strives for a Cohesive Sound
By Jennifer Preissel '05
What do an eighth-grade English teacher, an archivist for SONY BMG, a film score composer's assistant and a Russian regional studies major have in common? Aside from the fact that all are recent graduates, Ezra Koenig '06, Chris Tomson '06, Rostam Batmanglij '06 and Chris Baio '07 are the members of the band Vampire Weekend, currently recording their debut album in Greenpoint, Brooklyn.
Each member of the quartet came to Columbia with musical experience. Koenig (guitar), Tomson (drums) and Baio (bass) had played in high school bands and Batmanglij (keyboards) studied guitar for seven years prior to college. According to Tomson, a self-described Phish head, "Music is really the only thing that's ever held my attention for very long. I always did fine in school, but nothing other than music really interested me. I remember the day in third grade when students tried instruments for band as being very exciting. Being in a band always has sort of been the goal since I started playing guitar. In New York, too, you have opportunities to play a club, not just your friend's house party."
As first-years in the diatonic theory class, Tomson and Batmanglij (both of whom majored in music) became friends and discovered a shared affinity for Afrobeat music. The future VW members each were involved in the campus music scene before uniting as a band. Koenig was a member of the electrorap duo L'Homme Run (on whose recordings Tomson guested as a guitarist), Tomson played in the country-influenced Midnight Hours (with Baio) and the bluegrass group Lion in the Grass, Batmanglij was a prolific composition student and Baio DJed for WBAR. Though they had all been friends and acquaintances for years (Koenig and Baio were suitemates, Batmanglij and Koenig met at a party and pledged to form a group some day), they did not officially form a band until last spring.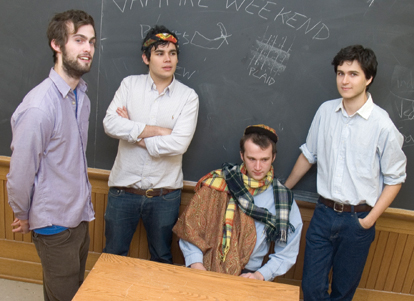 Photo: Esther S. White

The members of VW bring varied tastes and influences to the table. Koenig, the principal vocalist and songwriter, had previously written and performed witty rap riffs, Tomson had strummed bluegrass and listens extensively to country and Batmanglij developed a love for classical masters such as Bach, Beethoven and Tchaikovsky as a Columbia student. VW, however, strives for a cohesive sound, which Koenig describes as "African preppy."
Despite the group's gothic name — derived from the title of an unfinished film project directed by Koenig in which the hero, Walcott, travels from New Jersey to Cape Cod to defeat a horde of infiltrating bloodsuckers — the band plays music more indebted to Afrobeat acts such as Ladysmith Black Mambazo and Fela Kuti.
Batmanglij, who composes the band's orchestral arrangements, notes that the band has tried to incorporate components of various ethnic and folk musics into its songs, without simply copying its musical progenitors. Batmanglij cites The Beatles as an influence, because "they played extremely popular music but at the same time drew upon Eastern and Western sources. Whereas today, rock music has killed itself by being so white bread. We're trying to mix sounds that are old and new and sounds that are Western and that are not Western. I think that's our vibe."
Though recorded in makeshift studios, the group's debut album (70 percent complete at press time) does not share the lo-fi aesthetic of many similarly homemade efforts. The group's songs, such as the string-heavy "Mansard Roof" and African drum-backed "Cape Cod Kwassa Kwassa," have a polished and accomplished sound for tracks on a first record and reflect the broad musical spectrum of influences from which the band draws. As the record's producer, Batmanglij attests, "I like to make Vampire Weekend's sound always moving, danceable. That's something I have heard in a lot of African music. But at the same time, I have an interest in classical music, which has a defined logic, but is still catchy and universal in a pop way. I am interested in the way classical music and pop music can intersect."
VW played its inaugural live show at a SEAS Battle of the Bands. After the set, VW was subjected to a series of critiques by a panel of judges comprising members of the SEAS student government. Koenig recalls, "I guess they were music fans, but I remember their comments being, 'Generally, I don't like hipsters, but you guys are OK.' It was a little weird to be in the Lerner Party Space to get criticized by random people. The bands they were heaping praise on were definitely not our style."
However, the VW bandies recall with fondness performing at Alpha Delta Phi's Coffee Haus ("It was so crazy that people kept accidentally kicking our wires and disconnecting our instruments," recalls Batmanglij) and a yacht-themed party at Saint A's ("There were all these kids wearing captain's hats and dancing, and that was a lot of fun," says Koenig). VW recently has performed beyond the Columbia vicinity, having had gigs in Syracuse and at the Lower East Side's Mercury Lounge, all without a manager. The band is in talks with several record labels to release a single and the debut album.
---
Jennifer Preissel '05 is the history project coordinator at the San Francisco Film Society. She is currently listening to Neil Young's After the Gold Rush, Jens Lekman's Oh You're So Silent Jens and The Best of the Ronettes.
| | | | |
| --- | --- | --- | --- |
| | | || | |


CCT Home


This Issue


Previous Issue

CCT Masthead